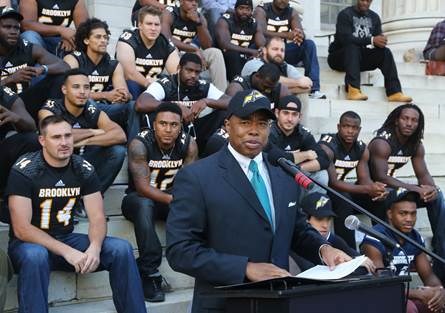 On Tuesday, October 14, Brooklyn Borough President Eric L. Adams welcomed the Brooklyn Bolts, Brooklyn's first professional football team since 1949, at a rally on the steps of Brooklyn Borough Hall.
The Bolts kicked off their season on Wednesday with a home game at MCU Park against the Boston Brawlers.
"Sports are such an important part of Brooklyn's history and culture. No other place in life teaches you teamwork and the importance of coming together as one unit than sports, especially football," said Adams.
"For most of our team, today was their first interaction with the people of Brooklyn and the reception they received was nothing short of amazing," said John Bock, head coach for the Brooklyn Bolts.
"It was a chance for them to see the pride that people have for this borough and what it means to play for a team that has Brooklyn across their chest. We promise to represent the passion, hard work and dedication that the people of this borough are known for."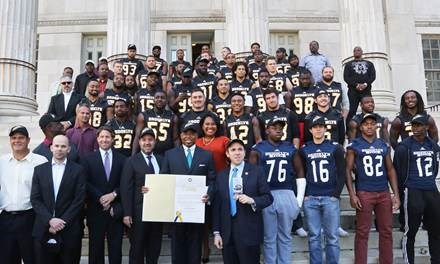 The Fall Experimental Football League (FXFL), which owns the Brooklyn Bolts, is working closely with the Brooklyn Cyclones front office staff for day-to-day operations of the franchise. The season consists of five games against franchises in Boston, Omaha and a traveling all-star squad known as the Blacktips.
Rosters for all teams consist of players who are at most three years removed from college and all of whom have some experience in the NFL and are looking to further develop in hopes of making it back to playing on Sundays. Players on the Bolts roster come from schools like Notre Dame, Michigan, Auburn, Georgia, Florida, Tennessee and Rutgers.
Adams presented a citation to the Brooklyn Bolts at the conclusion of the rally, which was preceded by players and coaches holding an autograph and picture session for fans on Brooklyn Borough Hall Plaza.
"With affordable tickets and top-rate talent, attending a Brooklyn Bolts home game is a great activity this fall," said Adams. "Come support your new home team, Brooklyn!"