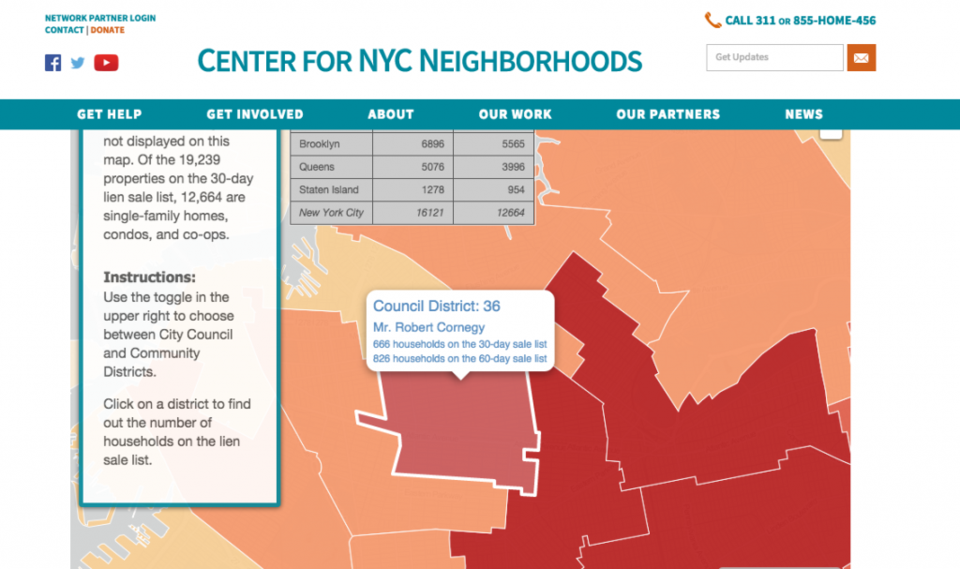 Every year, the Department of Finance sells the liens of properties that have unpaid debts,­ including property taxes, water bills and other charges which can result in an increased financial burden for families already behind on their bills, and even result in foreclosure.
Once a tax lien is sold to a third-party collection agency, the company can add fees and high interest of up to 18% onto the debt. Paying the debt can become overwhelming and unpaid tax liens may eventually lead to foreclosure. The Department of Finance sends five notices to homes at risk before the sale.
The City's annual tax lien sale is Friday, May 15. The Center for NYC Neighborhoods is spreading the word to the most at risk communities with a new map -- cnycn.org/taxliensale, so families can take action and get off the list before the sale date.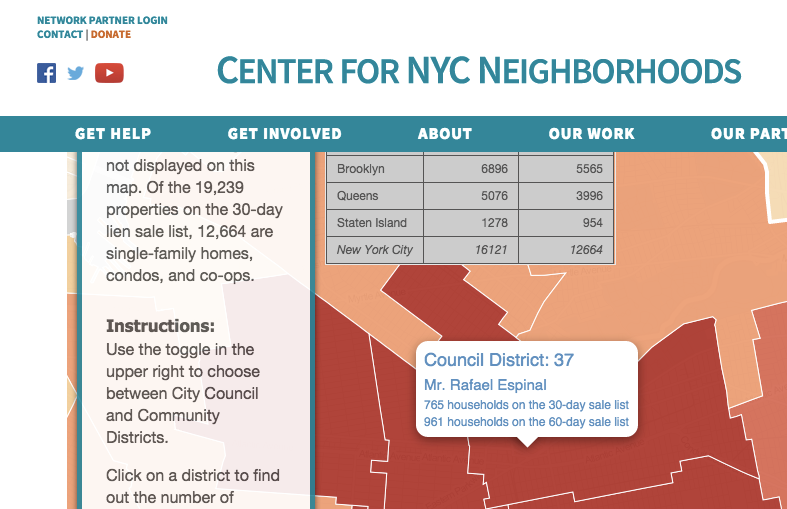 "The tax lien sale could put thousands of families in danger of foreclosure," said Christie Peale, executive director of the Center for NYC Neighborhoods. "Our tracker allows community members and stakeholders to see the number of homes with tax liens in their neighborhood, bringing awareness to the issue and helping them mobilize and alert their neighbors of their options ­ payment plans, special exemptions, and more ­ before the sale
In Brooklyn, these communities have the highest number of one- to four-family homes on the list? the below numbers reflect how many one- to four-family homes were on the list at the 60 day mark, and updated at the 30 day mark:
East New York: originally 1,165 homes ? down to 920
Bed Stuy: originally 845 homes ? down to 678
Flatlands and Canarsie: originally 835 homes ? down to 604
East Flatbush: originally 774 homes ? down to 662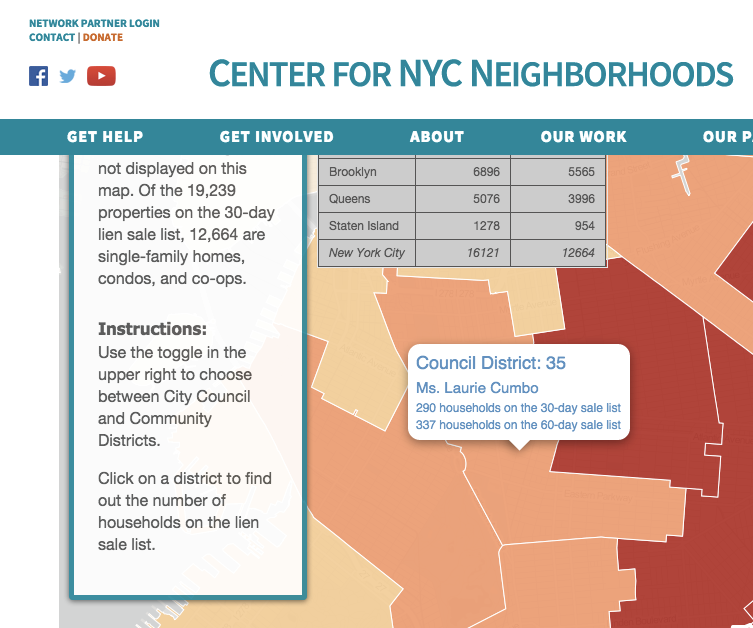 Seniors, disabled individuals, or veterans, relatives of veterans, or active-duty military personnel, may qualify for an exemption by submitting the Exemption Eligibility Checklist or Military Request for Relief available on the Department of Finance website by May 14th. All others can enter into a payment plan of up to ten years with the City. Payment plans with the City are more affordable than payment plans with a collection agency. All payment agreements with the city must be finalized by May 14th.
Homeowners seeking help to obtain a payment agreement or complete exemption forms can call 311 to be connected to the Department of Finance. Outreach events for homeowners are being held citywide. A full list is available at nyc.gov/liensale.