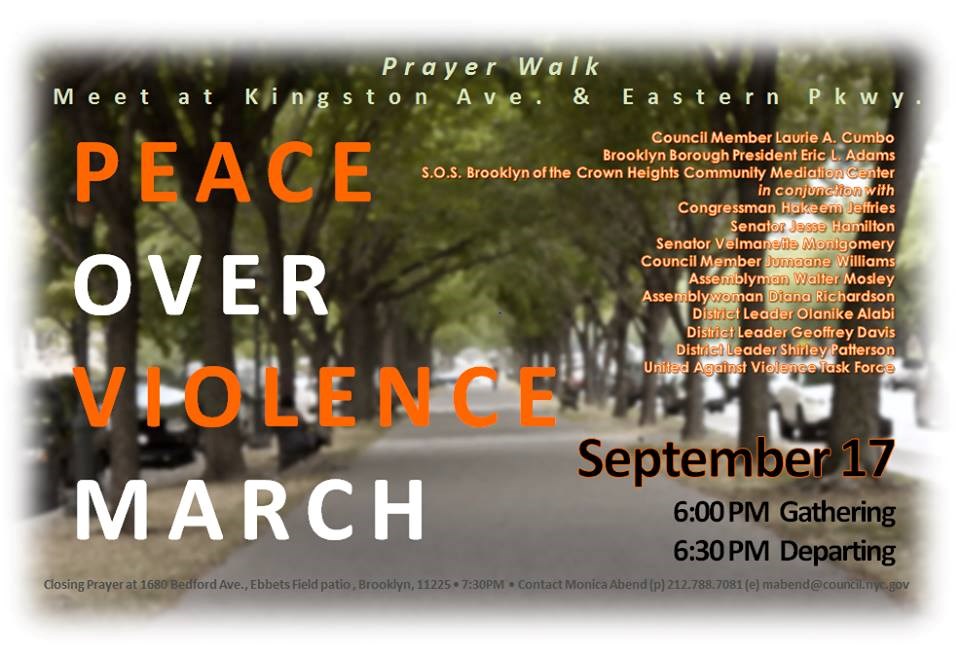 Central Brooklyn residents, save this date: On Thursday September 17, at 6:30pm, City Councilmember Laurie Cumbo, along with a number of other Central Brooklyn elected officials and community leaders, will host an anti-violence through Crown Heights.
The march comes off the heels of a number of violent incidents that occurred during and around the 2015 West Indian Day Parade during Labor Day, including years of similar violence at the same event. Cumbo writes about the problem in an Op-Ed here.
The community is invited to participate in the Peace Over Violence March, a leisurely paced one-mile prayer walk.
WHAT: Peace Over Violence March-- Prayer Walk
WHEN: September 17 at 6:00pm gathering and 6:30 p.m. at Kingston Ave. and Eastern Pkwy
WHERE: Departing at 6:30pm from Kingston Ave. and Eastern Pkwy; meet at the final destination for the closing prayer if you are unable to join the walk, at 7:30 p.m. at 1680 Bedford Ave., Ebbets Field patio.
For more information, contact Councilmember Laurie A. Cumbo's office, Monica Abend (p) 212.788.7081 (e) mabend@council.nyc.gov