Between Wilmington, Delaware, and Harlem, NYC, there are three statues of the legendary abolitionist, Harriet Tubman.
Philadelphia-based walking artist Ken Johnston has walked between two of them — from Wilmington, Delaware to Bristol, Pennsylvania -- and he is now walking his way to the third.
Next weekend, Sunday April 11, Johnston will conclude a 265-mile walk he started in December 24, 2019, retracing the steps of Tubman along the underground railroad byway until he reaches her statue in Harlem.
"What I'm trying to do is symbolically connect the past with the present and let people know about our history there," Johnston told BK Reader of the journey.
"It was a struggle for freedom then, and we still struggle for freedom now."
Retracing history
In December 2019, after looking for a freedom trail to walk, Johnston started replicating Harriet Tubman's 1854 rescue of her brother.
Her brother and eight others were about to be sold into slavery from the plantation they lived on at Poplar Neck.
Tubman found out about the plan and made her way down to rescue what she thought would be three people, but turned out to be nine, Johnston said.
"Through her network and resources she was able to carry these people from Poplar Neck all the way to Philadelphia in four days, an amazing feat at that time -- a 140 mile journey," he said.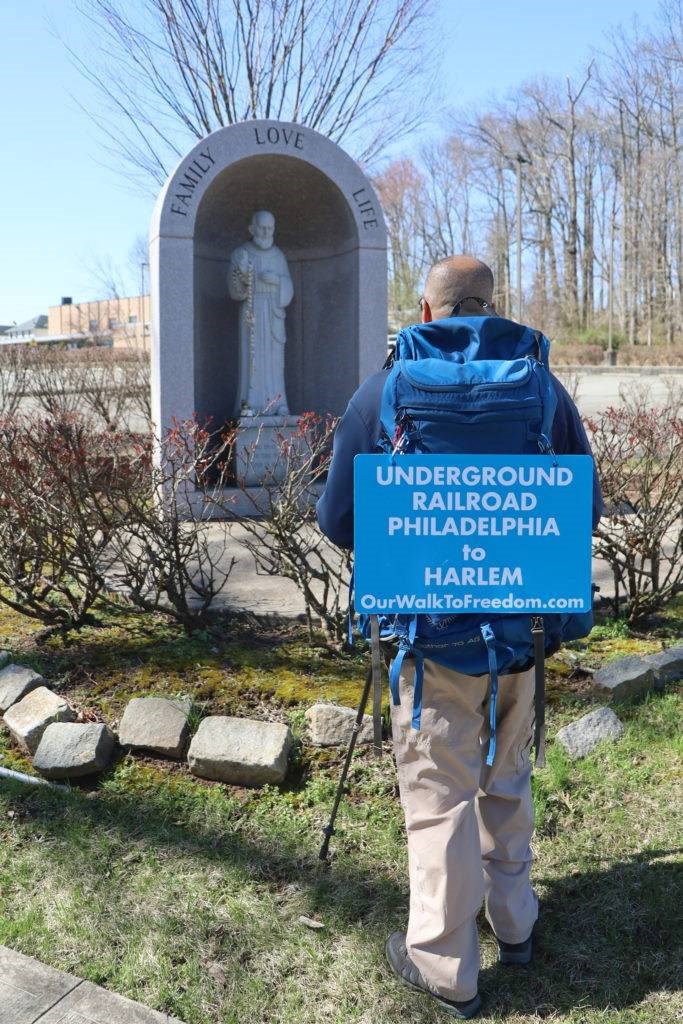 Although Johnston was just looking for a "low-key" walk — having just completed a cross-island walk of Puerto Rico to raise awareness of the effects of multiple hurricanes — he became enveloped by the history of Tubman's journey... and just kept walking.
"It took over and became bigger than I expected it to, a lot of people expressed a lot of interest in it and that carried me."
After starting in Maryland, he walked on to Delaware, crossed over to Pennsylvania and, by February 28, 2020, he had made it the home of the great underground railroad conductor, William Still.
But just weeks later, COVID-19 hit, halting Johnston in his steps.
Moving for civil rights
Johnston, who does the walk as a segment journey meaning he walks all day and returns home to Philadelphia at night before returning to walk again the following day, resumed the walk just eight weeks ago after a long hiatus due to COVID-19.
Last weekend, he spoke to BK Reader after crossing to Staten Island from Perth Amboy, New Jersey, by police boat. He went on to walk from the south to the north of Staten Island, where he will depart for Brooklyn next weekend.
The motivation to keep moving, he said, was to raise awareness about how we needed to protect and preserve our civil rights.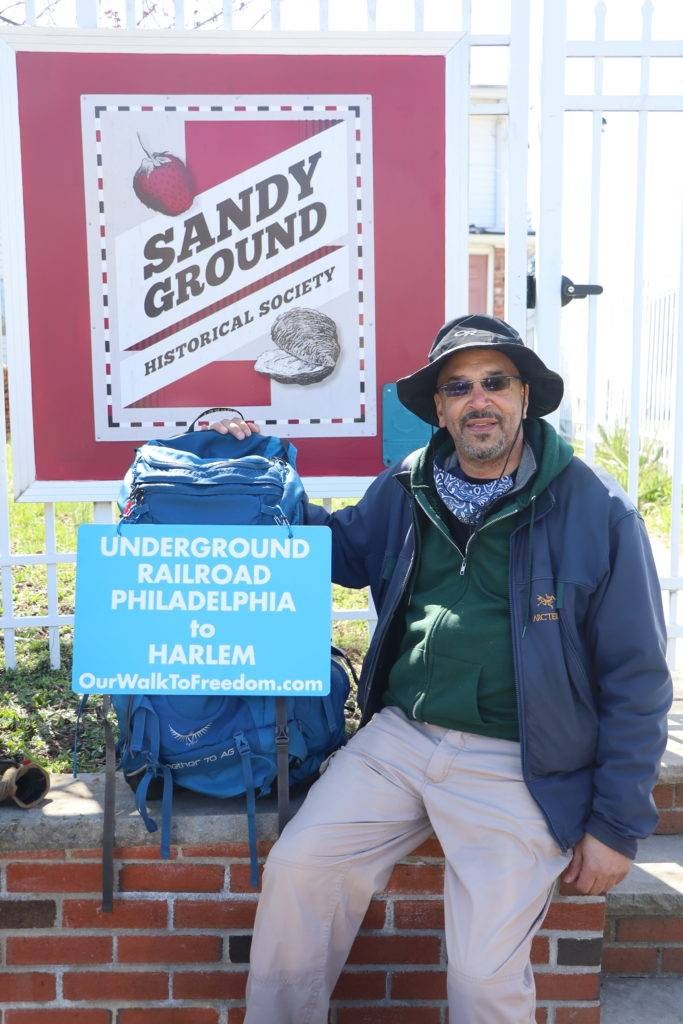 In 2017, just after Trump took office, he decided to take action.
"You could see all these bills that were being passed that were slowly eroding civil rights landmarks, voting bills and things like that, I was trying to find a way of expressing my displeasure."
In response, he organized a walk from Selma, Alabama to Memphis, Tennessee in conjunction with Martin Luther King Museum to commemorate the 50th anniversary of King's death. Since then, Johnston has used walking as a form of expression and raising awareness.
"Walking is one of the last true freedoms that we have," he said.
"There's always experiences that you have, negative sometimes, where your freedom is interrupted…freedom is not free."
Community support
This weekend, Johnston will making his way from Staten Island to Brooklyn — although he is yet to find an a boat ride over — where he will walk to Weeksville Heritage Center and Plymouth Church.
He said during the late 1800s, more than 1000 freedom seekers passed through Brooklyn on their journeys to escape slavery, and the borough had a very important place in the country's history.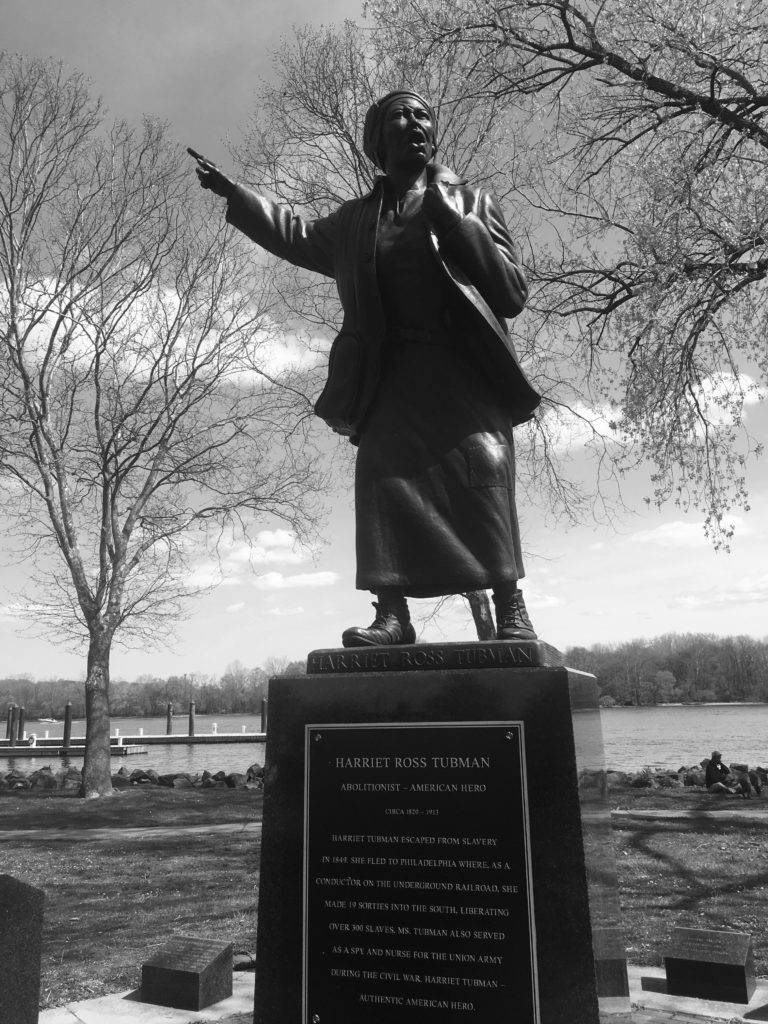 He said a lot of people didn't realize their communities were a link in the underground railroad, and the walk was about raising awareness to that and the need to continue the fight for the preservation of our civil rights.
"It was a struggle for freedom then and we still struggle for freedom," he said. "We can find success as they did back then by working together in groups and networking and promoting our preservation, our civil rights."
The route will Johnstone walk up Brooklyn, then across the Brooklyn Bridge to the African Burial Ground in lower Manhattan, and on to Seneca Village to his final destination: the Harriet Tubman statue in Harlem.
The route, created by historian Debbie Anne Page, was determined by a route made by formerly enslaved people found in an old abolitionist newspaper, Johnston said.
He said there was a spiritual energy to completing the journey, but he was also ready to reach the final mile after more than a year on the trail.
"It does make me feel proud, and I'm happy I'm able to share this story with people, that's really my goal -- to let people become aware how their town is connected to a greater district."
To follow Johnston's journey, walk with him or meet him at any of his stops, visit his website here for up-to-date timings.