The first three months of 2022 saw more people die in traffic crashes in New York City since 2014, according to a new report from Transportation Alternatives and Families for Safe Streets released overnight Tuesday.
According to the report, there has been a 44% increase in traffic fatalities in the first quarter of 2022 compared to the same period last year, with 59 people dying in crashes.
In Brooklyn, it was the deadliest February for pedestrian on record under Vision Zero—the City program launched in 2014 to reduce the city's traffic fatalities—with six people killed and 249 injured.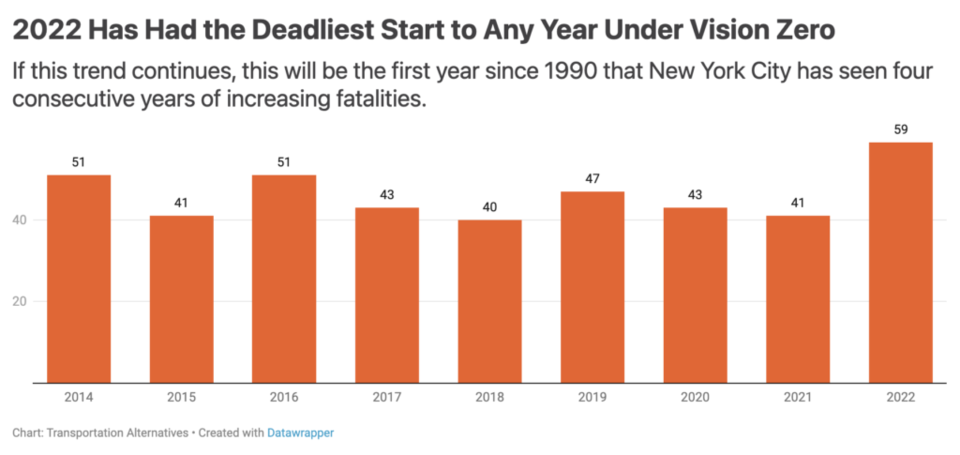 It was in this month that 99-year-old Holocaust surviver Jack Mikulincer was killed by the driver of a BMW SUV as he crossed Coleridge St and Oriental Blvd at Manhattan Beach in his electric wheelchair.
The data is causing Brooklyn leaders to fear traffic fatalities in 2022 are on track to be worse than 2021's record-breaking year.
"We cannot stand idle when data is clearly trending in the wrong direction, especially when it involves the lives of our youngest and most vulnerable New Yorkers," Brooklyn Borough President Antonio Reynoso said.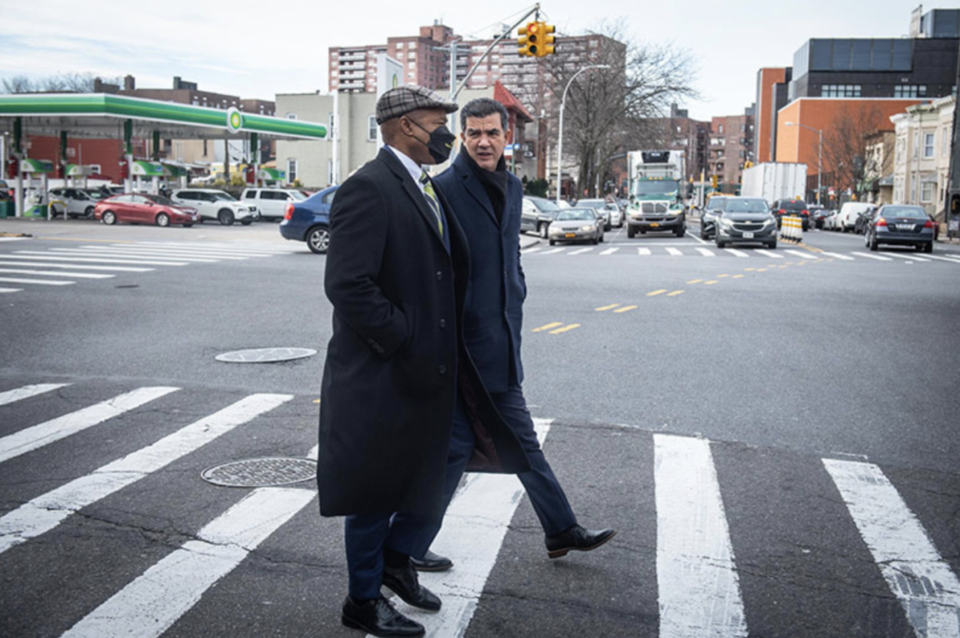 Safety advocates are now demanding Mayor Eric Adams include in the final budget $3.1 billion that the City Council has asked for to fund the NYC Streets Plan to build more bike and bus lanes.
Transportation Alternatives is also asking the Department of Transportation (DOT) to fast-track redesigns of dangerous corridors and 1,000 intersections.
It's also asking the state to grant New York City permission—or "Home Rule"—to govern its own speed and red light cameras, in order to further enforce safe driving.
DOT responds
In response to the concerning numbers, DOT spokesperson Vin Barone told BK Reader the safety of New Yorkers was DOT's "number one" priority.
"We are proud of the work we have done to curb traffic deaths and we understand there is still much more to do. The agency is working around the clock to increase the number of safety measures and eliminate traffic deaths in New York City."

The department pointed out that pedestrian deaths were trending down this year citywide, at 30 deaths to April 18, versus 35 deaths during the same period last year.
The main driver of the uptick in traffic deaths was motor vehicle occupant deaths—of which there have been 23 so far this year, the department said.
It said that was indicative of a spate of reckless driving seen in NYC and nationwide since the start of the pandemic.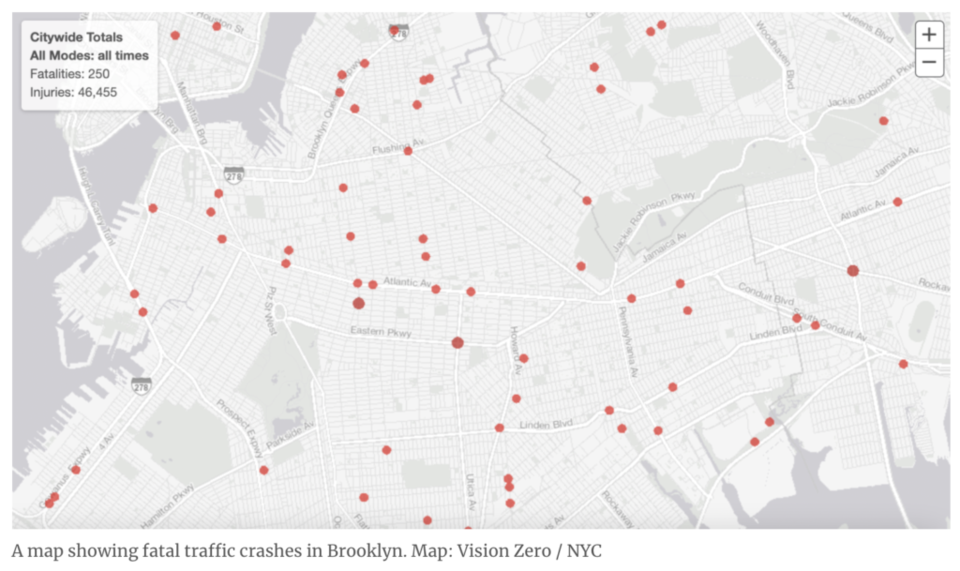 It added that it was committed to redesigning the city's most dangerous intersections and building a record number of new bike lanes, while reinforcing bike lanes with bollards.
The DOT said the city would continue to call on Albany to pass Home Rule on automated enforcement, to give the city the power to expand the operations of red light and school zone speed camera programs.
In January, it was revealed that East New York, East Flatbush, Bedford-Stuyvesant, Williamsburg and Jamaica, Queens, were the NYC neighborhoods with the highest crash numbers in 2021.
Education efforts in Brownsville
In Brownsville, police have been making an effort to educate residents about traffic safety at some of the neighborhood's most dangerous intersections, as well as posting frequent reminders to social media.
On March 24, 73rd Precinct Traffic Officers hit Rockaway Avenue and Eastern Parkway to speak with pedestrians about traffic awareness. The precinct has also posted about slowing down on Linden Boulevard to keep to the 25 mph speed limit.
Meanwhile, the precinct has also been focusing on street vendors who sell goods at busy intersections, particularly those who do so with their children.
Earlier this month, flyers were handed out at Brownsville intersection to female street vendors with babies strapped to their backs. The flyers warn—in English and Spanish—that vehicle collisions are the leading cause of death for children.
They asked the vendors selling cut mango at Eastern Parkway and East New York Ave to "relocate and stay safe."
According to City traffic data, motor vehicle collisions were down in the 73rd Precinct in March 2022, compared to March 2021. Injury or fatal collisions were also down from 52 to 37 year on year, with less motorist, cyclist and pedestrian deaths.
Brooklyn-wide in March, there were 2,817 motor vehicle accidents, compared to 2,706 the same month last year. City data shows 123 cyclists were injured, 239 pedestrians hurt, and three pedestrians killed.
The precinct did not respond to requests for comment.