New York City Comptroller Scott M. Stringer on Wednesday released a comprehensive new report on the creative economy in New York City, showing the sector is responsible for some $110 billion in total economic activity.
The largest number of creatives were moving to the Brooklyn neighborhoods of Bushwick and Bedford Stuyvesant, according to the report.
Also, growth and earnings ratios indexed on average higher amongst those employed in the creative field than any other sector. Stringer recommended the city pay attention and invest more into the creative economy:
"From Broadway to local theater groups, film studios to artists' studios, New York City's creative sector is as much a core industry of our city as banking, real estate, or law. We need to invest in strengthening the creative economy to support and recognize it as the engine of opportunity that it is," Stringer said. "New York City is the creative capital of the world, and this report shows how the sector at the heart and soul of our city is also a pillar of our economy."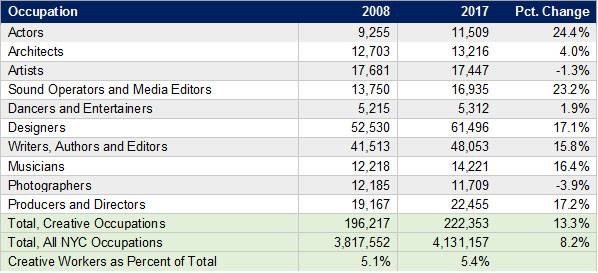 The State of the Creative Economy
The sector — comprising industries from the performing arts to advertising, film and television to museums and art galleries, publishing, fashion, design and architecture, as well as thousands of independent artists, designers and others — employs 293,000 people, pays $30 billion annually in earnings, and accounts for one in every eight dollars in economic output.

The U.S. creative sector is increasingly concentrated in New York City. Twelve percent of creative sector jobs are located in the City — compared to 3 percent of all U.S. jobs — reaching as high as one in every 5 jobs nationally in the publishing, advertising, and fashion design industries.

At the same time, volatile employment situations for some creative workers, high rates of self-employment, and a growing affordability crunch contribute to economic insecurity among much of the creative workforce, challenging New York City's continued pre-eminence as a creative hub.

Lack of diversity among creative workers also remains a challenge.
The Creative Demographic Makeup
The report also takes a close look at the demographic of the sector's workforce. Among the findings:
Over 62,000 workers in the sector are self-employed — a figure which has grown at nearly twice the rate of growth of those employed in a business or non-profit organization
36 percent of New York City-based creative workers were self-employed in 2017, compared to just 10 percent of the City's overall workforce. These workers lack access to benefits and protections available to employees, such as affordable health insurance and unemployment insurance.
While persons of color represent 68 percent of the city's total population, they account for only 34 percent of the workers in all creative occupations.
Creatives of color workers overall earn 91 cents on the dollar compared to their white counterparts — a much better ratio than the 54.5 citywide average
Female creative workers, who comprise 49% of the creative workforce earn 94 cents on the dollar compared to their male counterparts — also considerably better than the 82.5 citywide ratio
The report also noted that finding affordable places to live and work for creative sector workers remains a big challenge. Therefore, many are leaving Manhattan to head south to Brooklyn or north to Washington Heights, Inwood and Marble Hill.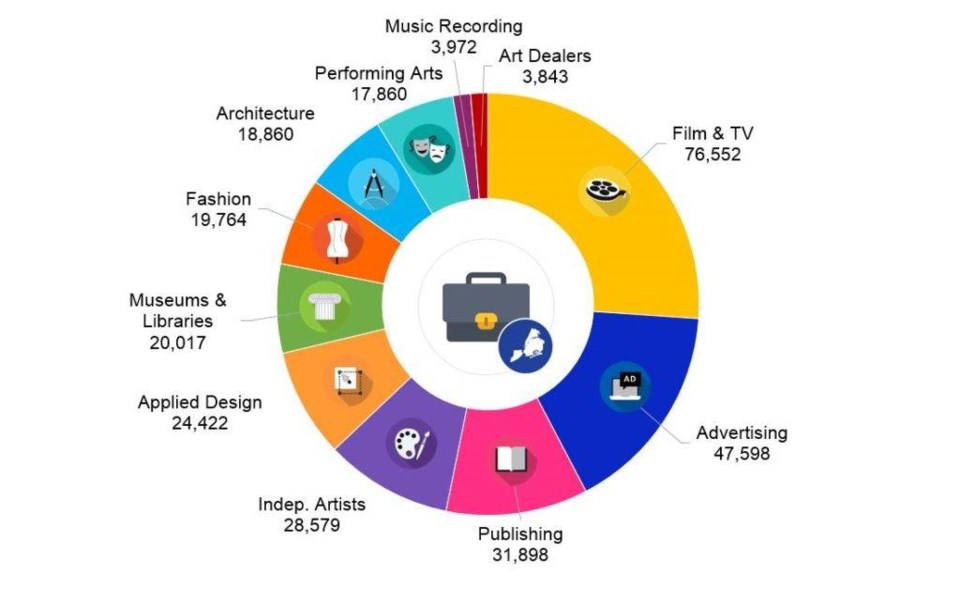 Supporting the Creative Workforce
Over one-third of the creative sector workforce were self-employed in 2017, leaving them especially economically vulnerable.. The comptroller's report outlined several proposals to support the creative workforce by offering benefits afforded full-time employees. These include health insurance and retirement benefits, wage protection, and unemployment insurance. The recommendations included:
Supporting state legislation to combat wage theft by broadening the New York State Department of Labor's oversight and enforcement authority to ensure that freelancers receive the same wage protections as traditional employees.

Supporting access to quality, affordable health insurance for all freelancers and creative workers, particularly as nearly 10 percent of creative workers in the city lack health insurance.

Expanding unemployment benefits to creative and freelance workers.


Creating new affordable housing and workspaces such as renovating industrial spaces to fit individual, communal, commercial, and residential needs of artists, freelancers, and creative workers.
To read the full report, go here.