Ayisyen kanpe! (Kreyol translation: The Haitian community represented!)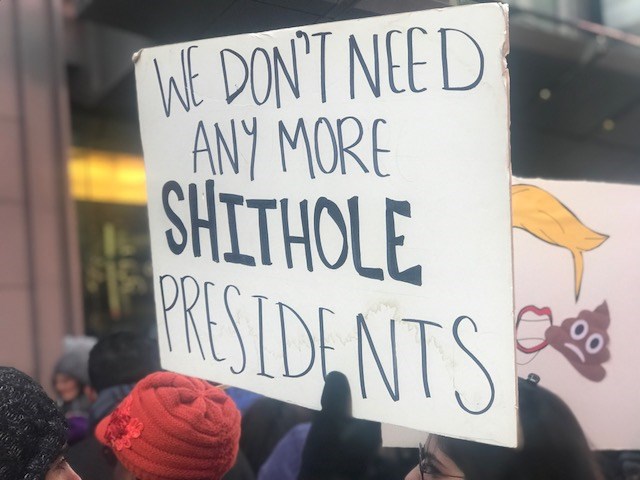 They emerged from cabs, cars, busses, subways, joining NYC Mayor Bill de Blasio and and a dozen or so elected officials in Times Square yesterday in a show of solidarity.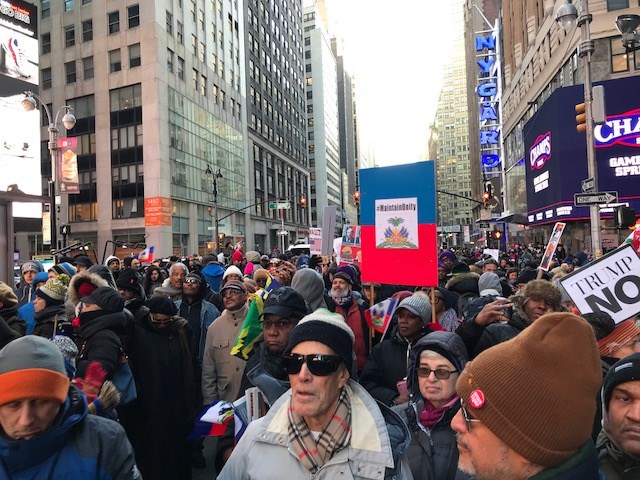 The rally was a response to racist comments our 45th U.S. president made about their value to the country during a meeting on immigration last Thursday at the White House. The President asked why the United States would accept more immigrants from "shithole countries" in Africa and the Caribbean, rather than places like Norway, according to two lawmakers who attended the meeting.
"The racism of the current administration is scary because this is the thought process disguised as immigration policy," said Harry Djanite
So on Monday, January 15, Martin Luther King, Jr. Day, over 1,000 residents representing Haiti, Mexico, Puerto Rico, El Salvador, Ghana, Nigeria and more gathered at Broadway and 7th avenues in the city for a "Rally Against Racism," a chance to throw up a proverbial middle finger at the 45th president for his offensive comment and also show strength and pride for their countries of origin.

Also, there was representation from several non-profits that work closely with the immigrant populations of Brooklyn, including Make the Road New York and Haiti Cultural Exchange.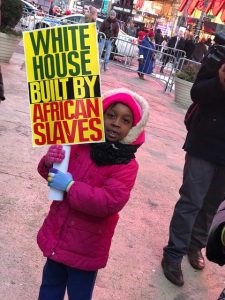 Regine Roumain, founder and executive director of Haiti Cultural Exchange in Crown Heights, said she was pleased with how quickly they were able to mobilize so many different groups in such a short period of time.
"The Haitian community, elected officials, immigration rights groups and the artistic community all came out," said Roumain whose non-profit organization, in 2009, became the first-ever in New York City founded to promote Haitian art and culture. "There was a lot of positive energy; I was pleased with the outcome. I was especially happy to see how the Haitian artistic community came out, of course. We (HCX) were really able to say artists voices matter and play a big role in moving people."
Elected officials from Central and East Brooklyn attended in a show of support, including Rep. Hakeem Jeffries and Nydia Velazquez; City Councilmembers Laurie Cumbo, Robert Cornegy, Corey Johnson, Matthieu Eugene and more. Mayor de Blasio spoke and thanked the city's immigrant population for "making us stronger and better." The others were less soothing, blasting the president for his hypocrisy as a the grandson of an immigrant himself. All of them demanded an apology from the president.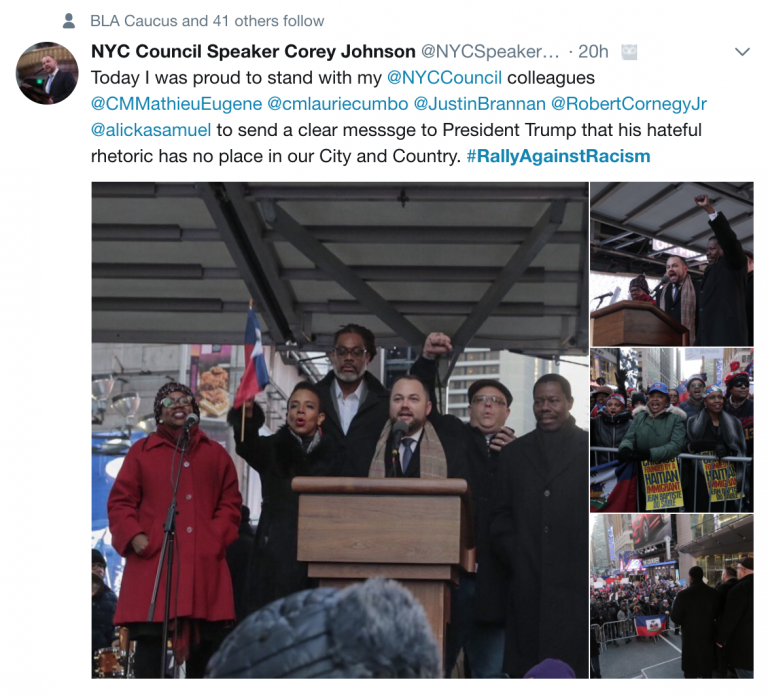 "The racism of the current administration is scary because this is the thought process disguised as immigration policy," said Harry Djanite, a Bed-Stuy resident who was born in Haiti. "The rally unified New Yorkers of all races, creeds and religions, and immigrants from all over the world came together in a show of solidarity."
It was a powerful moment witnessing the immigrant community galvanized for coalition building against what has emerged to many people of color as a racist regime. The crowd sang Haitian folk songs in unison, waved flags and held up protest signs. Now, said Rouiman, the groups are planning their next move: "In terms of next steps, I'm planning more meetings around community organizing, an advocacy agenda, including legislation," she said.
"The rally was a stand against racism and bigotry-- a defiant condemnation of President Trump."
*All photos by Harry Djanite