Imagine a Brooklyn where the internet is cheap or even free, you install it yourself and with your neighbors, and get to know them in the process.
That's the vision for NYC Mesh — a community of volunteers that helps people connect to the Internet outside of the traditional providers — and the reality for a growing group of New Yorkers.
Right now, it's estimated about 3,000 people are using Mesh in Brooklyn, from whole blocks in Prospect Lefferts-Gardens, to a park in Bed-Stuy, to a shelter in Brownsville.
And as the pandemic laid bare the divide between Brooklynites who have internet and those who don't, organizations like NYC Mesh have stepped in to give communities the tools to get themselves connected.
"We're not super interested in taking control of the city's internet infrastructure," NYC Mesh install leader Rob Johnson explained.
"We're interested in empowering people to get what they need and build alternatives to what currently doesn't work for them."
Bed-Stuy on the mesh
It started, as it often does, with a random Facebook post.
It was 2019, and 700 Jefferson Avenue Block Association's Kiki Bowser-Santiago was fed up with her cable internet service after upgrading to a premium high-speed plan that wasn't delivering.
She remembered a post she saw about NYC Mesh — a community-led internet service that only charges for the equipment and a monthly donation if you can afford it — and decided to check it out.
After getting the install, discovering it worked and wasn't "too good to true," she recommended it to her neighbors. Eventually, people across her whole Bed-Stuy block connected. "I was inundated," she told NYC Mesh.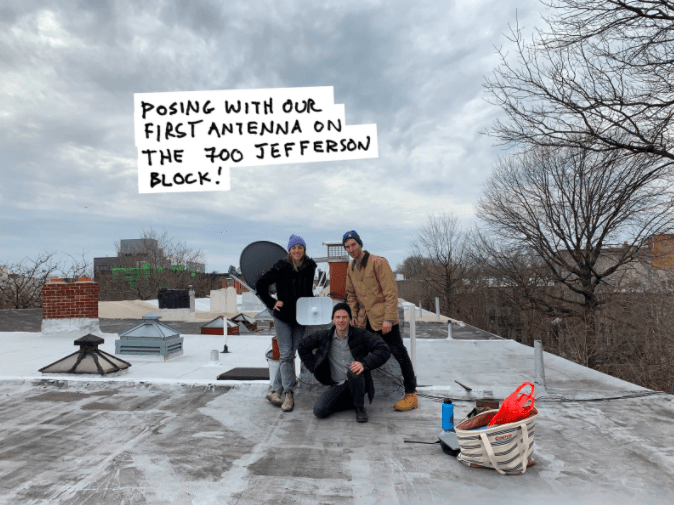 Rohan Singh lives near the Bedford-Nostrand 'G' train station, and said he and his partner decided to look into NYC Mesh after getting "tired of doing the annual phone call to Verizon to persuade them not to raise our rates."
Since getting Mesh, Singh — a software engineer who has worked at companies like Spotify and Facebook — has got involved in both the technical and community side of the project.
"I can't stress enough how much of a learning experience both of those things have been," he said.
Now, walking down the block, he notices all the infrastructure that used to be invisible to him. And it's made him feel more connected to his community.
"I've met so many more of my neighbors across Brooklyn, and feel more plugged in to the borough."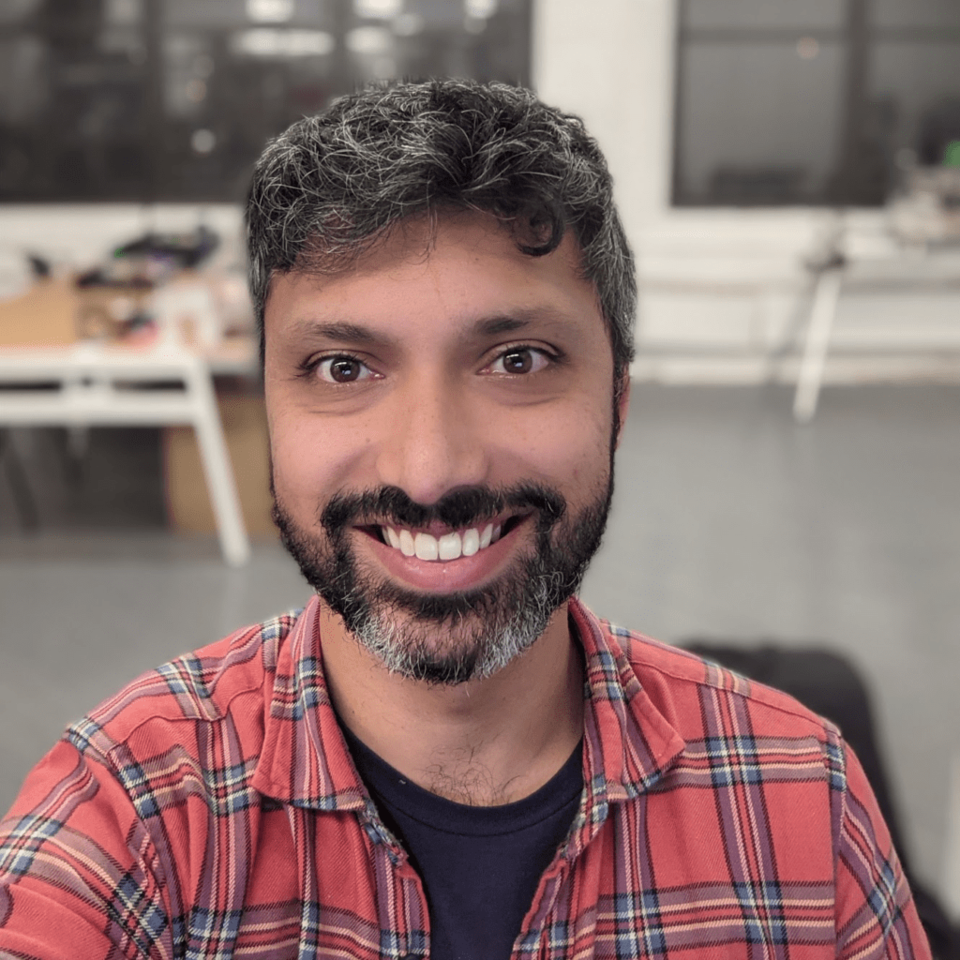 For Ean Matthews, it started in February last year, when he spotted a piece of paper stuck to a telephone pole while waiting to cross the road at Marcy and Myrtle Avenues.
The notice about NYC Mesh's community WiFi piqued his interest, and he booked an install. After being involved with that install, Matthews has since learned the ropes, and now does installs for other newcomers.
"They like you to go along on three installs. Then they'll give you a crimping kit and say, 'Off you go.'"
For Matthews, who works in tech law, one of the big drivers has been making the internet accessible to everyone. One of his most recent installs had him up on roofs in Brownsville until midnight a few nights, getting a homeless shelter connected.
"It's a fundamental human right, he said. "Particularly during the pandemic, with young kids learning at home, that was a real motivator for me."
For those who are afraid to try it, he suggested just getting it installed alongside your regular provider until you feel comfortable.
Where it came from
NYC Mesh began in August 2012 with 13-year-old self-taught coder Mark Blum, Biz Journals reported, but had no active nodes — points where routers are connected — at that time.
Tech anarchists Brian Hall and other volunteers were involved with growing the community network from its first node in 2014 to what it is today: 842 nodes connecting to two supernodes, one in Manhattan, and a newer one in Sunset Park.
"Over time there's become more of a community organizing thing, and some parts look anti-capitalist, but some parts look more mutual aid," Johnson said.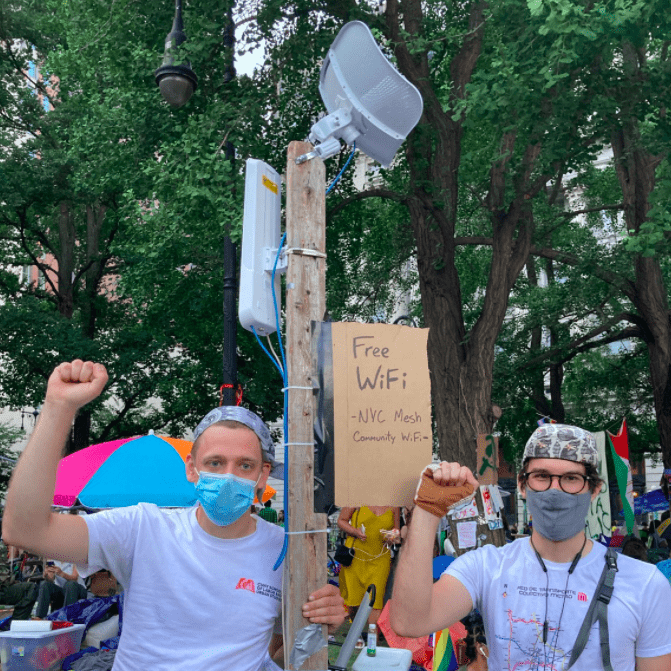 There are thousands of people on the NYC Mesh Slack channel for volunteers, and about 50 very active volunteers like himself. Johnson said Mesh was doubling in size each year since 2014, but that growth slowed a little during the pandemic and they now estimate there are about 4,000 people regularly connecting.
Anyone who wants to connect can check NYC Mesh's map to see if they're in range of a supernode or hub node, or put their address in its line-of-sight tool.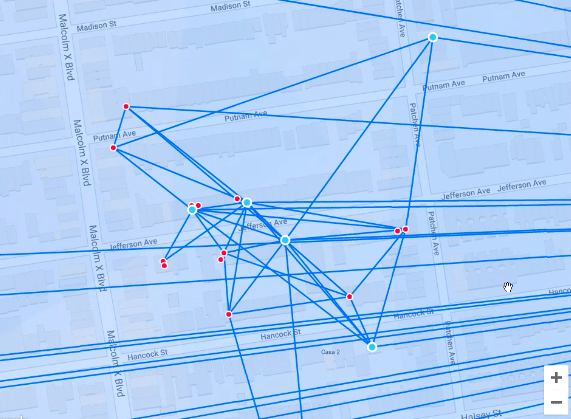 If you're in range, you can sign up to get a volunteer to install the router on your roof, or you can learn to do it yourself. Mesh asks users to pay the cost-price for the hardware if they can afford it, and to tip the volunteer.
The internet is free, but NYC Mesh hopes people will set up donations of at least $20 per month to help them keep doing the work they do, like setting up free internet in the area around NYCHA's Sumner Houses, and in Herbert von King Park.
Education provider, not an ISP
Johnson said the pandemic forced people to realize just how unequal internet access in the city is. While NYC Mesh had been talking about the digital divide for years, the pandemic made it urgent.
"A lot of schools and work places could mask the fact that a third of the city goes home and doesn't have access to good WiFi. So those kids, they are showing up to school but maybe their homework isn't done," he said.
"Now [during remote learning], they're not showing up to school. It added a seriousness to what we do."
While the pandemic saw the City suddenly scrambling for solutions to a problem it already knew existed, NYC Mesh isn't the type of organization you can throw money at to quickly fix the digital divide, Johnson said.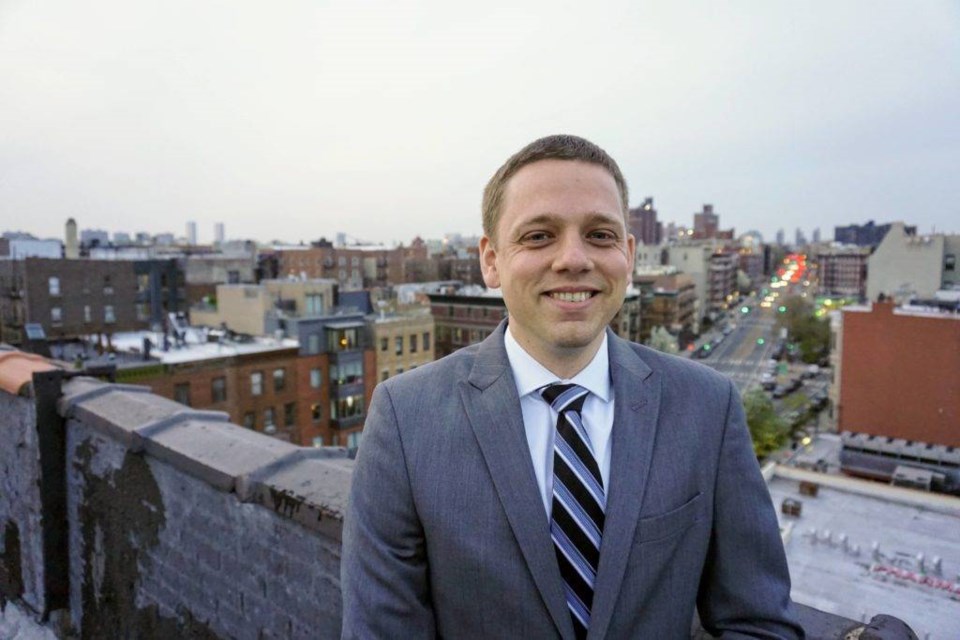 He said it was important to understand that NYC Mesh is not a business, it's more like an education provider teaching people to come together to connect themselves to the internet.
While some people may see the model and immediately want to scale it up to serve the whole country, that's not what Mesh is about.
"It's not a capitalist growth project," he said. "It's not the tech that's important. It's the community building work."
For Mesh, that might look like visiting a block association meeting to explain how it works. Or spending months talking with city officials about the best way to connect a shelter or a NYCHA building. Or showing kids how to connect a router at a Bed-Stuy block party.
"We're building community power and that work can't be rushed. We don't want to think of ourselves as doing charity work, we want to think of it as community building and empowerment, which is difficult to do and to explain."
For Johnson, one of the best feelings is seeing people connecting to internet Mesh has made available for free, like after he did an install for outside NYCHA's Sumner Houses.
"It can change your life if you have access to the internet. And that feels really good, if someone now has access to something they didn't have before."