The New York Attorney General has stepped in to investigate a complex eviction case in Crown Heights, as tensions rise in the neighborhood where residents have fought hard to overcome a history of racial division.
On Wednesday, housing advocates rallied at 964 Park Place after a small win in court which allows residents Sherease Torain and her mother Queen Afua Helen Robinson to legally stay in the home until at least Feb. 24.
"This is a small but insufficient victory," Crown Heights Tenants Union Cofounder Joel Feingold told a crowd of about 40 supporters and 10 police, while asking for ongoing support for the family.
The issue erupted at 964 Park Place in Crown Heights late last week when Torain was admitted to hospital for surgery, and returned to find the locks changed, Brooklyn Eviction Defense said.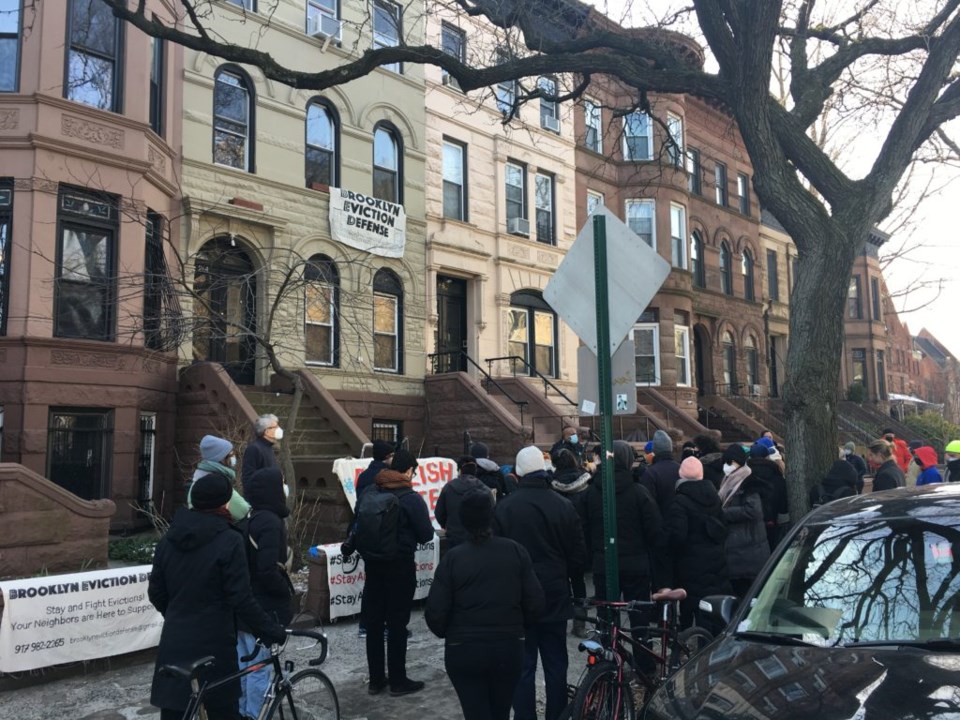 Early Friday morning, a group of housing advocates worked to break Torain and Robinson back into their home. The advocates have kept a "stoop watch" for the pair since then.
On Monday, tensions bubbled over again when landlords tried to forceably reenter the home.
Advocates for the Robinsons reported "goons" trying to break the doors in, and break in through the roof. Advocates for the landlords said young Jewish men from a local Yeshiva came to help the landlord and heard racist remarks.
Both sides reported the police being unwilling to help them.
The Robinsons contacted Councilmember Chi Ossé that night, who immediately went to the scene.
"My office responded to a call from the Robinsons and the [Crown Heights Tenants Union] when men working for the firm tried to forcefully enter the home. Once I arrived, I called [New York Attorney General Letitia James] who came directly to the scene," Ossé tweeted.
He said the Robinson family faced eviction after being targeted for deed theft.
The timeline of events and determination of legal ownership is yet to be investigated.
The family says they have owned the house since 1951, when Robinson's father bought it after fleeing Alabama. They were the first Black family on the block, they say, and both Torain and her mother Robinson were born in the house.
Queen Afua went on to become a world-renown holistic health practitioner and New York Times bestselling author who has worked with celebrities such as Jada Pinkett-Smith, Lauren London and FKA Twigs.
When Robinson's mother, who is now 98 years old, was approached to sell in 2015, the family says she was "hoodwinked and bamboozled."
"My mother never sold her house," Robinson said Wednesday. "She refinanced it."
The situation has called up allusions to racial tensions that eventually led to the 1991 riots in Crown Heights — riots the community has worked hard to build back from. The Robinson family is Black, and the landlord trying to evict them is a Lubavitch Jewish businessman, COLive reports.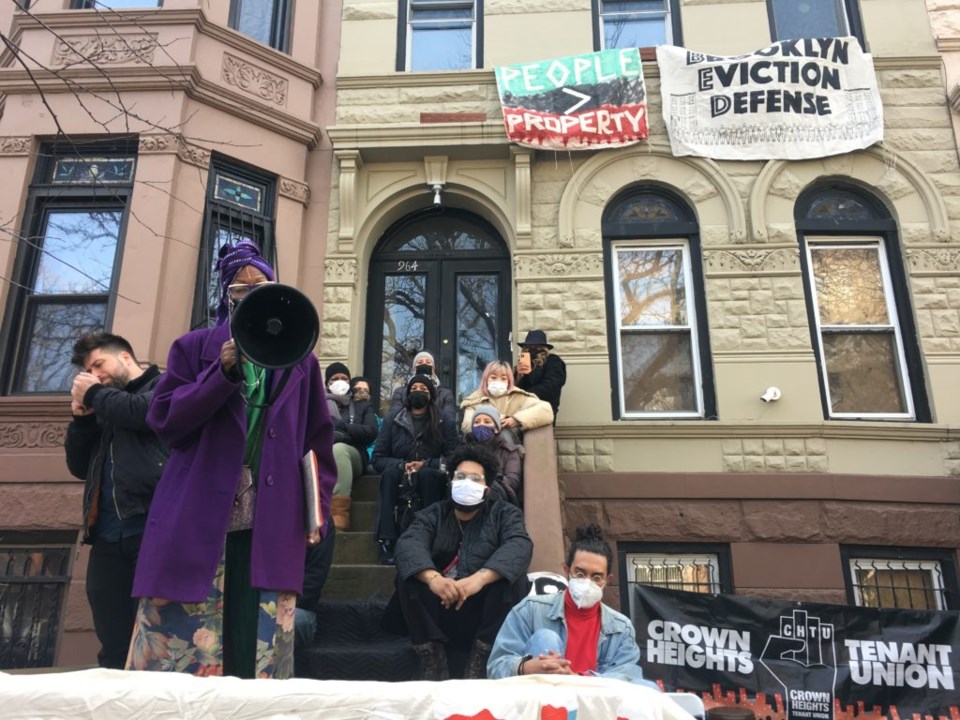 The owner told the publication that the Robinsons had delayed eviction for six years through court proceedings.
"We offered to put her up in a hotel for some time, or to cover some of her rent in a new location and meals, to help her until she works things out, but she refused," he reportedly said. On Wednesday, housing advocates hammered that the eviction situation was not to do with race.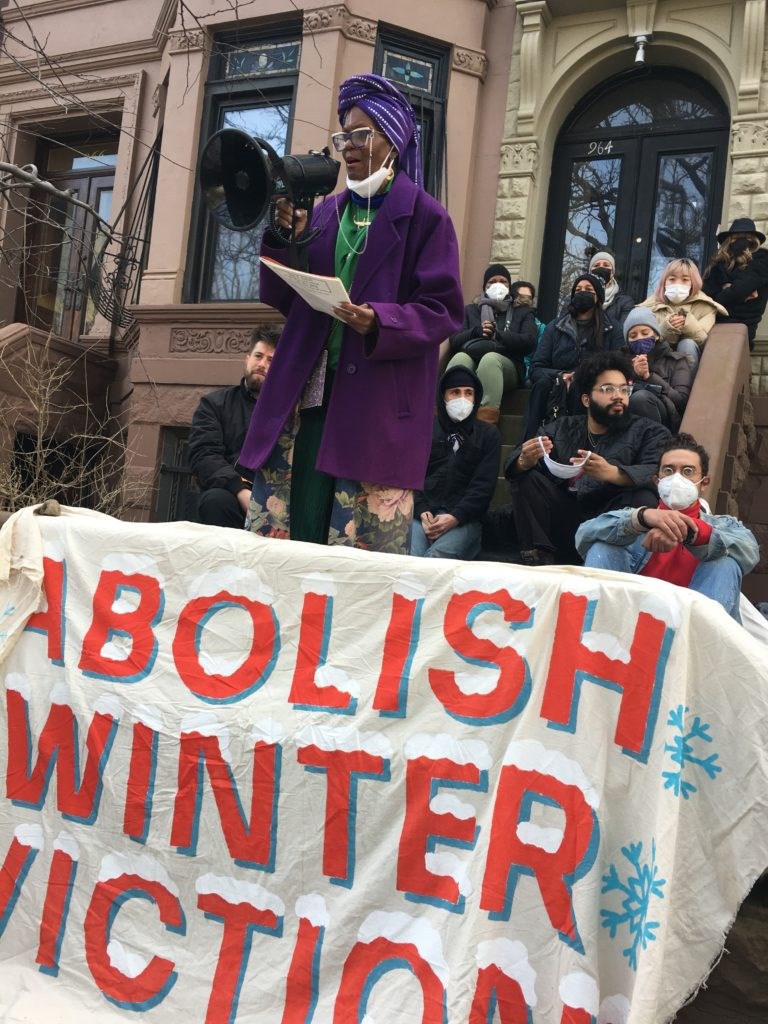 The Robinsons can continue to stay in the house until Feb. 24 by court order, while the situation continues through housing court.
"The ongoing situation at 964 Park Place is deeply concerning, and my office is looking into the matter," Attorney General Letitia James told BK Reader Wednesday.
"This serves to remind us of the serious and prevalent housing concerns that New Yorkers face every day. Whether you're a renter or homeowner, New Yorkers have the right to a roof over their head."
New York's eviction moratorium ended last month, leaving about 53,000 Brooklyn households facing eviction filings.
There is a backlog in cases, and households that face imminent risk of eviction by the marshal are those whose landlords asked the court to remove them from their homes before the pandemic and where the court granted a judgment, but a warrant of eviction has yet to be carried out, Gothamist reports.
Housing advocates are continuing to keep watch over the house.