How do you think you'd do if you were put on the spot by a New York State Senator giving you a quiz on civics?
Students at Brownsville's Brooklyn Ascend High School found out Friday morning when New York State Senator Zellnor Myrie crashed their history class to tell his story and encourage the teens to get involved in local politics.
After introducing himself to the class as the representative for State Senate District 20, representing nine neighborhoods in Brooklyn including Brownsville, Myrie decided to kick off with a little test.
He started with an easy one: What's the voting age?
"18," the class shot back at him, in unison.
Who's the current mayor?
"De Blasio," the 16 and 17-year-olds rumbled.
And does anyone know who the two main candidates to replace him are?
A moment of silence, before history student Shermya Abrams piped up.
"I know what they look like. There's a white man, he always wears this red hat, and another Black man, he looks pretty old to me, I think he was a cop."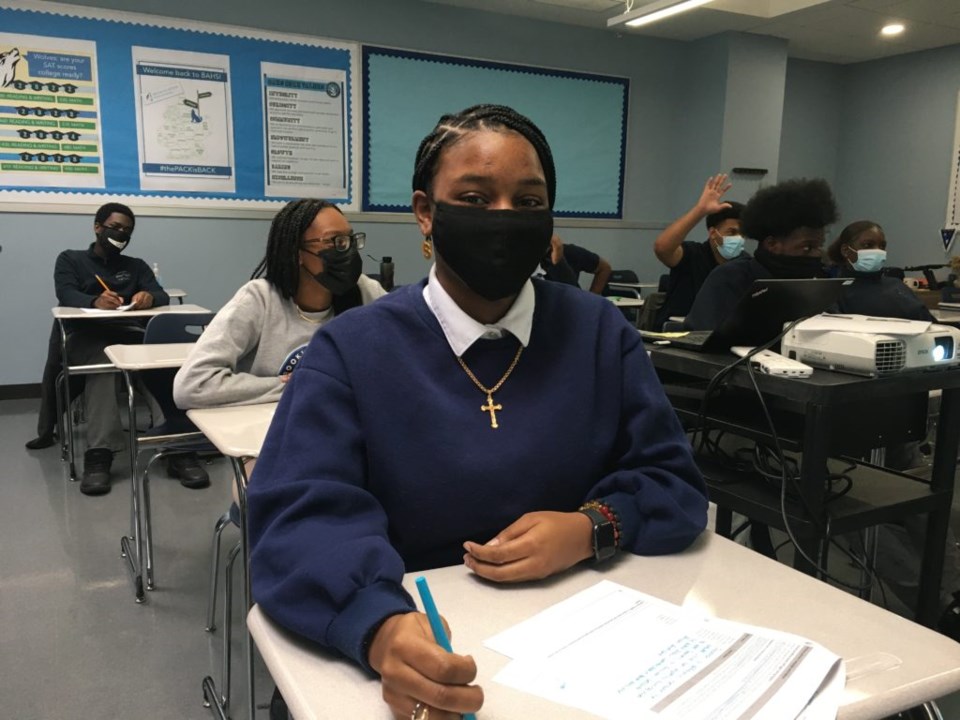 Of course she's right, with Grant referring to Guardian Angels CEO and Republican nominee for mayor Curtis Sliwa, and former NYPD officer, current Brooklyn Borough President and Democratic nominee for mayor Eric Adams.
Learning about early voting
Myrie's visit to Brooklyn Ascend comes as New Yorkers hit the polls for early voting in the New York City 2021 General Election.
He pointed out that early voting is one of the legislative changes he's led since taking office in 2019, and as Chair of the Committee on Elections.
The senator told teens how, on his first day on the job in January 2019, the majority leader told Myrie he had to debate the very first bill for the legislative session.
The bill was on whether or not New York should allow early voting, a bill Myrie supported, with New York being behind 37 other states that already had it.
"It was my bill and I had to debate with the Republicans for two hours, that was my first day on the job," he recalled. "But I held my own, because, that's how we do it in Brooklyn, and it passed."
Myrie also told the teens how he was one of the youngest state senators in New York. When he first walked into the senate chamber, a security guard stopped him and asked, "Where are you going young man?," to which Myrie responded, "This is where I work."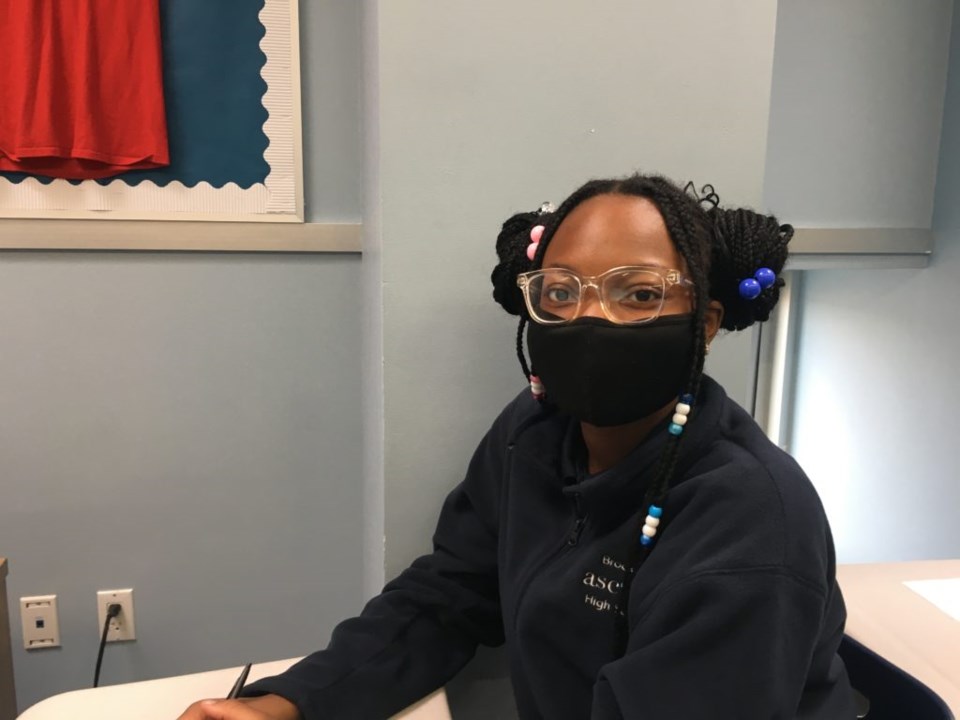 The question of being too young to participate in government was the main reason Myrie visited Brooklyn Ascend Friday. "Don't let anyone tell you you're too young," he urged the students.
In a discussion starter, he asked the teens whether they thought the voting age should be lowered to 16.
While most of the adults, including Myrie himself, voted yes, most of the students voted that it should stay at 18, even though the legal driving age is 16.
"I feel like driving a car is not as serious as voting, because you're affecting everyone else, you're affecting your state and people who live there," student Ashlee McKayne said.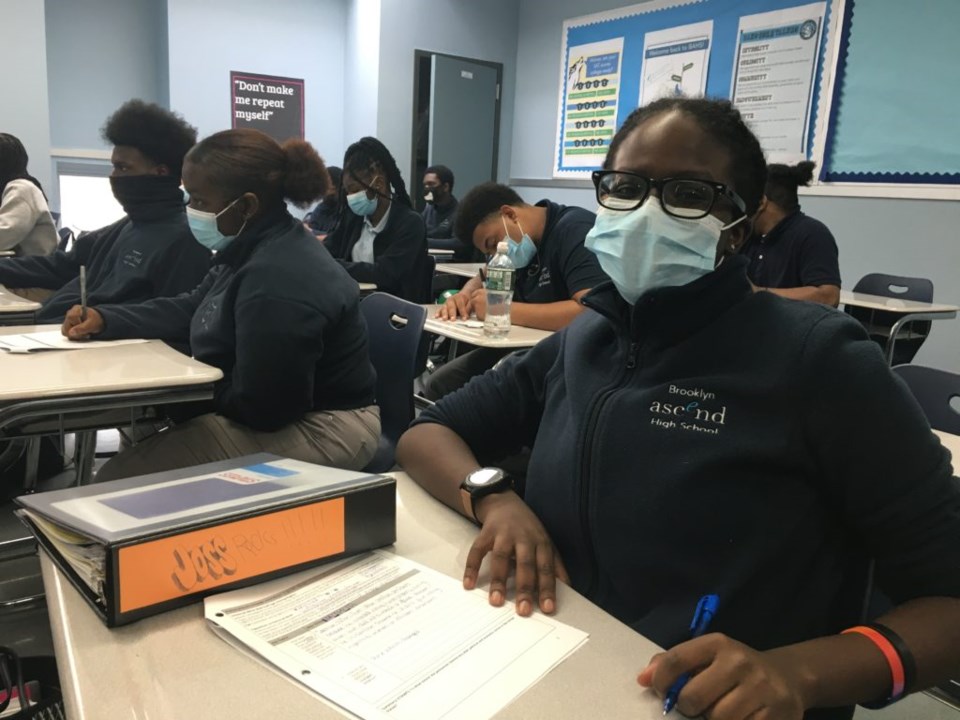 However, Joss Wilson, one of the seven teens in favor of lowering the voting age, said kids their age know what's happening.
"We have an opinion about who should be the president, or who should be leading in our state," she said.
After class, Myrie told BK Reader the discussion on the voting age was a "perfect example of what democracy is."
"You assume that people want one thing, but the reason why we have elections is because you don't know what people want and it's important for them to engage.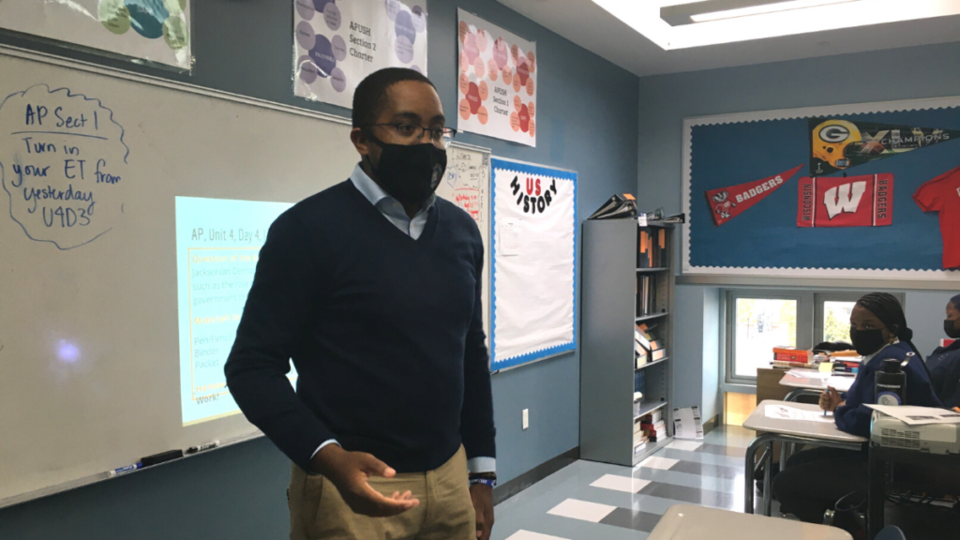 "I love to hear what the young folks say, they're usually right, and so it was interesting to see the reasons why people didn't want the voting age lowered," he said.
He said voter registration in the district is lower than it should be, and voter participation is even worse.
"In New York we fancy ourselves the progressive capital of the nation, but we have some of the lowest voter participation rates in the entire country."
That's a problem when it comes to getting politicians to do what you want them to do, Myrie explained to the teenagers. Say two streets in a district want their road fixed, and a politician â€" who depends on votes to have a job â€" can only get funding to fix one. Whose road gets fixed? The street that votes.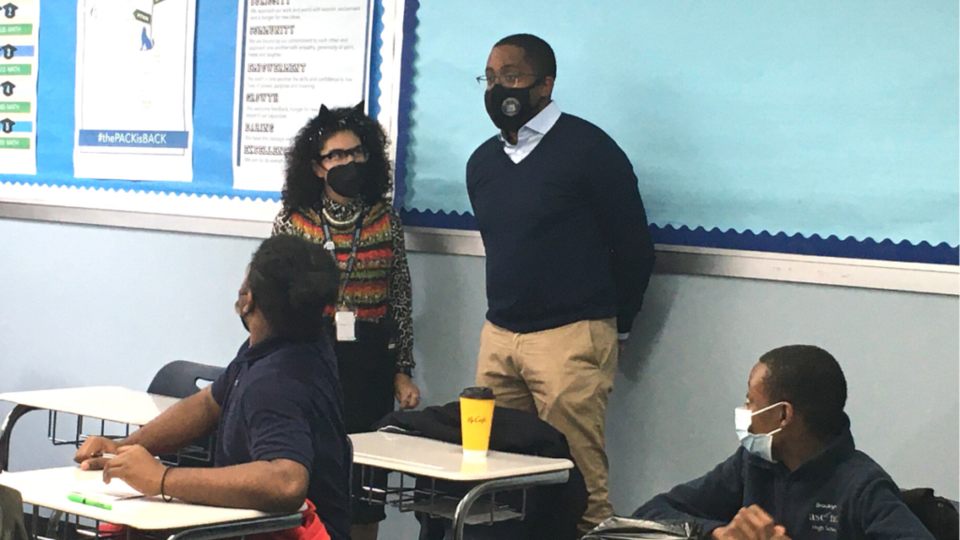 Myrie added that it's important to get 16 year olds preregistered to vote, because research shows that young voters end up voting for the rest of their lives.
Meanwhile, Brooklyn Ascend High School has been making moves to ensure its students are more civically prepared than ever.
This year the school made it mandatory for every single senior to take a college-level AP Government course prior to graduation, Principal Livia Angiolillo said.
And Election Day is a day off for all Brooklyn Ascend High School students, so all their 18 year olds can get to the booth to vote.