NYCHOPE offers a directory of local services; information about signs of abuse; and a guide about how to help a person experiencing abuse - easily and safely accessible from any smartphone, tablet or computer.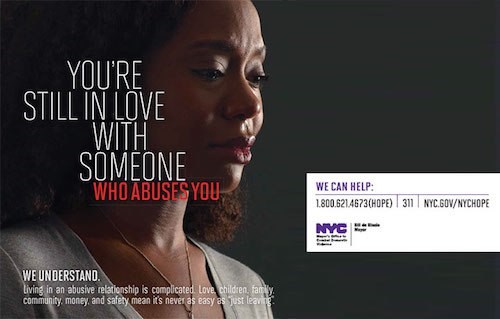 According to the CDC, one in four women and one in seven men will experience severe physical violence by an intimate partner in their lifetime. And: Annually, more than 80,000 phone calls are placed to the NYC domestic violence hotline, according to officials.
In an effort to combat and shed light on the issue of domestic violence, First Lady Chirlane McCray announced on Thursday the launch of NYCHOPE, a web portal that provides resources and information to survivors, and tips for others who want to help someone experiencing domestic violence. Its launch is also accompanied by a domestic violence awareness campaign - "We Understand" — developed with advocates and survivors to speak to the complexities of abuse, as well as the availability of support and services in NYC.
"It is time to stop asking survivors of domestic violence why they stay and start asking what more can we do to support them and their families," said McCray, co-chair of the Domestic Violence Task Force. "The innovative NYCHOPE portal and 'We Understand' ad campaign will help educate New Yorkers about the complexities of intimate partner violence and make it easier for survivors to access the services they need for safety and heal from trauma."
The ad new campaign "We Understand" aims to connect survivors and their loved ones to the web portal NYCHOPE, a centralized information and service hub that allows survivors to access information and services from any computer, smartphone or tablet. "We Understand" includes ads and promotional spots which will run for 12 weeks through the first week of April 2018. Ads will be displayed in bus shelters, subways, the Staten Island Ferry and on social media platforms; promotional spots will run on 103.5 KTU FM and Power 105.1 FM, as well as on LinkNYC kiosks across the city.
NYCHOPE offers features such as a resource directory of local services; information about signs of abuse; and a guide about how to help a person experiencing abuse. The portal includes tech safety tips and a quick-escape feature for users to ensure their safety while accessing the platform. NYCHOPE also provides information about the city's five Family Justice Centers, which serve as one-stop service centers for victims of domestic violence, elder abuse and sex trafficking, and connect them to services in their language, regardless of immigration status, income, sex, gender identity or sexual orientation.
The web portal was designed and developed by the NYC Department of Information Technology and Telecommunication (DoITT) and students at Cornell Tech. During the 2016-2017 school year, the students interviewed over 100 domestic violence survivors to assess how technology can support their needs for information and access to resources.
"I encourage victims of domestic violence to take advantage of the assistance available from city and state agencies," said State Senator Roxanne Persaud. "Survivors need to be encouraged to seek help, and offered information and support as they endeavor to disengage themselves from this vicious cycle of domestic abuse."
For information, support and help, New Yorkers can also contact the city's Domestic Violence Hotline at 1-800-621-HOPE, which is available 24/7 and provides safety planning, referrals, and connections to emergency housing for victims of domestic violence.