When Cheryl Bowers , 42, looks back at her life so far, she said she feels like everything "just kind of happened": A career in photography, moving back to Brooklyn from Atlanta, and now running a successful sneaker cleaning business in Bed-Stuy.
In 2019, she was working a job she hated, doing maintenance at a women's shelter, when she realized she needed to make a change.
"I was cleaning toilets, it was horrible," she said.
But the job also made her more compassionate, and made her realize that anyone could end up in a shelter. "I realized I needed to create something to sustain my life so I don't end up in that position."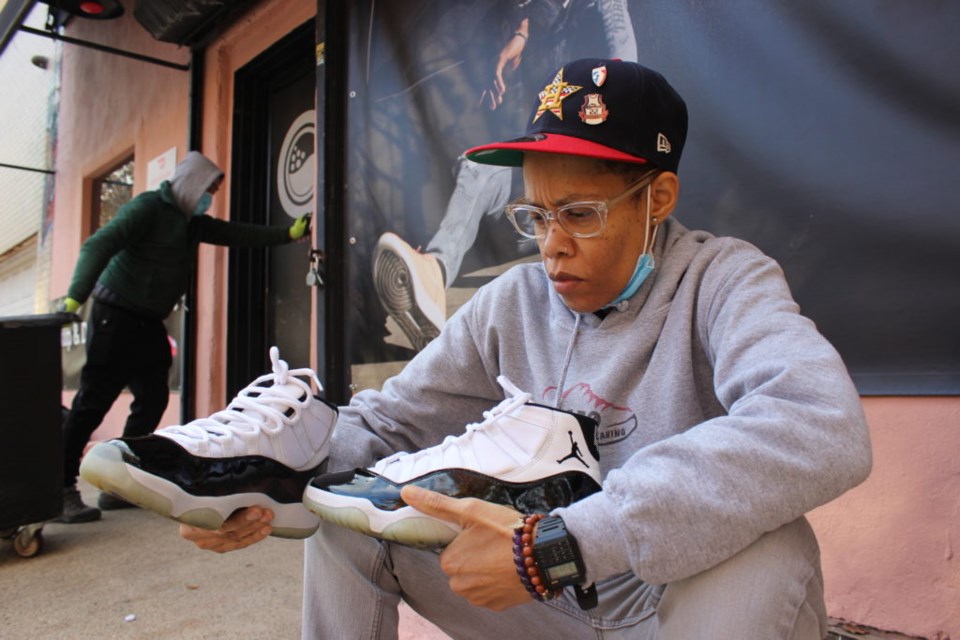 One day, a coworker came to work wearing dirty Yeezy sneakers. Bowers offered to clean them, and when she gave them back, was buoyed by the woman's response.
"She was like, 'Oh my God, they're like brand new!' I thought, if she feels that way, pretty sure someone else is gonna feel that way."
A life-changing week
That very same week, Bowers took a chance on herself, doing the paperwork to open an LLC for her very own sneaker cleaning business.
She spent two days in the women's shelter basement trying to think of a name (and was written up for it).
Finally, a woman who "never spoke to anyone" approached Bowers to let her know her "life number" was 9. That led to Bowers coining the name 630 Sneaker Cleaning, after the address of her first home in East New York (6 +3 = 9).
She made a logo, opened an Instagram account for the business and posted a photo of the sparkling-clean Yeezys. Somehow, Brooklyn entrepreneur and owner of boutique Bed-Stuy laundry service The Soap Box Waleed Cope saw the post.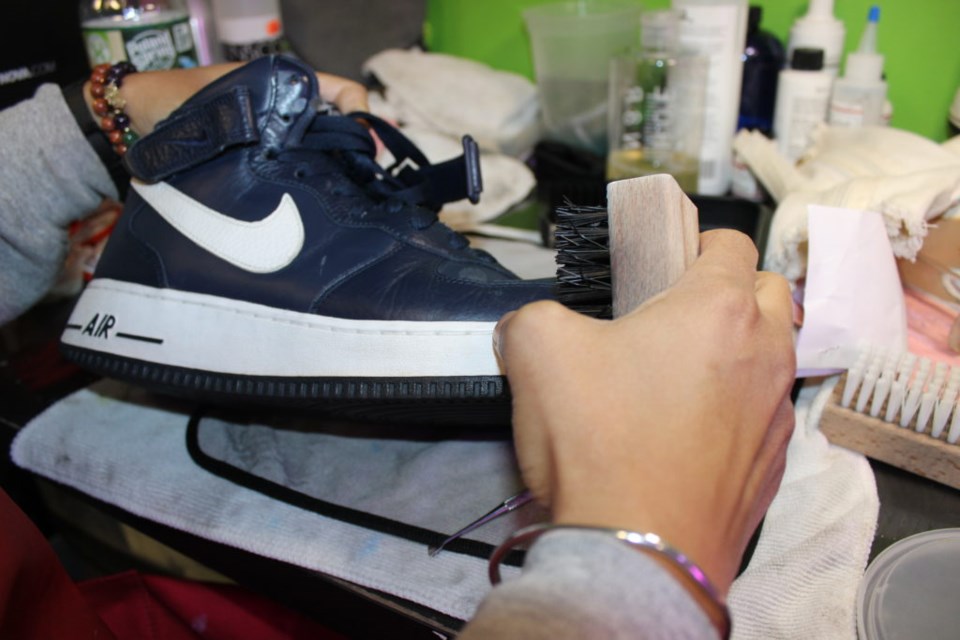 "I was told when you're on the right path, God is just gonna lay everything out for you and that's what happened," Bowers said.
Cope reached out to Bowers and asked if she would like to meet and do a collab.
Cope helped her finalize the paperwork for her business, and soon after, she quit her job at the shelter. She got a job as a school bus driver, which allowed her to clean shoes on her breaks.
Three months ago, she quit that job to go full time at 630 Sneaker Cleaning.
"That week I quit, I gotta tell you the sneakers were coming in, and I was like OK: this is where I'm supposed to be."
Sneaker lover from way back
Bowers was born in Brooklyn but moved to Atlanta, Georgia, with her mother and two siblings when she was 14.
Bowers ran track and played basketball, so loved sneakers from a young age. But sneakers are an expensive habit, so her mom would only buy her one pair a year, at first, and that pair had to be $59.99 or less.
"If it went to 61 with taxes, I'm not getting it, that was the rule," Bowers laughed.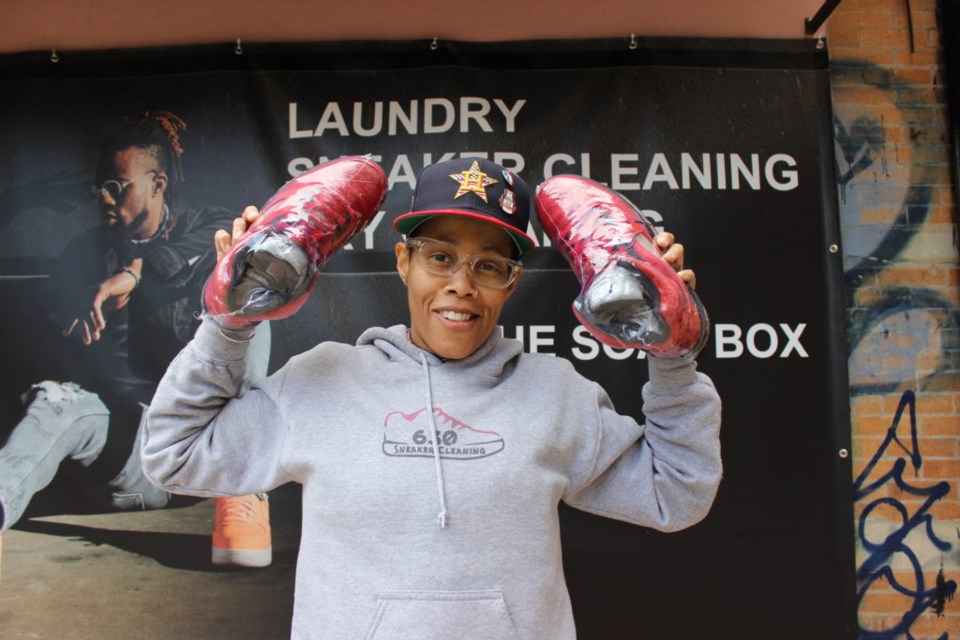 To make her sneakers go further, a young Bowers started taking care of her kicks. She used her mom's dish soap, and for whites, made do with her own special toothpaste and a toothbrush.
"I saw people at school getting made fun of if you had dirty sneakers, so I'd clean them and switch up the laces to make it look like my sneakers were changed."
Seeing Bowers' love for her sneakers and the effort she put into keeping them clean, her mom started buying her two pairs a year.
After finishing school, Bowers had a brief career as a music producer, before moving into painting contact lenses, and then photography. "Anything with art," she said.
After getting positive feedback for her photography, she moved back to Brooklyn. As a photographer, Bowers has had gallery shows, was commissioned for a large installation and was even invited to paint a mural for Brownsville Community Culinary Center.
Treating sneakers like her own
Bowers takes the business of cleaning sneakers seriously. There are three overall services she provides: Basic, Ultra and Premium.
The premium service basically makes the shoe look brand new. It includes a deep cleaning, stain removal, lint removal, interior cleaning and even a complete clean of the soles.
Bowers then shrink wraps the final product to make it feel like customers are taking it right off the shelf in a sneaker store.
"I don't want them to feel like they just got a sneaker clean, I want them to feel like they had an experience," Bowers said.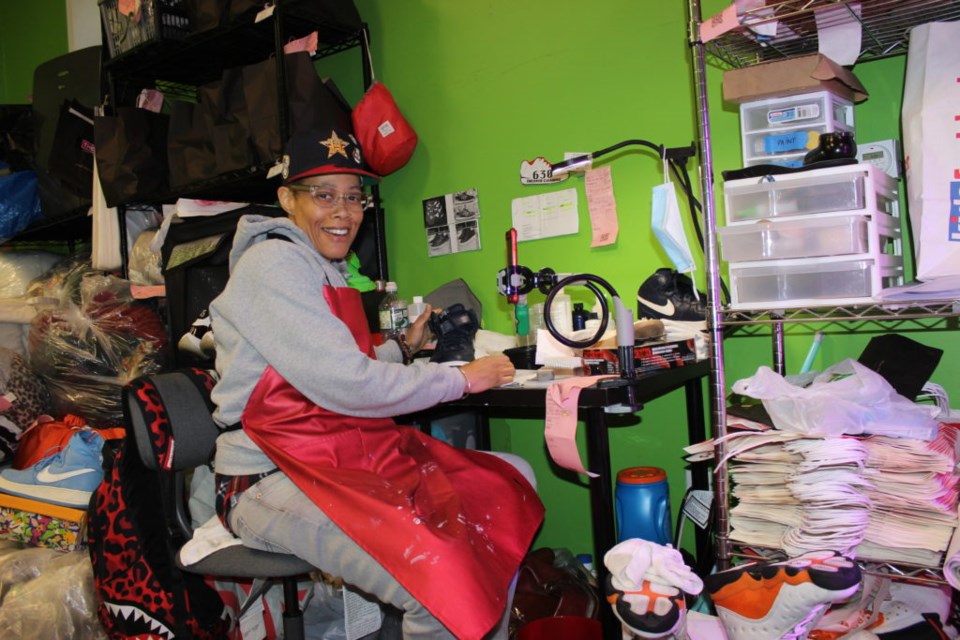 "So when I give them the sneakers I let them open it, check it out, look at the bottom, smell it."
Part of the reason she wanted to go full time with the business was the fact she wanted to interact with customers more.
"Personally, if I'm handing a sneaker to someone to clean, I want to talk to them," she said. She assures her customers that everything is done by hand, she uses no harsh chemicals and no bleach.
She gives a nod to the late, great Virgil Abloh in pointing out that sometimes shoes come in to the store that are worth thousands of dollars, and are irreplaceable. "I had a pair of Off Whites that came in that would have been two or three thousand dollars."
Another time, a man had spilt red wine on his white Yeezys. He'd then tried to clean it himself, making it worse, and then panicked, putting them in the washing machine, and making it worse again.
"But I got it out," Bowers said. "You know, I take my time. And I treat everyone's sneakers as though it's mine. So it doesn't matter if it's a $19.99 pair or a $2,000 pair.
"They are all, to me, people's prized possessions."
To support Bowers sneaker cleaning business, head to her website or visit The Soap Box at 110 Saratoga Avenue for a full laundry and shoe cleaning service.