In an effort to promote the benefits of plant-based nutrition and to help patients make healthier lifestyle choices, NYC Health + Hospital announced today the launch of its citywide initiative "Meatless Mondays." Woodhull Hospital, located at the border of Bedford Stuyvesant and Bushwick, and Kings County Hospital in Flatbush are the two central Brooklyn facilities to now serve healthy, plant-based deliciousness.
At today's launch celebration, Brooklyn Borough President Eric Adams, an ardent advocate for plant-based diets, called on all hospitals to sign on to the Meatless Monday pledge, an international campaign focused on improving the health of both humans and the planet.
"NYC Health + Hospitals, the largest municipal hospital and health care system in the country, is leading the charge to create a healthier and more sustainable future by adopting Meatless Mondays," said Adams. "Our shared goal is to create a healthier Big Apple, one where our government institutions support healthful dietary choices. Hospitals have a unique opportunity to influence patients and families in rethinking the nutritional quality of their meals, and Meatless Mondays now has a role in that conversation."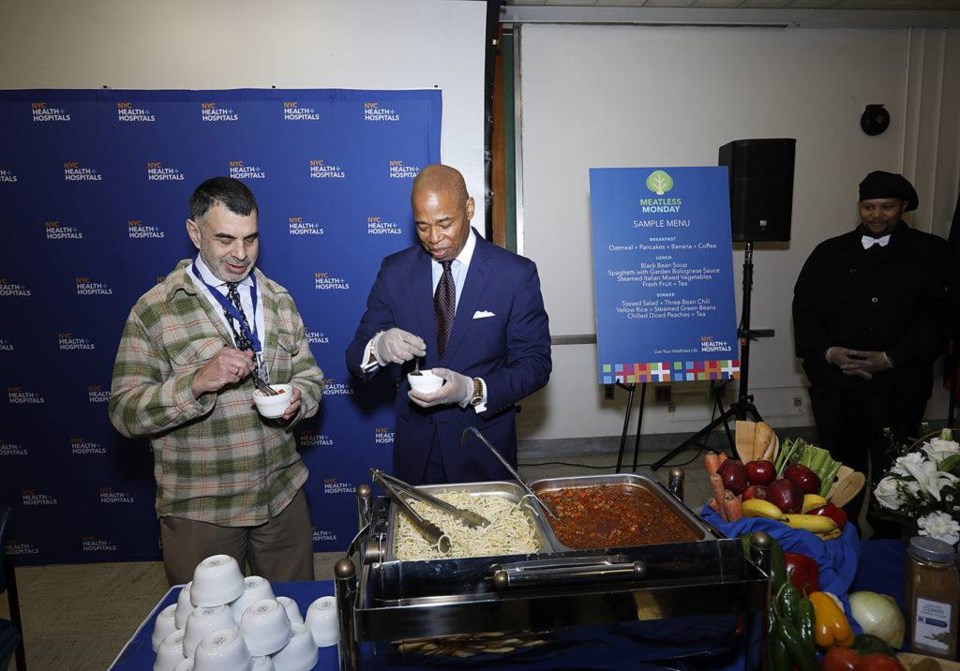 Led by the hospital system's food and nutrition department, the Meatless Monday program features a chef's choice of meatless entrées for breakfast, lunch and dinner. Promoted with the slogan "Power Up with Plants," the menus offer tasty options such as black bean soup, spaghetti and garden bolognese sauce, three bean chili, vegan beefless strips, garden burger, rice and beans, cream of potato soup, assorted fruits and hummus.
Additionally, in-house dietitians offer nutrition education and counseling to help patients transition to a healthy lifestyle that includes a whole-foods, plant-based diet to improve and even reverse chronic conditions such as heart disease, diabetes, obesity, high cholesterol and high blood pressure, hospital officials said. NYC Health + Hospital's new commitment builds on its Plant-Based Lifestyle Medicine pilot program that launched at Bellevue Hospital in 2018.
"We want to empower our patients to live their healthiest lives by introducing them to healthier foods that they may choose once they're discharged," said Mitchell Katz, MD, president and CEO of NYC Health + Hospitals. "The Meatless Mondays initiative is consistent with this mission and fits with our new Plant-Based Lifestyle Medicine Program at NYC Health + Hospitals Bellevue, developed to provide intensive support for outpatients who wish to adopt healthy lifestyle changes."
And NYC Health + Hospital's plant-powered vision doesn't end here: Next, the hospital system plans to enhance its vegan and vegetarian menus to offer additional healthy food options for patients throughout the week, officials announced.