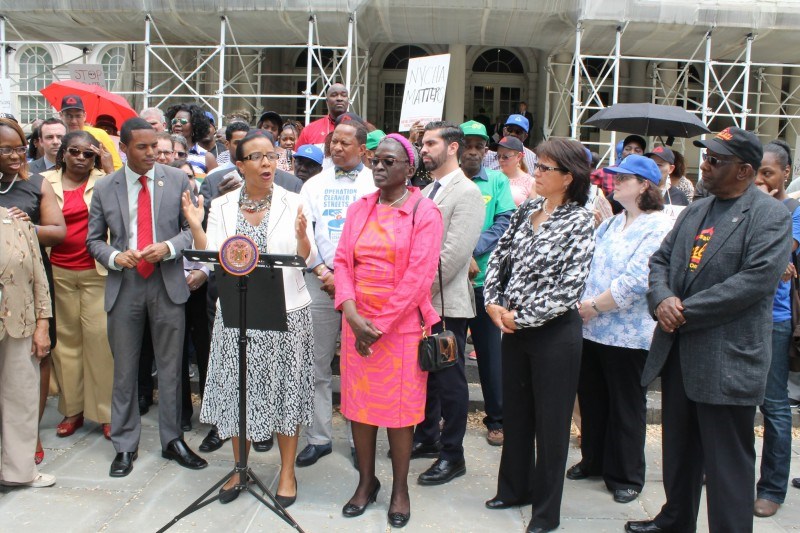 Mayor Bill de Blasio announced on Thursday that funding would be restored for summer youth programs he had proposed to eliminate just weeks earlier.
The decision came just hours after more than 100 people rallied outside City Hall pressuring the mayor to reverse his decision to withhold the funds.
Initially, the mayor announce he was prepared to cut spending on low-performing "renewal schools" in the Fiscal Year 2016 budget. However, after 31 City Council members signed a letter to the mayor calling for the funds to be put back, the mayor made a last-minute reversal.
"After hearing from parents and kids, we're pleased to announce that the administration will fund the full 34,000 middle-school seats for this upcoming summer, for this year only -- so that families and providers are not left hanging," spokeswoman Amy Spitalnick wrote in an email.
He has now agreed to allocate $20 million to cover 34,000 summer camp slots for the upcoming fiscal year.
City Councilmember Laurie Cumbo applauded the mayor for his decision to restore the programs, which would have had an enormous impact on the residents and youth of the 35th District she represents (175 slots out of the 275 proposed eliminated slot), including Fort Greene Preparatory Academy (50 slots), IS 340 (50 slots), and Ingersoll & Atlantic Cornerstones.
"For decades, our city has placed a great deal of money into crime-reducing initiatives; but we must now re-focus our energies and efforts to ensure that our young people are provided with a safe and positive environment in which to blossom," said Cumbo. "As part of our city's public safety strategy, we must maintain robust investments in our youth and keep summer programs operating and flourishing for years to come."