Sheryl Roberts owns a boutique on Bed-Stuy's Lewis Avenue that specializes in clothes created by Black makers, but she's struggling to get new customers into her store each day.
She says the problem isn't the store — it's the lack of foot traffic in her area, which she thinks could be solved by the Open Streets program.
The Open Streets program is the citywide initiative to temporarily block streets off from cars to facilitate pedestrian use, which began in 2020 as a way to create spaces to safely gather amidst the pandemic.
Last month, the Bridge Street Development Corporation proposed an Open Street on four blocks of Lewis Avenue, which could be used for outdoor dining, sidewalk shopping, exercise classes, performances, outdoor learning and more.
The Lewis Avenue Open Street would run between Decatur and Hancock Streets from 12:00pm to 6:00pm every Saturday between June 4 to September 11.
The potential program, if approved by the Department of Transportation, would be announced later this spring. Before that happens, DOT will continue to work with the local Bed-Stuy stakeholders to finalize details.
"There's a lot of gentrification going on — people move in, but they're not immersing themselves in the neighborhood or supporting local businesses," Roberts, a Bed-Stuy resident, said.
"Open Streets would be a good way to shine a light on what's already here."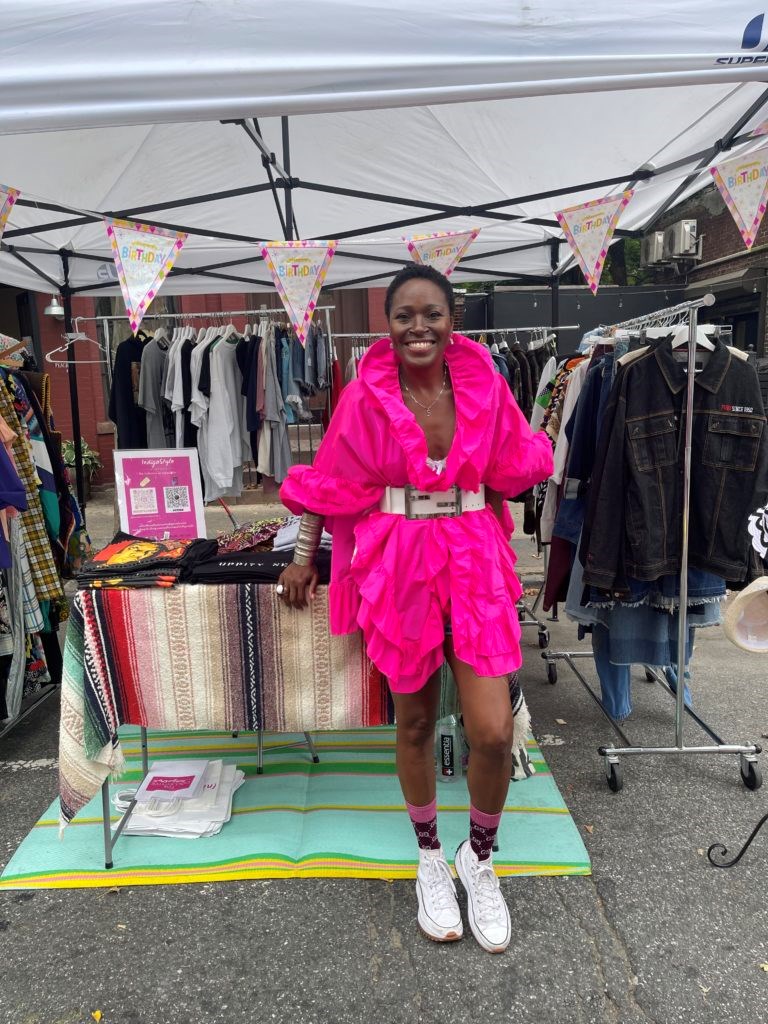 Open Streets aren't evenly divided throughout the city, according to a report by pedestrian advocacy group Transportation Alternatives. There are currently 90 open streets in Brooklyn, while Manhattan has 102 open streets.
Transport Alternatives said only about half of the official Open Streets were operating as intended, and Open Streets in predominantly white neighborhoods were significantly more likely to remain car-free. Just last week, an Open Street program Fort Greene was abruptly terminated by the City, and then restarted again after community outcry. As a candidate, Mayor Eric Adams said he would bring Open Streets to more neighborhoods.
Open Streets are part of a larger, citywide push to prioritize pedestrians and non-car commuters, to reduce traffic-related injuries and increase public, usable outdoor space.
But, in meetings between community stakeholders and the BSDC, not everyone was on board with the Lewis Avenue proposal.
Local organizations, including some members of Community Board 3, have brought up several concerns surrounding sanitation, parking and crime spikes, Bed-Stuy resident and business owner Debra Hare-Bey told BK Reader.
Community Board 3 Chair Anthony Buissereth told BK Reader that while the sentiments of individual board members varied widely, as it stands Open Streets do not come before community boards. Therefore, CB3 officially has no opinion on the proposed Lewis Avenue Open Street.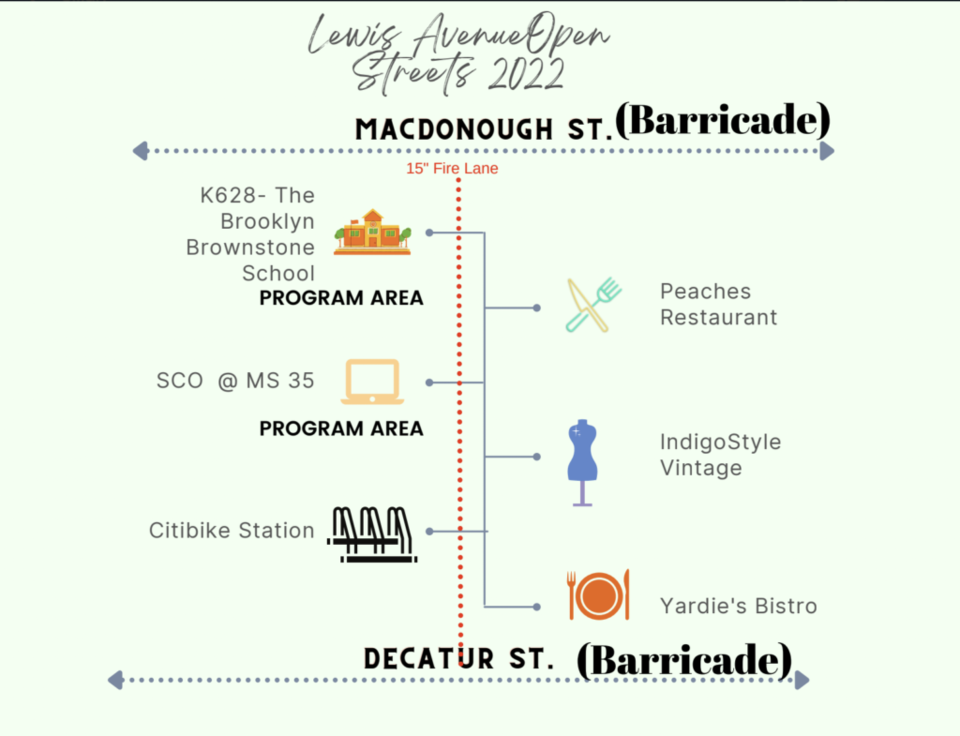 Hare-Bey said that while some people weren't for the plan, she though that was because they didn't know what to expect. "I get that, but I still think the positives outweigh the negatives."
Hare-Bey is a member of the of Brownstoners of Bedford Stuyvesant, which were consulted by BSDC.
"Last summer, the Open Street on Tompkins Avenue was a huge hit. We have seen that it can be successful in a couple of ways — safety-wise, sanitation-wise and community-wise," Hare-Bey said.
The Tompkins Avenue Open Street was also organized by BSDC.
Based on the community feedback, the BSDC said it had reduced the number of weeks and the time of operations for the program, subcontracted supplemental sanitation services, partnered with the NYPD regarding traffic support and would purchase more streetside garbage cans.
"Our Open Streets program is a great way to bring vibrant community spaces right to New Yorkers' doorsteps," DOT spokesperson Vincent Barone said.
"We're excited to see strong local support for an Open Street on Lewis Avenue and look forward to discussing the proposal further with the community."
The BSDC, which is anticipating between $50,000-70,000 in additional funding to support the Lewis Avenue Open Street program, also recommended assembling a committee to monitor the street while it's in operation.
Roberts said it was natural for the community to have concerns, but "as a person that lives in Bed-Stuy and has a business here, I don't want anything bad to happen to my business or community either.
"So of course, we would all be working hard to make sure that it's successful and make sure that it's fun and make sure the benefits outweigh the negatives."