East Flatbush's Kings County Hospital held on Tuesday a special training drill to prepare its medical staff for a possible pandemic outbreak.
The simulation was led by Syra Madad, senior director of the Special Pathogens Program at NYC Health + Hospitals and Sean Studer, chief of medicine at NYC Health + Hospitals/Kings County. Wearing protective equipment and headgear, staff conducted an emergency response simulation inside a Mobile Satellite Emergency Department trailer.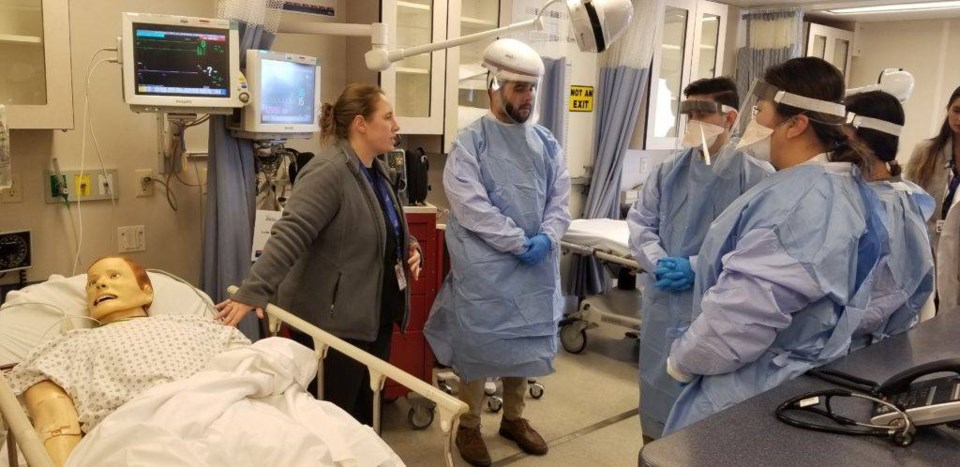 "This simulation event was the result of the great collaboration between the Special Pathogens Program, Kings County Hospital and the Simulation Center," said Studer. "Bringing the two groups together to use this kind of high technology for an event like this in a simulation setting really shows how everyone can collaborate to produce great outcomes and hone our readiness for emergency events such as a disease outbreak."
The MSED trailer, a seven-bed emergency room on wheels, was stationed outside the hospital last week and used to simulate an alternate care site where patients would be treated in the event of a pandemic outbreak in New York City. The mobile unit, which also includes a large tent where patients can be triaged, has been deployed to other hospitals and locations locally and regionally to support public access to general and emergency care.
In a mass emergency event, the mobile unit would be used to support and ensure readiness for an unexpected influx of patients presenting with emergency needs.