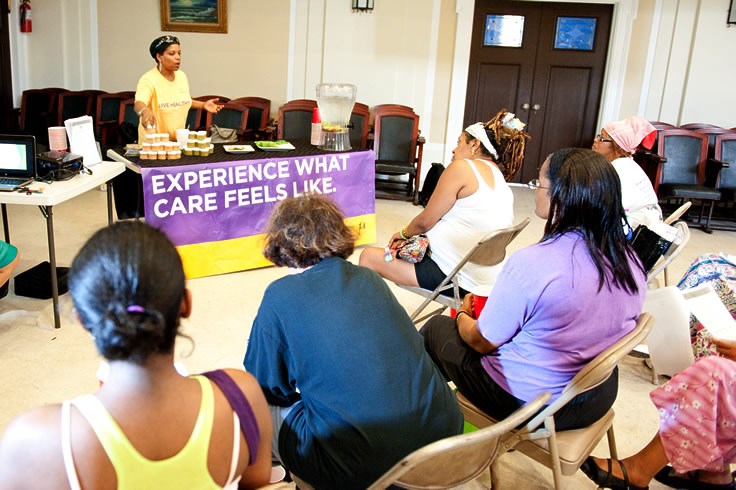 By Verna DuBerry Ademu-John, MS, Program Coordinator and Kelly Cheung, Health Intern, Partnership for a Healthier Brooklyn at Bedford Stuyvesant Restoration Corporation
The Live Healthy Cooking Demonstrations provided by Bedford Stuyvesant Restoration Corporation and EmblemHealth got off to a great start.
At the first Healthy Eating on a Budget session, more than a dozen participants received information from the Financial Empowerment Center on developing a food budget that meets financial and health goals. Following this seminar, Chef Sia, a certified community chef, natural foods chef, and founder of Malata Cuisine, demonstrated how one can save money by preparing a meal at home and using the leftovers to prepare two additional delicious, healthy recipes.
Participants received tools to help them to "create a grocery game plan" including materials which offered tips for smarter shopping and healthy eating on a budget. Chef Sia also provided 3 recipes for participants to take home.
The first demonstration was hugely successful and received positive reviews. One participant said, "My daughter and I enjoyed your healthy eating class tremendously! I feel inspired to change my lifestyle and how I eat. Your class has helped me think about eating better and I feel I know how to now. I am looking forward to change and more of your classes. You are a great chef and teacher. Thank you very much." ~YW~
Two more healthy eating workshops will be held, on May 2 and June 3. In addition to food budgeting, they will address topics such as nutrition information, benefits for those on a limited budget, and information on neighborhood services and programs.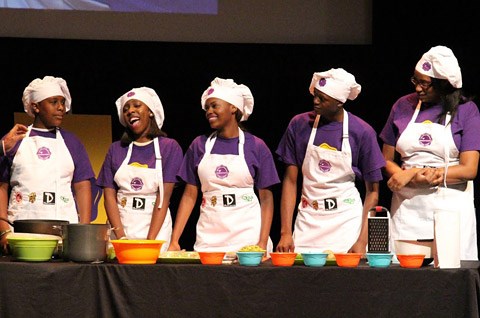 "We want the experience to be energizing and uplifting and encourage people to embrace healthy habits that will last a lifetime," says Dave Mahder, EmblemHealth vice president of marketing. EmblemHealth and BSRC are also offering free fitness classes twice a week to encourage an overall healthier lifestyle within the community.
To register for both the healthy eating workshops and fitness classes, please visit: EmblemHealthyLiveHealthy.com, or call 866-653-1705.