On April 6, 2021, Brooklyn lost Midwin Charles, a respected television journalist, legal analyst and champion for the underrepresented and underserved. Her passing, after a two-week hospitalization, was startling to her many friends and family members, including those she worked alongside in the journalism community.
Little remains known publicly about Charles' cause of death, as her family has chosen to keep it private. But her death sent shockwaves through many circles. MSNBC host Joy Reid said, upon learning of her death, she was "a brilliant spirit and beautiful soul."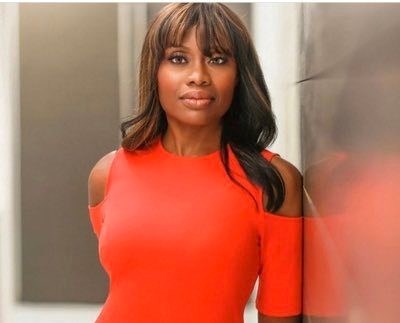 On Saturday, friends, family and colleagues of Charles gathered at the Fêtes de Fleur event space in Crown Heights for a cocktail reception to celebrate Midwin Charles' impact and influence on so many people and finally put back the pieces shattered by her sudden departure.
"She was so joyful, so giving, so authentic; it didn't matter that she was a tv star," said Magda Theodate, Charles' former college roommate, who organized the gathering with Eden Gaines and Sandra Serraint. "She always said, 'I'm just a regular girl from Brooklyn. But I'm representing Brooklyn in a way that Brooklyn doesn't always get represented.'"
Midwin Charles, who her friends nicknamed "Mid," lived her life as though she knew she had an assignment, which was to have impact. As a proud Haitian-American, she made her aspirations clear: to represent Haiti, women, the Black community and Brooklyn by offering a voice and an image through which all these communities could feel represented and proud.
Charles was born on July 17, 1973, in Brooklyn, New York. She was a bright student who studied abroad in Zimbabwe before graduating with a bachelor's degree from Syracuse University. She then went on to earn a Juris Doctor degree at the American University Washington College of Law.
Following law school, Charles began her work as a defense attorney but felt hampered, unfulfilled and quickly decided to change course. She wanted to start her own firm, one that would champion social justice causes, and she also had dreams of becoming a legal analyst and journalist.
So, in 2016, Charles, along with 20 other women formed the "Five-Year Club," in which all of the members raised a challenge to realize their entrepreneurial dreams within 5 years: 
"The golden handcuffs were real," said Angela Barker of Teaneck, NJ. Barker, who was a member of the Five-Year Club. "We were young people making $150,000, but we had to work 18-hour days. But we were determined. And so that meant for all of us, not going out to dinner; not going out to the bars; we were corporate attorneys bringing peanut butter and jelly sandwiches to work, and Midwin was taking care of her mom."
"Midwin was always positive and was meant to be a facilitator of dreams," said Karlene Dennis of Bed-Stuy and who was also a member of the Five-Year Club. "So many people here have achieved their dreams because of Midwin Charles."
Barker said not everyone made it through the five years before returning to corporate but that the ones that did, including Charles, accomplished their goals within one year. She purchased a brownstone building in Brooklyn and set up the first floor for her mother, who she continued to care for until her passing.
Charles founded the Midwin Charles & Associates LLC law firm and went on to become a prominent television personality and legal analyst for CNN and MSNBC around social justice causes and in support of marginalized groups. She also provided legal commentary on Bloomberg TV, HLN and TV One on other topics including pop culture and politics.
"Midwin was a storm, but a bright storm," said Robyn King-Richards who attended law school with Charles. "She would walk in a room, and everybody looked at her; everybody listened to her. And it wasn't just what was coming out of her mouth; it was her presence. Because she was a light, and she just took over a room-- and without trying to do so." 
"She was brilliant and had aspirations," Richards said. "That was someone you knew was on a path to greatness. The world has lost a brilliant legal mind and someone who could speak to anyone. And she was so involved in her Haitian community and Brooklyn community... I did not get a chance to say goodbye, and that hurts the most. I did not get a chance to tell her I love her."
Another friend, Regine Romain of Flatbush, said she appreciated Midwin's ability to connect with children: "I met Midwin when she was in Law School at American University, and she took a liking to my daughter, Ngozi; they became fast friends. Ngozi was about 5 years old. And although she was a busy law student, she loved Disney movies, and so always found time to take Ngozi on regular dates to watch tons of movies together," Romain said. "She was a beautiful person, a joy, who represented herself as a Haitian-American with pride and dignity."
Midwin's sister, Mitzie Charles, took a moment at the microphone to address the attendees: "Midwin would be so proud to know that even after she was gone, you've come together like this, because she was always ride-or-die for her friends and her family. And I just want to say thank you. Those two words do not encapsulate how grateful my family is to everyone for everything you have done."
College friends Elizabeth Apisson Carmen and Michael Barbosa, in her memory, started The Midwin Charles American University Washington College of Law Scholarship and the Syracuse University "Our Time Has Come" Midwin Charles Endowed Scholarship, both for aspiring BIPOC students in need. "It was the best thing I could think to do to honor her," Carmen said.
"What the world has lost is a joyful spirit-- someone who held her dreams at the forefront, but always pushed through with joy," Romain said. "And if I could say one thing to her now, I would tell her, Ou fe w kokennchenn travay. Ou leve eskanp figi tout ayisyen."
"She was a VIP. She always went everywhere first. So she left us first," Magda Theodate chimed. "Thank you for 25 years of friendship, Midwin. We will miss you, and we will see you on the other side."