"We all come from the same source, so how about we focus on the similarities that exist between us all?"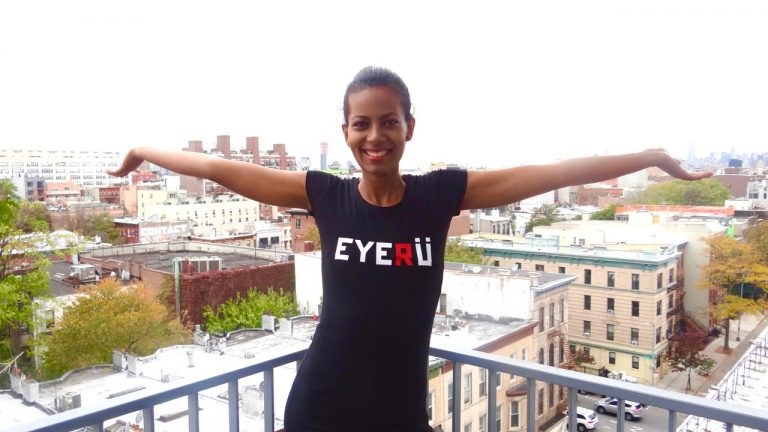 In 2002, when Bed-Stuy resident Eyerusalem Girma Zewdie arrived to the United States from her native Addis Abbaba, Ethiopia, as a Diversity Visa Lottery winner, she was a wide-eyed 18-year-old ready to pursue what she believed was the "American Dream."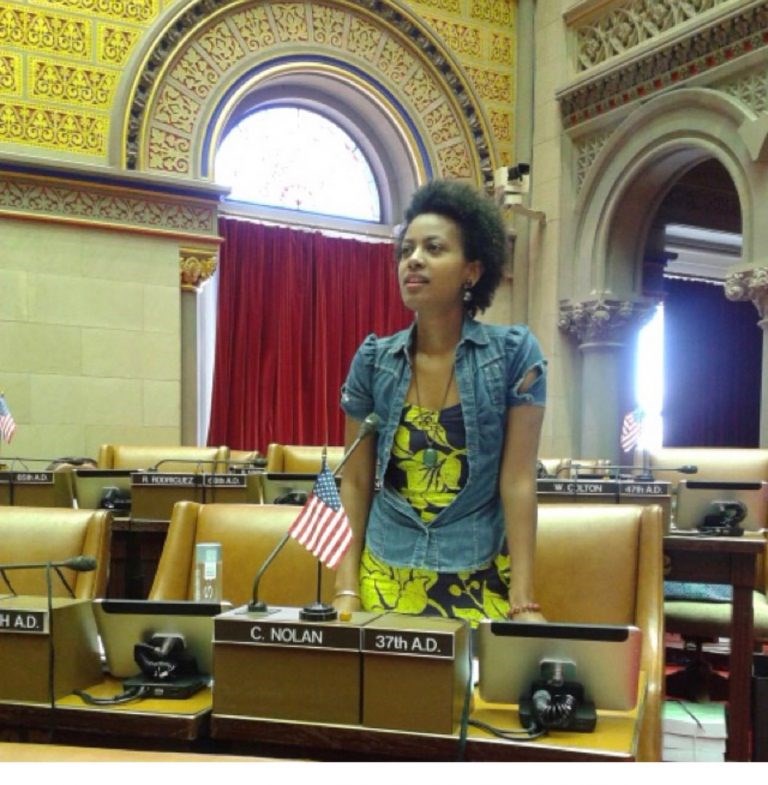 Fast forward 15 years and Zewdie, by all accounts, has experienced more in her decade-and-a-half in America than many might experience here in their lifetime. She has modeled several times at Lincoln Center during Fashion Week, attended FIT to launch her own line of handbags, attained a degree in public affairs from Baruch College, served as an intern at the state capitol in Albany, as well as in the City Council; volunteered as an activist on various social campaigns, and then worked on Wall Street at a public relations firm.
Today, Zewdie is a changed woman from the time she arrived on America's shores-- not only due to maturity but, also, her experiences in politics have led her to see America through quite a different lens. She has always held great pride in her African Roots. But like many immigrants of color who come to these shores with high hopes, she has learned over time the peculiar and idiosyncratic existence known as being black in America. Quite a different thing.
"At first I did not notice it; I thought everyone was just living happy and attaining the American dream," said Zewdie. "But when you break it down, and if you look at it closely, you see that here, there are levels to who can attain happiness and who is held back in this country, and for different reasons. So in a way, it is difficult.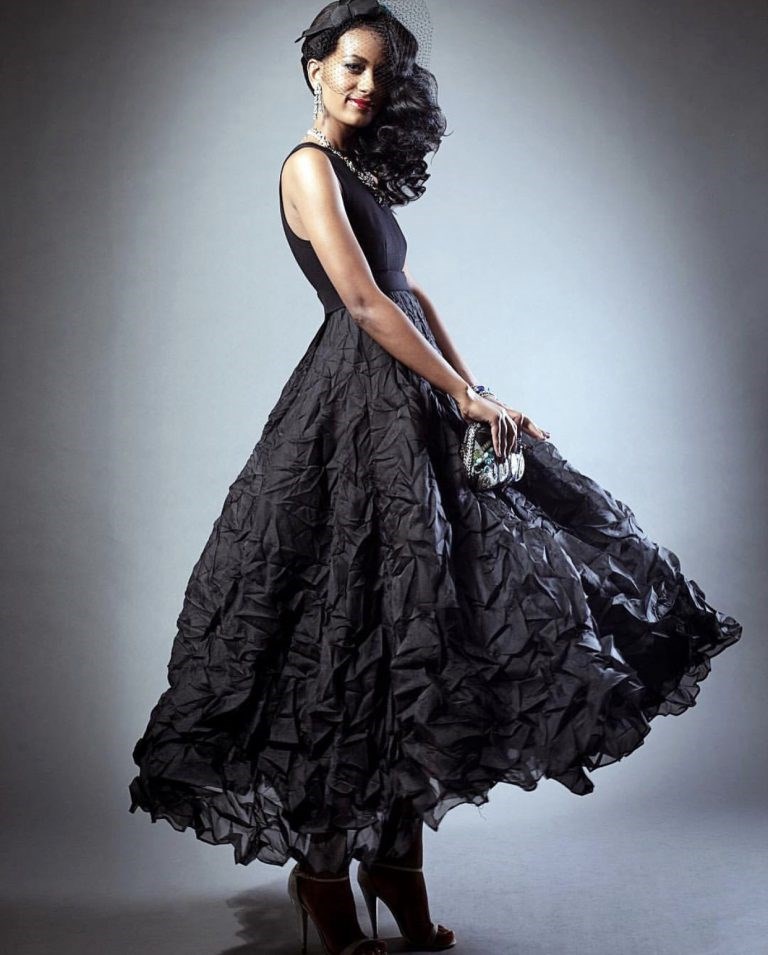 "I came from a different world, Ethiopia, a place where I wasn't made to feel like I was held back by anything. Ethiopia is a country that has never been colonized. There, I'm the majority, and I never had to live or behave like I was a minority. So spiritually, I'm free.
"But living and trying to survive here gave me a chance to see how being in this country can make you feel a totally different way about your value as a black person. And so I wanted to do something to remind people that their value is internal, not external, and that everyone has a right to love themselves and be free."
In the past 15 years, Zewdie has witnessed the joy and progress of seeing America elect its first African-American president, to the election of Donald Trump, whose administration represents something altogether different from the former. For example, on November 1, Trump announced his plan to get rid of the Diversity Visa Lottery program. He is saying that new immigrants should be accepted in the U.S. based on "merit."
With the current administration, she believes it represents a key opportunity to challenge the country on where it stands around civil and human rights. How America decides to meet that challenge is playing itself out right now.
In this same way, Zewdie also felt challenged. She saw how America was changing how even she felt about herself, and so she began searching for her purpose and her place in America.
"I saw how, if you've been harmed or held back emotionally and spiritually, regardless of how much effort you put in physically, you cannot fully push," she said. "If someone is in an abusive relationship for a year, how long would it really take for them to get over that and become a full person again? Then imagine the emotional toll this society has taken on the African-American community... and it continues. When do you get a chance to recover?"
Last year, Zewdie decided to take a "spiritual health" break and return home for a few months to refuel and figure out her next few steps forward.
When she returned, she decided to move forward with an idea she first began developing in 2013, following a random encounter with a woman at the New York Public Library. Initially the two women greeted each other in passing. But Zewdie noticed the woman was inebriated, and something made her turn around and start a conversation:
"She started telling me her story. She admitted that she should not be drinking in the daytime but that her son was murdered a few years earlier. She said since then, her life had gone downhill," said Zewdie. "I thought, oh my god, that person could easily be me. If I was born in America, what kind of person would I be? No, I am not in your shoes, but I can empathize. So after walking out of there, I started thinking about the need for all of us to connect on a deeper level."
Zewdie came up with the idea of EYERÜ, a brand that sends a message of love and self-acceptance. "EyeRü," the first five letters of Zewdie's first name is pronounced "I-Are-You" or "I am you," to acknowledge we are all one in the same, she says.
"It says, I am you, and you are me-- not in the physical, but internally. We all come from the same source, so how about we focus on the similarities that exist between us, and then still embrace the diversity of what we see on the outside to build a more harmonious society?"
An idealistic notion? In America? Perhaps.
But Zewdie is not swayed. She's on a mission: She believes, in a world that is brand-obsessed, why not step forward with a line of t-shirts that brands a message of peace, love and happiness? The basic things everyone wants out of life.
"When a person wears EYERÜ, they're saying This is me; I accept me. I'm happy with the package that I came in. But I also see my reflection in other people, because we came from the same source. I'm trying to build it as a lifestyle brand. The t-shirt is just the an easy access to this message."
EYERÜ t-shirts can be purchased online here in men's and women's sizes. She said, there are other clothing products coming next spring, summer and fall, including hoodies, sweats and tote bags.
Zewdie is on a mission to start a movement, a positive trend to advertise a message of love and unity, starting in Bed-Stuy, and then spreading across Brooklyn, the city and eventually, the country: "It is time we bring the human race closer, we are all distant relatives," says Zewdie, with a spark in her eyes.
Well, if Eyerusalem Zewdie was unclear of her purpose here before, she has found it now. This is her dream for America. Her American Dream.
Purchase EYERÜ products at: eyeru.com. Join the movement on IG: Eyerusalem1, Twitter: Eyerudotcom, and Facebook: Eyerusalem : Eyerüdotcom