Nov. 7 12:00pm
Joe Biden has won the presidency of the United States.
The call was made after Biden was declared the winner of Pennsylvania, giving him more than the 270 seats needed to claim the electoral college without needing any other states he is currently leading in.
"Ecstatic — a great day for this country," Biden campaign manager Jennifer O'Malley Dillon said.
Biden will be the 46th president of the United States and will be tasked with leading the country out of a global pandemic, economic uncertainty and huge social divisions.
There is no doubt his win will be met by a flurry of lawsuits from Trump, who earlier today tweeted: "I WON THIS ELECTION, BY A LOT!" -- something that is clearly baseless and untrue.
Biden could end up with an even more decisive win if he keeps his lead in Arizona, Nevada and Georgia, where votes are still being counted.
Nov. 6 5:30pm
Neither Biden nor Trump have won any new states today and still sit on 253 and 214 electoral college seats respectively, according to The New York Times. Associated Press has Biden on 264, having declared Arizona a blue state.
All eyes are on Pennsylvania this evening, a state that has flipped from red to blue and has Biden now 0.2 points ahead. The secretary of the commonwealth said the count would be done by the end of the day, but officials have said it could take a few more days. If Biden wins the state, it's all over for Trump.
In Georgia, the secretary of state confirmed there would be a recount as there were only 4,270 votes between the candidates, with Biden in the lead. And in Nevada, Biden had stretched his lead to 1.6 points. Votes in Nevada will continued to be counted over the weekend.
All in all the election seems as though it will drag into the weekend if not into next week, as many predicted with the huge take up of mail-in voting admist the pandemic.
As votes continue to be counted, Trump supporters have taken to polling sites and streets across the country demanding poll workers stop counting votes. On the other side, sometimes literally the other side of the street, pro-democracy protestors have called for the count to continue until each last vote is tallied.
In New York, another night of peaceful protest is planned to celebrate democracy. Over the last two nights more than 70 people have been arrested in the protests, and both protesters and the NYPD have accused each other of violence.
Nov. 6, 9:30am
Biden has taken the lead in both Pennsylvania and Georgia.
There are still thousands of votes to count, but Pennsylvania is expected to have the result today. If Biden is declared the winner, he will have more than the 270 seats needed to win the presidency.
Officials also expected to have results in Arizona today, where Biden has a 1.5 point lead. And in Nevada, where Biden leads by 0.9%, results will be called this weekend, officials expect.
This morning's news is casting a very hopeful light on Democrats prospects of gaining the presidency, and possibly by a large margin.
In turn, Republicans are protesting across the country calling on officials to stop counting votes and Trump is continuing with his baseless, pathetic and dangerous claims of electoral fraud.
As many call on top Republicans to tell the president to back down from his extremely disturbing rhetoric that is undermining American democracy, Senators Lindsay Graham and Ted Cruz have instead spoken in his support.
In New York, protestors have taken to the streets to demand every vote is counted and they have been met by a heavy police presence. In the third night of protests more than a dozen protestors were arrested. On Wednesday night, 60 people were arrested.
Protesters have accused the NYPD of an excessive use of force and the NYPD has said outside agitators are coming in to hijack peaceful demonstrations and turn them violent. The police said they a Taser, hammer, knives and fireworks in the area protestors were arrested Wednesday.
4:00pm
As the world continues to wait for results in key battleground states, Republicans have filed off a number of lawsuits in attempts to stop votes being counted and challenge counts in states that are leaning towards Biden.
This afternoon, a Michigan court threw out a case to stop counting ballots, pointing out mail-in ballots had already been tallied. In Georgia, a court threw out a case over the mishandling of ballots, saying accusations were hearsay. In Pennsylvania, Trump's team had a small success with Republican election observers granted increased access in ballot counting locations.
Overseas official election observers have said the late legal challenges and baseless claims made by Trump have caused confusion and concern amongst voters and are damaging trust in the electoral process, The New York Times reports.
Votes are still being counted in six states. In the battleground states of Georgia and Pennsylvania, officials have said we can possibly expect results today. If Biden wins Pennsylvania, he has won the election.
Officials in Arizona and Nevada have said they will confirm numbers Friday.
Across the country protests are taking place, with Democrats taking to the streets to demand every vote is counted, while Republicans are claiming the election is being stolen and telling officials to stop the count.
Trump has taken to Twitter, where the majority of his tweets are being flagged for being misleading, to say all recent Biden claimed states will be challenged legally for voter fraud and state election fraud -- which there is no proof of -- meaning this election is bound to be drawn out in the courts.
Nov. 5, 9:00am
Ballots are still being counted in the key battleground states of Nevada, Arizona, Georgia and Pennsylvania.
In Nevada, a race being watched closely, election officials have said numbers will be updated midday today, Nov. 5. If Biden maintains his lead there and in Arizona it will give him the 270 electoral college seats he needs to win the White House.
In Georgia and Pennsylvania, Biden is closing in on Trump's lead as absentee ballots continue to be tabulated. In Arizona, Trump has had a slight increase in numbers, but Biden is still more than 2 points ahead. If Biden wins Pennsylvania he is guaranteed the presidency.
For Trump to win, he would need to maintain his lead in Georgia, Pennsylvania, North Carolina and overtake Biden's lead to win either Arizona or Nevada.
We are expected to have a better idea of the numbers later today or tomorrow.
Currently, NYT has Biden with 253 electoral votes and Trump has 214. AP has already called Arizona, giving Biden 264 electoral seats and Trump 214.
On Twitter, Biden urged Americans to, "keep the faith guys. We're going to win this."
Nov. 4, 5:00pm
Vice President Joe Biden has won the battleground state of Wisconsin, The New York Times and Associated Press have called. That gives him another 10 electoral votes.
NYT just announced Biden the winner of Michigan, AP is yet to do so. Biden now has 253 electoral votes and Trump has 214, leaving Trump with an increasingly more difficult path to reelection. Trump has said he will demand a recount in Wisconsin.
AP has called Arizona for Biden, but NYT is yet to do so. If Biden secures both Arizona and Michigan he will have 264 seats, just six shy of the 270 needed to win the presidency.
In Delaware, Biden told reporters he was not announcing he had won, but said he believed he was on track to do so with a record-breaking number of popular votes at over 70 million — more than any presidential candidate has had in the past. Election turnout was also record-breaking at over 150 million.
"Here, the people rule," Biden said. "Power can't be taken or asserted. It flows from the people. And it's their will that determines who will be the president of the United States, and their will alone."
He reiterated he would be a uniting president that brought a divided nation together, something he admitted would be no easy task.
Meanwhile, Trump has taken to Twitter in his usual style to spread misinformation about the electoral process.
Brooklyn politicians have been sharing their views on Twitter:
12:00pm:
The New York Times has Biden with 227 electoral seats and Trump with 213. A candidate must secure 270 electoral seats to claim a spot in the White House.
Overnight, Trump secured Texas and won the battleground states of Florida, Ohio and Iowa creating a path to victory that hadn't looked so certain earlier in the night.
All eyes will be on Pennsylvania, Michigan and Wisconsin over the next few days as votes continue to be counted. Currently, Biden is leading very marginally in all three states. Pennsylvania, where there are still 1.5 million votes to be counted, will play a deciding role in either candidates chances for victory.
Last night, as states switched from red to blue and back again, a country sat anxiously waiting and praying. In Brooklyn, voters and elected leaders gathered at Bushwick's Starr Bar and talked about needing to take action and take to the streets, no matter who came out on top.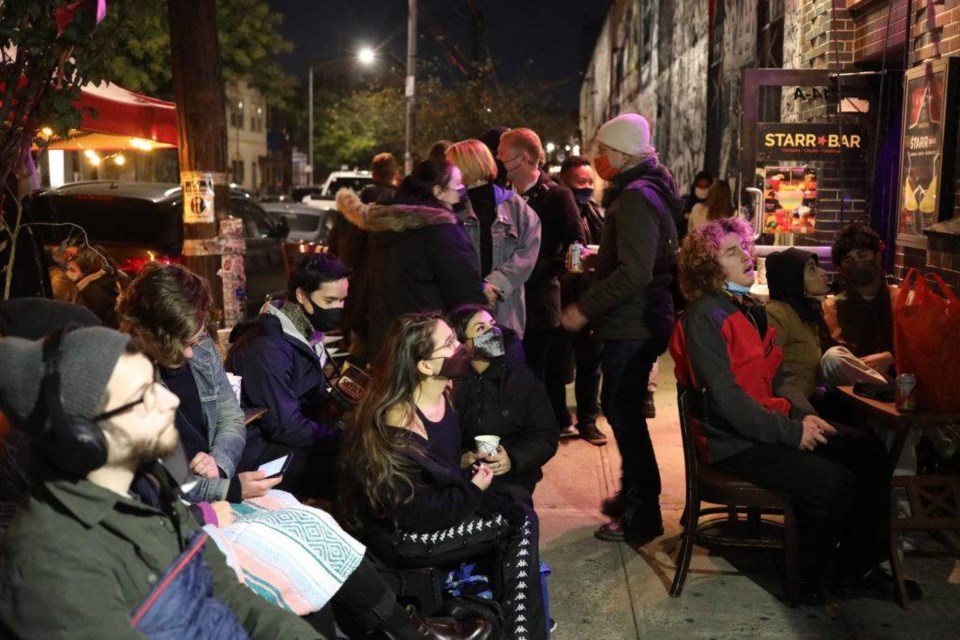 State Senator Julia Salazar, who was reelected Tuesday, told BK Reader: ""This is a devastating time for many people...especially here in Brooklyn, so we need to be ready regardless of whether Vice President Biden or Trump is elected, we need to be ready to fight for what our people need," she said, adding the federal government left New York behind and "so many working class and vulnerable Americans."
In an expected and premature move, Trump claimed victory at 2:00am, saying the election was being stolen from him and votes should no longer be counted. Twitter blocked his tweet for misinformation.
Biden, on the other hand, urged Americans to have patience with the process and said he believed he was on track to win the election.
---
In a show of how divided America truly is, both Vice President Joe Biden and President Donald Trump even-handedly have paths to victory in this year's presidential election.
The candidates represent sharply different visions for how to move America forward in a time of economic instability, a global pandemic and during a rise in social and racial unrest.
Many in Brooklyn hoped election night would present a landslide of votes for Biden in a repudiation of the polarizing, anti-science, openly racist politics Trump has ruled America with for the past four years. But it wasn't so.
We will keep updating this story over the coming days until a winner has been called.