New York City early child care providers have been left scrambling to work out their budgets after major delays in finalizing Department of Education (DOE) contracts, with some fearing they'll have to furlough staff or even close.
The contracts for the school year technically started July 1. But many early child care centers are still waiting for their preliminarily-approved contracts with the DOE to be registered. And there's no estimate of when the funds for those contracts might start hitting bank accounts.
"I figure it's going to be several months if not the end of the year until funds start flowing," Cypress Hills Child Care Corporation Director Maria Collier said. "But I hope that's not the case."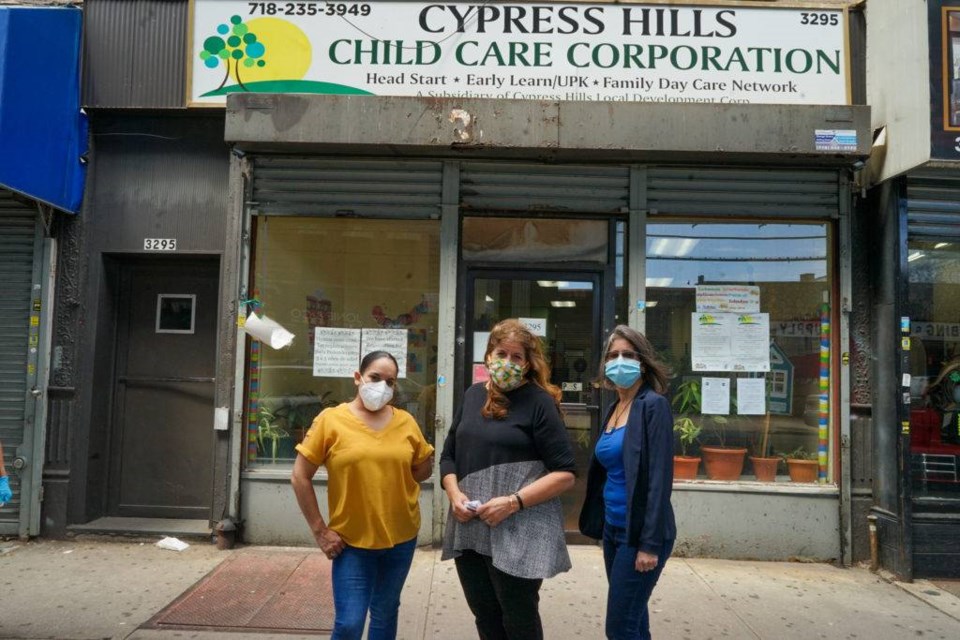 She said her non-profit, which has provided affordable childcare for low-income families in Cypress Hills since 1990, was lucky to have a small cushion leftover from a pandemic PPP loan that would pay two months of payroll.
However, she said she's heard of other providers who are not so fortunate. This could mean some centers having to either furlough staff, or, in the worst cases, close temporarily.
"Non-profits for the most part don't have a financial cushion," she said, adding that when she asked about the financing delays, the DOE advised that her and many others' contracts were still not registered and needed to go through an additional Panel for Educational Policy process.
"They say, 'Let us know how that's gonna affect your cashflow,'" Collier said. "And you say, 'Gosh, we're a non profit, what do you mean how is that gonna affect our cashflow?'"
In a letter to the DOE and New York City Mayor Bill de Blasio June 17, a coalition of child care providers, advocates and community-based organizations demanded the City ensure new center-based contracts issued under the 2019 Birth-to-Five RFP were registered as soon as possible, fearing months-long delays.
"These delays will jeopardize the care of thousands of our City's youngest children. It would put many providers out of business, or force them to lay off teachers, cooks, and other staff, all during crucial summer months when parents will most need care options for their children to get back to work."
One of the big fears when childcare centers have to furlough staff is that they will never be able to get those good staff members back, despite pouring time and money into training. Plus, many of those staff members who could now suddenly be furloughed are essential workers, who continued to put themselves at risk through the pandemic to keep childcare running.
"The community based organizations are working hard to make sure that doesn't happen, because they know these are dedicated staff members who came in to work during the height of the pandemic," Day Care Council NY Director of Public Policy Gregory Brender said.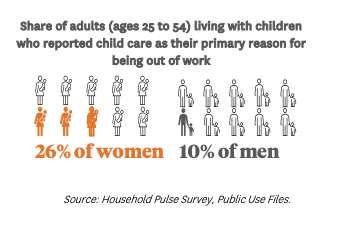 Citizens' Committee for Children of New York Executive Director Jennifer March said her organization was a signee on the June 17 letter, and requested the City advance bridge loans to keep centers running if contracts couldn't be registered in a timely matter.
She said the city said privately it was prepared to advance loans to those who need them, but hoped 80% of the contracts would be registered on time.
"We hope they commit publicly that people can avail themselves of bridge loans if there's any delays, so the community itself will not be so panicked."
The DOE could not be reached on its press phone line to verify how many providers' contracts were still pending five days into the school year, or whether bridge loans were being made available and on what terms.
Providers were also waiting anxiously to see how the contracts panned out across the city in terms of who got the awards, what were their budgeted capacities, which kids are they serving by age, and whether they were funded for full-day/full-year places, or school-day/school-year places.
Under a shift in responsibilities over the last three years, contracts that were previously administered under the Administration for Children's Services (ACS) are now under the DOE.
This has led to unexpected changes for some providers who did not get contracts renewed by the DOE for programs they've run for years.
In May, East Harlem nonprofit Union Settlement filed a lawsuit against the City when its longtime home-based child care program that served 300 children and ran from 8am to 6pm all year was unexpectedly slashed by the DOE, after it asked providers to apply for new contracts. The new contract only allowed for 250 slots, only for three-year-olds, and only for 180 days a year, Patch reported.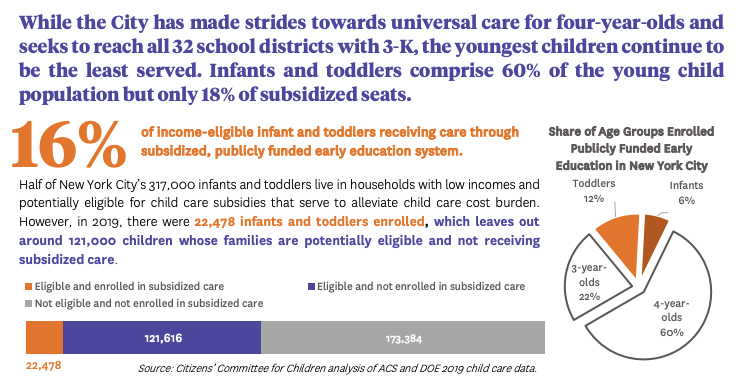 All eyes are also on how many full-day, full-year slots the City funds. These slots are vital for low-income families where all caregivers need to work full-time, as well as for women who lost their jobs during the pandemic and now can't afford childcare in order to get back to work.
In March this year, Mayor de Blasio announced the City was significantly expanding its free pre-3K program, building on the City's universal free pre-K for four-year-olds.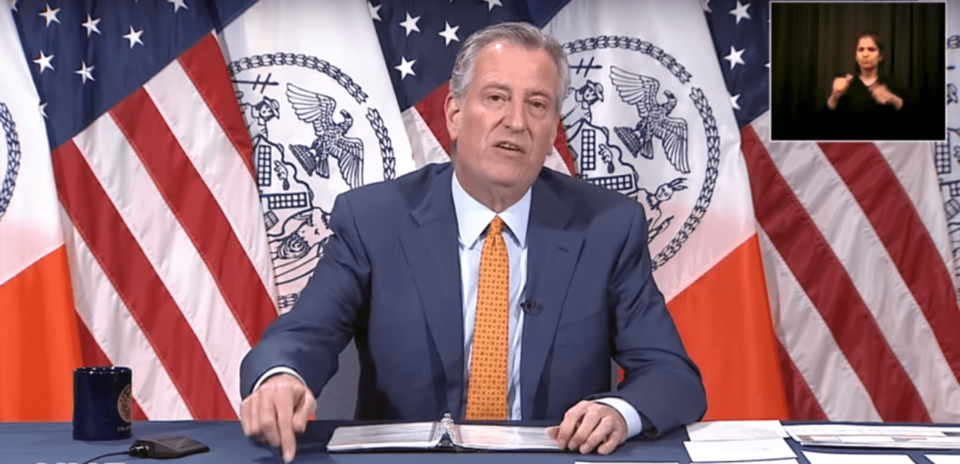 While no one was disputing the benefits of universal pre-K, many were concerned about what was happening to the number of available child care slots for infants and toddlers, as well as full-day, full-year slots, High Impact Partnering Principal Shelby Miller said.
"They were already low to begin with, and it's highly likely that when they get done with these two latest RFPs we could see even less infant and toddler care because the city pushed to have more 3K," she said.
Miller, a strategist for a number of non-profits, pointed out that while everyone including multi-millionaires could benefit from the 3K program, low-income working families really needed more full-day, full-year programs.
Brender of Day Care Council NY said this was an issue its members were worried about, too.
"This RFP mostly concentrated on 3- and 4-year-olds, but there's an incredible need for the children born in the last 18 months," he said.
"A lot of programs have transitioned to school-day, school-year, and one of the issues a lot of neighborhoods are facing is instability where they need full-day, full-year programs."
Early child care providers were also relying on the DOE to get things moving so they could get their necessary enrolments, which now need to go through the DOE and cannot happen directly between a parent and a provider, he said.
But for now, providers like Cypress Hills Child Care Corporation's Collier are just playing a waiting game, with no expectation they'll have surety any time soon.
While she wishes the DOE had taken a more staggered approach to the RFP rollout, at this point she's simply hoping it won't stretch into the end of the year.
"I say this not because I'm wise, but because I'm old," she said. "I've done this before and getting a contract registered is really, really a long process."
The DOE did not respond to multiple requests for comment for this article.