Fracked gas could soon be running through a new pipeline near you, despite rising calls for construction on the North Brooklyn Pipeline to be halted immediately.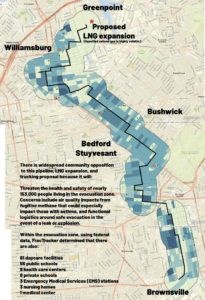 National Grid started construction on the Metropolitan Natural Gas Reliability Project -- also known as the North Brooklyn Pipeline -- more than three years ago in May 2017.
Now the first four phases of the pipeline are almost complete, and the utility wants to start running gas through it in the coming months, according to state filings.
But residents in neighborhoods where the seven-mile pipeline is being built say they only found out about it recently -- and not from National Grid.
"Everyone in the neighborhood thought they were fixing the plumbing," Brownsville Residents Green Committee organizer Gabriel Jamison said. "I'm furious to be honest. How did no one stop this?"
Now, as more Brooklyn residents find out about the pipeline and its proposed $185 million price tag for ratepayers, there are intensifying calls to halt the project before it's too late.
What is the pipeline?
The pipeline is set to carry fracked gas under Brownsville, Bed-Stuy, Bushwick, Williamsburg and Greenpoint, ending at a National Grid Depot on Newtown Creek.
National Grid says the new pipeline allows the current gas supply to move around with more safety, reliability and efficiency. But opponents say the pipeline is an unnecessary piece of infrastructure designed to allow the utility to ask the state for more money from ratepayers.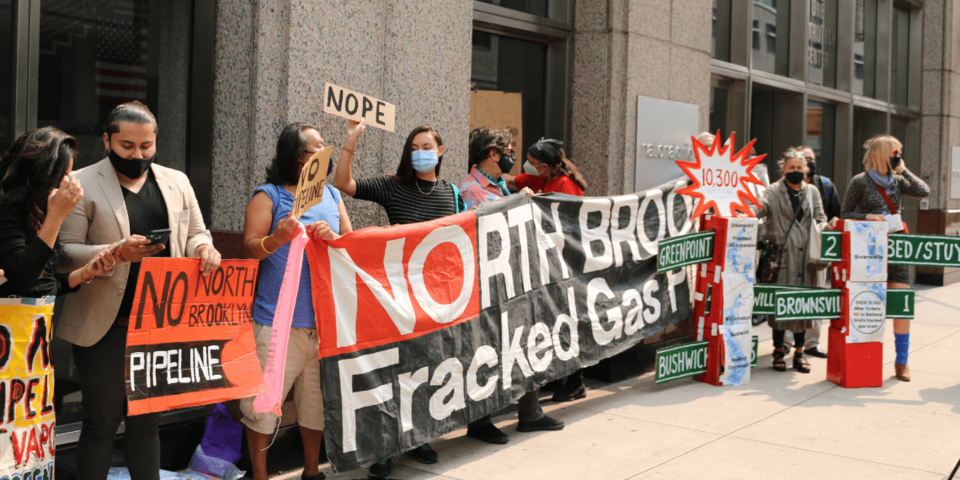 In recent protests, Brooklyn residents also raised concerns about the safety of living near a gas pipeline.
Lee Ziesche, an organizer at SANE Energy Project, a non-profit opposing the pipeline, said residents should be worried about the potential buildup of radioactive material under their streets, and about the possibility of a gas leak or even explosion.
More widely, it's believed that US oil and gas fracking may be to blame for a global rise in methane levels -- a greenhouse gas contributing to climate change. "And that should worry all of us," Ziesche said.
National Grid did not respond to the BK Reader's questions regarding resident's concerns about living in the evacuation area, or radioactivity.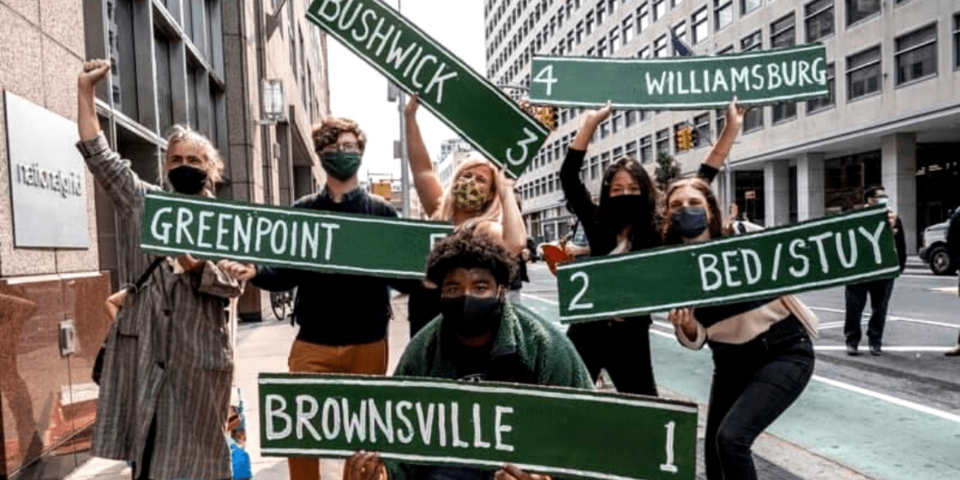 "It's our obligation to provide safe and reliable energy to our customers and we're working in compliance with all city and state rules and regulations to complete any work," spokeswoman Karen Young told the BK Reader.
It did not respond to questions on what specific safety and reliability issues Brooklyn residents might face in the next 10 years if the pipeline was not built, but described the pipeline as a "system integrity" project. "To provide an analogy, these projects are like adding an extra lane to a very busy road to help reduce traffic," Young said.
Environmental racism
However, much like adding more roads to accommodate more cars, opponents to the pipeline say they don't want to invest in new infrastructure for the distribution of fossil fuels.
Communities of color and low-income communities are disproportionately located in areas that are vulnerable to extreme weather events and places that are polluted with toxic waste. Research has also highlighted it is likely that polluters site their activities in low income areas.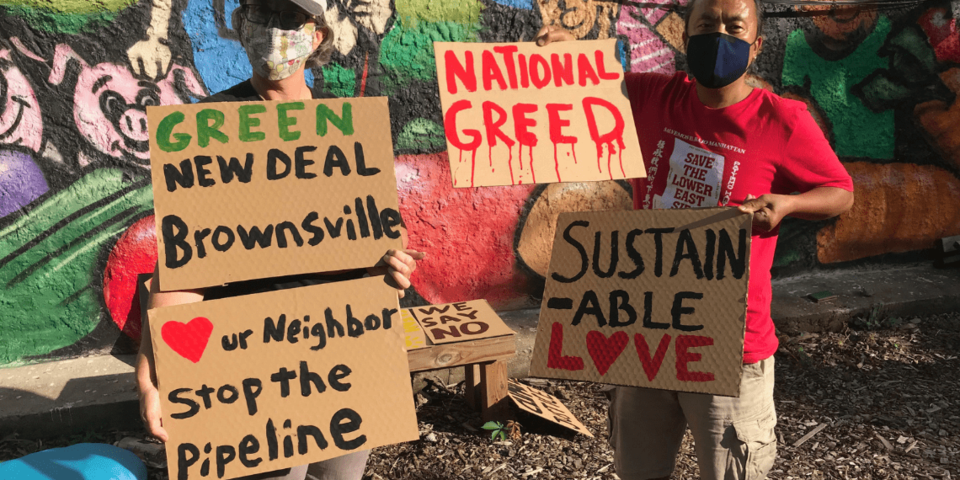 "This is another case of environmental racism," Assemblyman Charles Barron said, urging Brooklyn residents to take a stand. "A pipeline through Brooklyn's Black and Brown communities, and they want ratepayers to pay more to make up for the $185 million they need for it? It's outrageously racist."
Senator Roxanne Persaud said she met with National Grid last week, where she asked the utility to be "completely transparent" on the project. She said public meetings on pipeline safety will be forthcoming.
Brownsville's Jamison -- a climate activist involved in bringing solar energy to 3,000 homes in the area in 2017 -- said he only found out about the pipeline two months ago from SANE Energy Project, even though National Grid says it has been running an "extensive community outreach program" including door-knocking and digital outreach.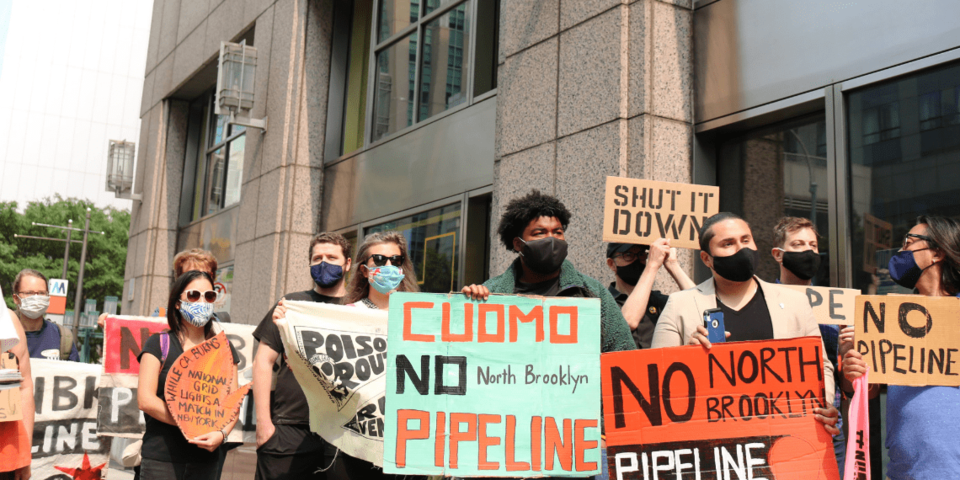 He has since helped start the Brownsville Residents Green Committee to help educate his neighbors on the pipeline.
"They never came to the Black and Brown community and said what do you want? We want more trees, green spaces, renewable energy. This pipeline -- it's not taking us to the future we want," he said.
Who is going to pay for it?
National Grid is currently going through a 'rate case' with the New York Public Service Commission, where it is decided how much it can hike its charges to ratepayers.
SANE Energy says while Phases 1 to 3 of the pipeline was presumably paid for through ratepayer funds allocated in the last rate case negotiation, National Grid is specifically requesting $185 million in rate hikes to finish phases 4 and 5 of the pipeline.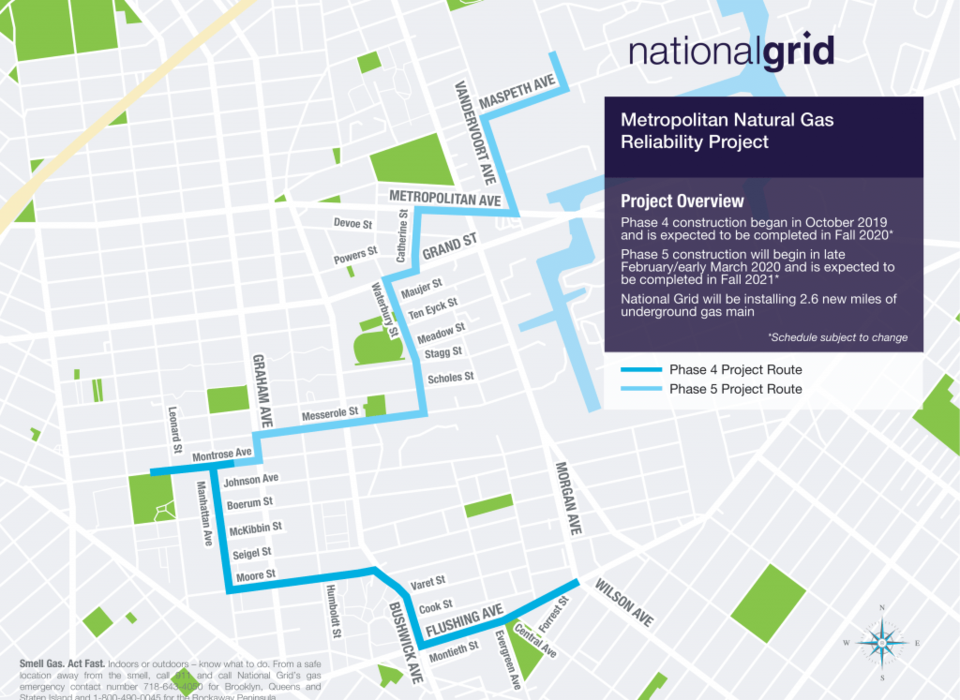 While the rate case is now in a confidential phase, documents filed April 2019 show the utility was asking the state to approve a total increase in its annual gas delivery revenues of about $236.8 million for 2021. Part of this number would be to pay for the pipeline.
This would be about $16.66 extra per month for the average residential customer in its territory of Brooklyn, Staten Island and parts of Queens, it said at the time, but those figures may have changed.
"The rate review process is ongoing, the exact impact to customer bills cannot be determined until the Department of Public Service makes a final decision," Young told the BK Reader.
What's next?
On Sept. 16, Brooklyn residents delivered over 10,000 petition signatures calling on Mayor Bill de Blasio to immediately halt construction of the pipeline and revoke any permits for the project, a call echoed by Brooklyn Borough President Eric Adams in an August letter.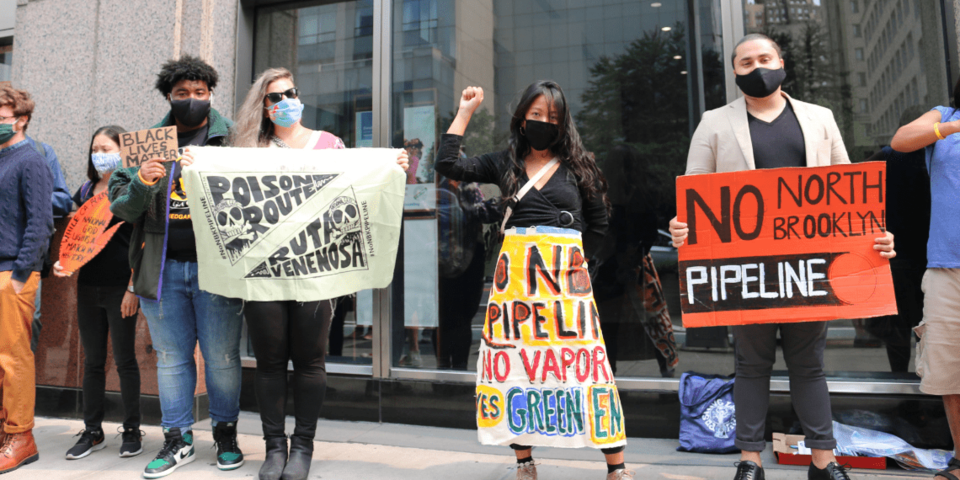 Meanwhile SANE Energy Project is currently calling on the Governor Andrew Cuomo to deny any kind of rate hike to pay for the pipeline.
The mayor's office had not responded to request for comment at the time of publishing, and the rate case is ongoing.