Brownsville elected officials, Councilmember Alicka Ampry-Samuel and Assemblymember Latrice Walker, were joined by NYC Parks Commissioner Mitchell J. Silver and community members on Tuesday to cut the ribbon on the newly renovated playground at Lincoln Terrace Park.
"The day has finally arrived. It is exciting to see everything come together at Lincoln Terrance Park, which has been a hub for the community for decades," said Councilmember Ampry-Samuel. "With investments from the City and a new look, it's heartwarming to watch the children and families enjoy the park on such beautiful spring morning."
Lincoln Terrace Park's playground underwent a $4 million overhaul and now features new play equipment for children ages 2-5 and 5-12, including a spray shower, swings, tables and chairs, benches, as well as new lighting, fencing, improved drainage and water supply systems, plantings and landscaping.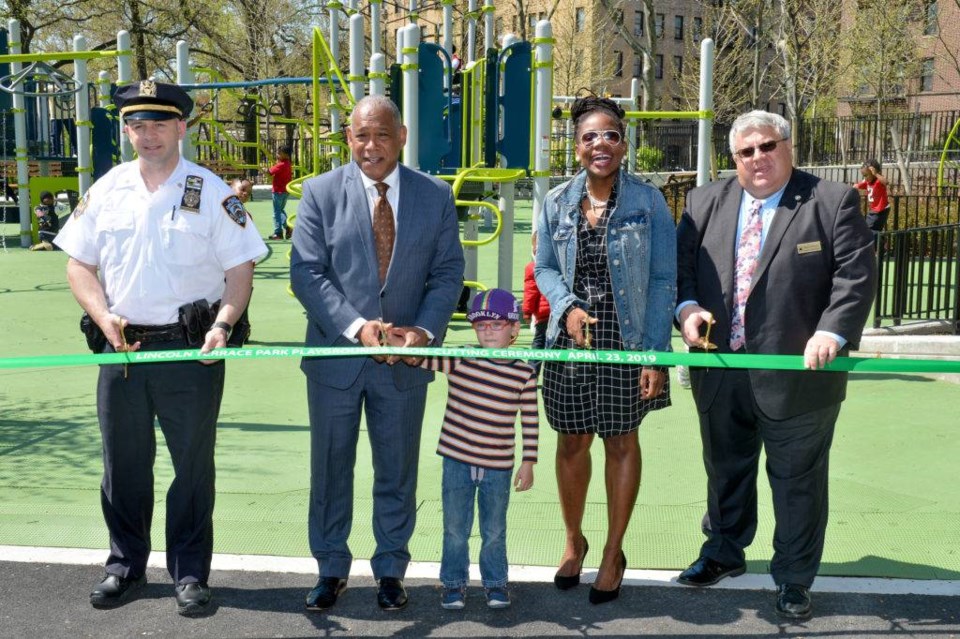 Following the renovation of the park's tennis courts in 2013, and the netball and handball courts in 2016, this is the third major project to be completed in Lincoln Terrace Park in the last six years. Two additional projects, to construct a new comfort station and improve the park's paved pathways, are currently in design, officials announced.
Lincoln Terrace has long been a respite for Brownsville and Crown Heights residents. Renowned authors Alfred Kazin and Elliott Willensky, who grew up nearby, remembered that the park was a favorite spot for hanging out and flirting, which prompted Yiddish-speaking residents to refer to it also as "Kitzel Park" or "tickle park."
"The newly renovated playground at Lincoln Terrace is exceptional and well-deserved for the children in Brownsville and Crown Heights," said Assemblymember Walker. "My best childhood memories were outside playing in the playground, and it's important that we continue to provide these experiences for our children."