The inaugural Brooklyn Tech Week (BTW), a gathering of tech leaders, educators, startup creators and investors sharing insights on startup growth in Brooklyn, will take over various Brooklyn venues from Wednesday, November 7, through Saturday, November 10, aiming to put Kings County on the map as "the next" in tech.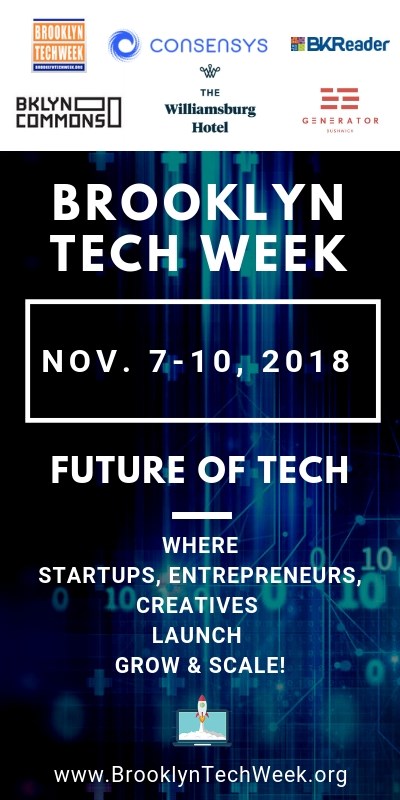 Exploring the future of growth in Brooklyn's burgeoning tech scene, the four-day conference will discuss the impact of big data, blockchain and cryptocurrency adoption, urbantech's role in building smart and sustainable cities, fintech to advance activities in finance, and other emerging innovations.
"You're going to be engulfed in a world of creativity, diversity and the emergence and assertions of technology," said Nizer Saunders, marketing director of PNG Venture, the driving force behind BTW. "It's time for us to promote Brooklyn as one of the major tech hubs that makes up a large part of the tech ecosystem of New York City."
BTW also will put participants in front of some of the leading voices and innovators in tech this side of the Atlantic Ocean including TechStars' Managing Director Yossi Hansson; ConsenSys CMO Amanda Gutterman; Oscar Insurance VP of Engineering Isaac Council and Heritage Equity Partners' CEO Toby Moskovits.
Brooklyn Tech Week will be a key opportunity for startups and techies to collaborate and exchange resources.
Attendees can participate in tech demos, pitch events and hackathons and explore AI (artificial intelligence) and big data discoveries, career development and networking opportunities.
Day 1 - Blockchain Crypto Summit and State of the Union
Wednesday, November 7, 8:00am - 6:00pm
During the Blockchain Crypto Summit industry leaders, developers and journalists will discuss the future impact of blockchain and cryptocurrency. The following Light Year Venture Talk will highlight where creativity and human investment powers the future of tech. The Blockchain State of the Union will outline past and current accomplishments of the industry, and takes a look at what a secure, blockchain ecosystem means. The Women Leadership Forum: Educate, Inspire Lead will provide a platform for women in tech, business, and investment.
Day 2 -
Urban Tech Con
Thursday, November 8, 8:00am — 6:00pm:
Urban experts and technologists will gather for an in-depth conversation exploring technological disruption on the urban landscape at Williamsburg Hotel. Speakers will analyze questions such as how to harness technology to create globally connected and locally productive cities; how can technology make city infrastructure more resilient, and how can technology reduce environmental problems, increase social well-being and create more sustainable mobility?
Day 3 - Startup Econ
Friday, November 9, 8:00am - 6:00pm:
Workshops and resources to fuel startup growth and expand Brooklyn's technological footprint will be in the focus on Friday, accompanied by a Startup Exhibit which will showcase new tech and business services. Interested participants can register online at brooklyntechweek.org
Day 4 — Brooklyn Tech Week Hackathon
Friday, November 9 - Saturday, November 10 - 24 Hr.
Brooklyn Tech Week concludes with a 24-hour Hackathon at the Bushwick Generator. From Friday, November 9, through Saturday, November 10, global hackers will collaborate in building tech for social good. Hackers will have access to a range of resources to develop innovative prototypes, collaborate and address issues that can advance society. Participants can register online at brooklyntechweek.org.