Despite women of color making up about 20% of the population, somehow they only account for 4% of the workforce in technology.
But Brooklyn's leaders want to change that, for everyone's sake.
In a virtual summit held on the second annual Women of Color in Tech Day this past Friday, Congresswoman Yvette Clarke brought together local elected officials and tech leaders to talk about the importance of getting more women of color into tech, and how to make it happen.
"We're working to disrupt the male-dominated tech space that has essentially barred the participation of all our talent," she said. "And we will succeed."
Getting the numbers up
The event was held in association with the Brooklyn-based nonprofit NPower, which offers free tech training and job placement for military veterans and young adults from underserved communities.
NPower was held up as an example of a program that was doing the work to help increase the rate of women of color in tech.
NPower CEO Bertina Ceccarelli said the organization recognized its own need to change several years ago when less than 20% of its students and less than 10% of its trainers were women of color.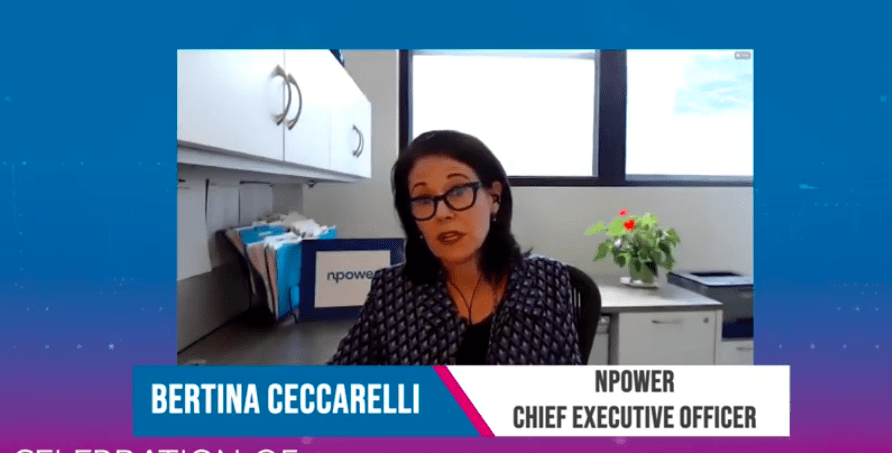 It set a goal to make sure at least 40% of students and trainers were women of color by 2022. Today, 31% of enrolees in the courses are women of color, and 45% of its teaching staff are, too.
"What this says to me is an intention of setting goals, and delivering against them, matters," Ceccarelli said. She added that students often shared how much pride it gave them to see someone who looks like them at the head of class.
"We know the power of representation and how it can empower those who feel they don't have a voice," she said.
Human rights issue, business imperative
The pandemic has disproportionately impacted women of color in the job market, which has led to a rallying cry for tech companies everywhere to hire more Black and Brown women.
Friday's summit provided some concrete examples and actions for businesses, politicians and individuals to take.
In a panel on government input, NYC Councilmember Carlina Rivera said it was vital local elected officials keep committing "substantial funding" to organizations that support women of color in tech like NPower.
"Stay hopeful," she said to any Black and Brown tech students watching. "We are going to try and create those jobs, that training and that education that really tries to understand who you are and where you come from."
New York State Assemblymember Clyde Vanel said it was vital individuals told their elected officials having more people of color in tech was important to them.
He added he wanted to see the digital divide closed through global access to high-speed, affordable broadband, as well as training for young people on "digital reputation" and how to thrive online.
"Tech allows you to create your own opportunities, build something bigger and better than you see," he said. "Try to have your own side hustle, that's OK, start that now, build your brand, have jobs come to you."
In a later panel, women of color who work in tech in the private sector gave their advice on what had worked and what hadn't in improving diversity in the sector.
Kristie Sells, who works in tech at Guardian Life Insurance, said one thing that worked was having "courageous conversations" within companies, where people of color were able to share their reality with management.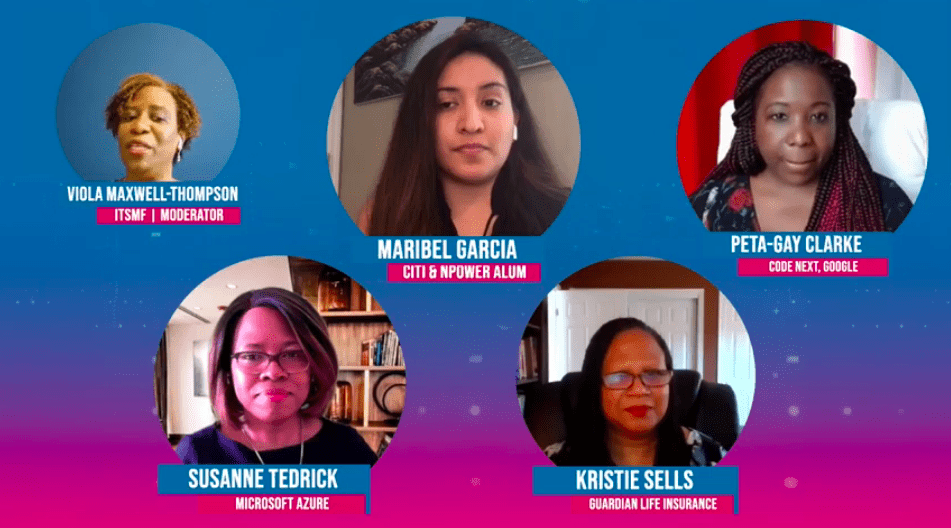 What hadn't worked was hiring women of color and then not surrounding them with a supportive culture critical for their success.
Microsoft Azure employee Susanne Tedrick agreed, saying businesses needed to look at hiring women of color as opportunity for "tremendous business impact."
Code Next, Google employee Peta-Gay Clarke added that businesses needed to also create space for those who can't afford a college degree, pointing to Google's apprenticeships and IT certification courses.
The women agreed that hiring more women of color in tech was a business imperative for the success of the US economy.
"If we don't have the ability to include women of color in tech and support them to thrive, and decrease the digital divide, we will be lowering the GDP and that is a fact," Sells said "It's imperative that we keep the momentum of 2020 into 2021 and beyond."
Make it a month
Meanwhile Clarke also used the platform to announce she had introduced a resolution in the House of Representatives to designate the whole of March 2021 as Eddie Bernice Johnson Black Women in Science and Technology Month.
Johnson was elected as the first African American and first female Ranking Member of the Committee on Science, Space, and Technology of the House of Representatives in December in 2010.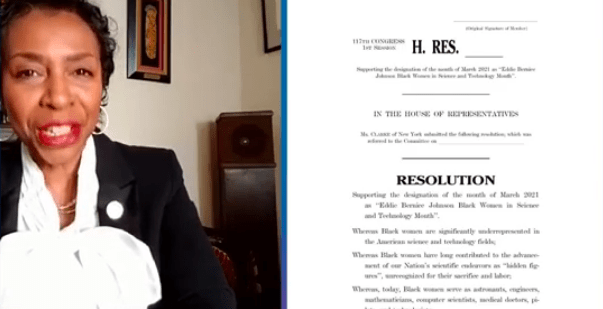 "Overcoming the disparities Black women face in STEM is not an overnight process, but we will only succeed if no step is skipped getting there," Clarke said.
"That includes recognizing the incredible, invaluable achievements of Black women in STEM throughout American history. That includes propping up champions of STEM like Congresswoman Johnson. Because representation matters."