It might not be the New Year's Eve we'd hoped for, but we made it through and that's cause enough to celebrate.
We came into 2021 hoping for year vastly easier than 2020, and although we have overcome the worst of the pandemic in New York City in relation to the number of deaths, this year has by no means been smooth sailing.
It has been challenging; it's been exhausting; it's again highlighted how divided we are as a county. But, there have been some highs amongst the lows and above all else, again, we have seen how important it is we turn up for and support each other.
The New Year, January 1, 2022, will bring a fresh start. Much like 2020, this New Year's Eve will look different due to the rising case numbers with the new omicron variant. But there are still plenty of opportunities to celebrate together in Brooklyn, be it safely IRL or online.
Whatever your choice for the night, BK Reader has put together some New Year's Eve events so you can celebrate the end to this challenging year.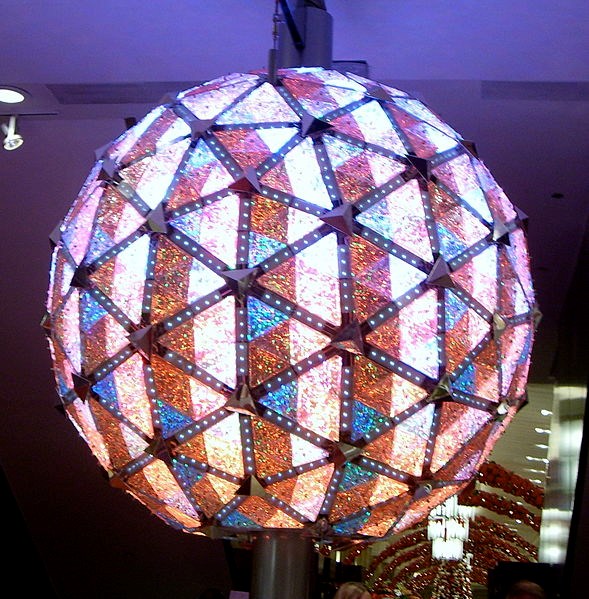 The New Year's Eve celebration in Times Square is returning this year, although it won't be the triumphant return many in the city had hoped for. Due to the skyrocketing increase in COVID-19 cases, the event will be around four times smaller than usual with just 15,000 in the crowd. Everyone in the crowd will have to wear a mask and show proof of vaccination with a photo ID.
Crowds can enter from 3:00pm and the celebration will kick off at 6:00pm with performances from singer KT Tunstall, LL Cool J, Chlöe, Journey and Karol G.
The Times Square Alliance and Countdown Entertainment are streaming a webcast of the 2021 New Year's Eve celebration starting at 6:00pm. You can also watch the ball drop live at TimesSquareNYC.org and TimesSquareBall.net.
Join the Bushwig fam as they kiss bye bye to 2021 with the ultimate NYE party including shows and sets from the Bushwig faves at Bushwick's Sultan Room. 2022 will start with queer love, great music and DRAG at this party, with performers Horrorchata, DJ Hannah Lou, Ickarus, Merrie Cherry, Zavaleta, Neon Calypso and Devdoee and more bringing in the New Year.
If you're not feeling like joining the fun in person, the show will be streamed live through a link sent to those with tickets.
Doors open 9:00pm, and there will be free rapid tests and masks on site.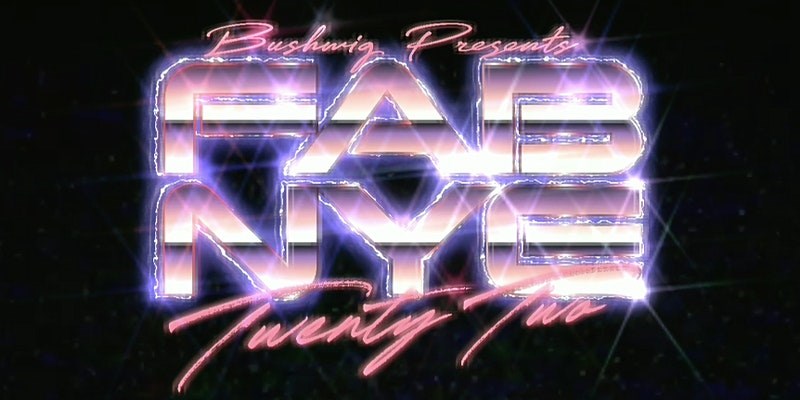 Ring in 2022 with the sounds of disco, house and diva vocals at Bed-Stuy's C'mon Everybody. Music will be by DJs Knox S and Reaubert with a special live performance by Amazonian Rockstar of Escort and gogo babes Valton & Adam. And at midnight, to toast the coming of the new year, a complimentary glass of bubbly will be given out.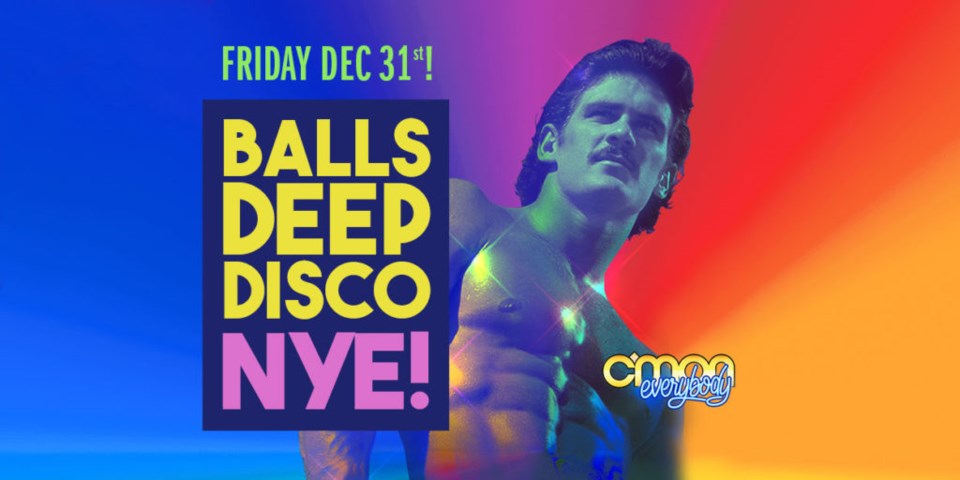 Black and Boujee is coming to Brooklyn for its first New Year's Eve Celebration. The event will be a toast to all the entrepreneurs, doctors, lawyers, professionals and move makers for a successful year and a look forward to reaching new goals in 2022. Attire is all upscale chic and of course… all black. Click here for tickets.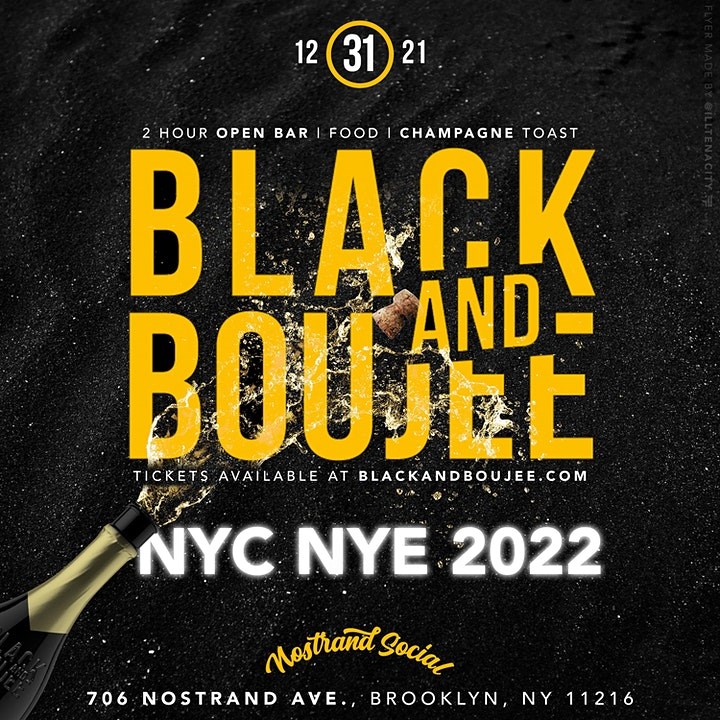 Brooklyn Brewery in Williamsburg is throwing a globetrotting farewell to 2021 featuring music and more from around the planet. The celebration, which kicks off at 10:00pm, features an open beer bar with favorites, rarities, and some surprises from the cellars; party-ready music from a mystery DJ; end of year raffle with Brooklyn swag and other great prizes; and a midnight toast with one of the brewery's most secretive beers, food and more. Pick up a ticket here.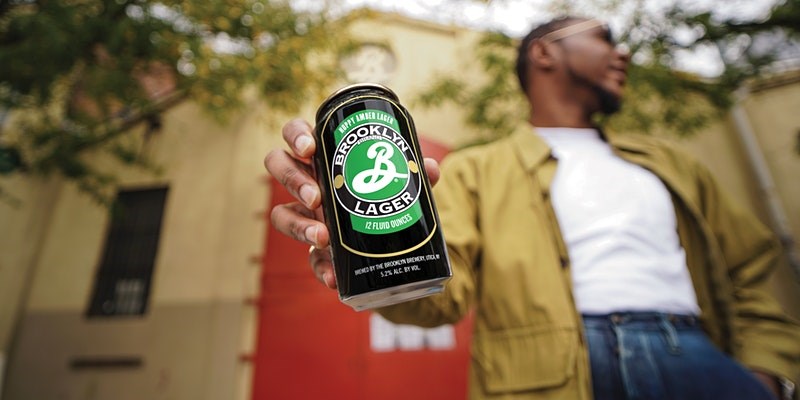 Street Dreams Radio presents The New Year's Eve Party at Lot 45 at 411 Troutman St. Live music will be provided by Mike Nasty, Moresoupplease, DJ 9am and Taima. For tickets, click here.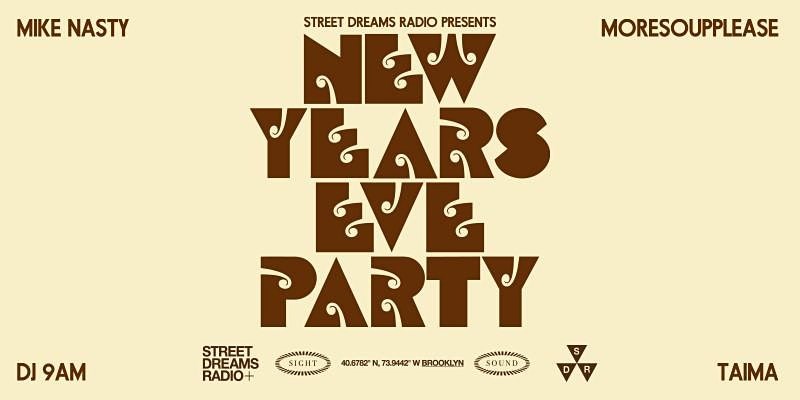 You are cordially invited to Honey's Outdoor New Year's Eve party, where the Bushwick bar is keeping things safe and fun on the street at 93 Scott Ave. That means closing down the block, grilling food outside, (with vegan options) serving soup, drinking hot drinks, dancing to hot tunes and generally having a great time. The New Year's party is free and open to the public, with no reservations required. Hot tracks courtesy of our friends and DJs @thisisstarchild@syb.illest and @isitonyoursheet. Dinner and drinks start at 6:00pm, music at 10:00pm.
Savvy Bistro & Bar in Crown Heights is hosting a New Year's Eve Royalty Celebration Ball from 9:00pm until 3:00am, that includes a buffet, open bar and midnight champagne toast. It's a fancy affair, so naturally you have to dress for the occasion. The bar is asking guests to come in formal attire for the ball. Tickets are available here.
Celebrate the coming of 2022 from the comfort of your own living with a one-time-only comedy show featuring comedy by Maria Bamford (Lady Dynamite)
Atsuko Okatsuka (The Late Late Show), Caleb Hearon (Variety's Comics To Watch), Natasha Leggero (Endless Honeymoon Netflix Special and Podcast), Moshe Kasher (Endless Honeymoon Netlix Special and Podcast), Andrew Michaan (Podcast But Outside) and Brent Weinbach (Gangster Party Line). Although the national show transcends time zones, there will be a quick midshow countdown for the East Coast audience. Economy tickets include access to just the Youtube simultaneous stream VIP tickets include access to the Zoom to be a part of the live audience (and after-show).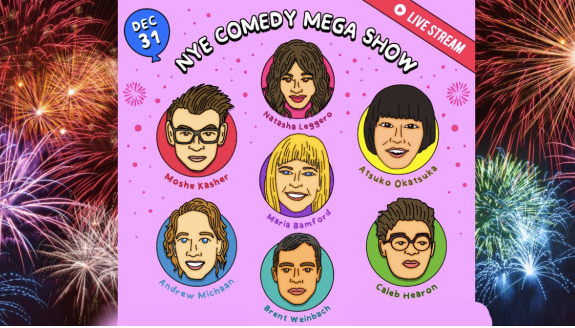 Live from Montreal with DJs, visuals and performances, plus a sexy Zoom room, Cirque De Boudoir will be hosting a version of its famous New Year's Eve event as a Virtual Party happening on Twitch & Zoom. The virtual edition of Carnavalesque 2022 will include dance, conversation and a fantastic lineup of performers, all from the comfort and safety of your boudoir. Tickets for the New Year's Eve soiree are available here.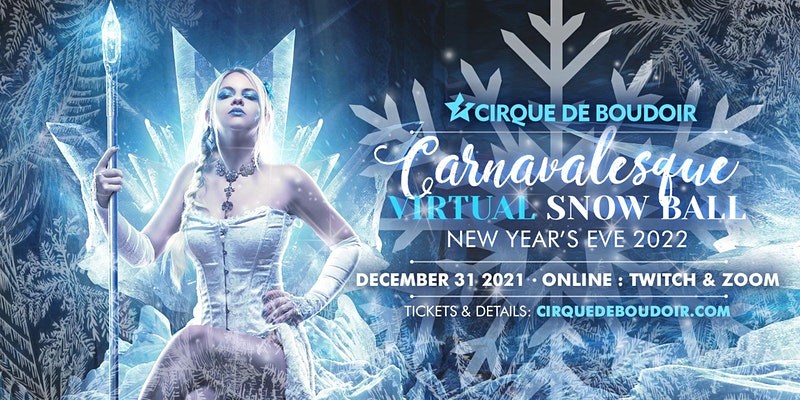 And with that Brooklyn, cheers. We got through this together.