Brooklyn may end 2018 with the fewest homicides since record-keeping began, dropping below 100 for the first time, announced Brooklyn District Attorney Eric Gonzalez today.
To date, Brooklyn saw 97 murders in 2018, marking a 12 percent decline compared to the previous year. East Flatbush's 67th Precinct and East New York's 75th Precinct saw the most significant declines, with 65 percent and 45 percent, respectively.
Yet, after reaching historic lows in shootings in 2017, the DA reported an uptick with 21 additional shootings for a total of 308 this year.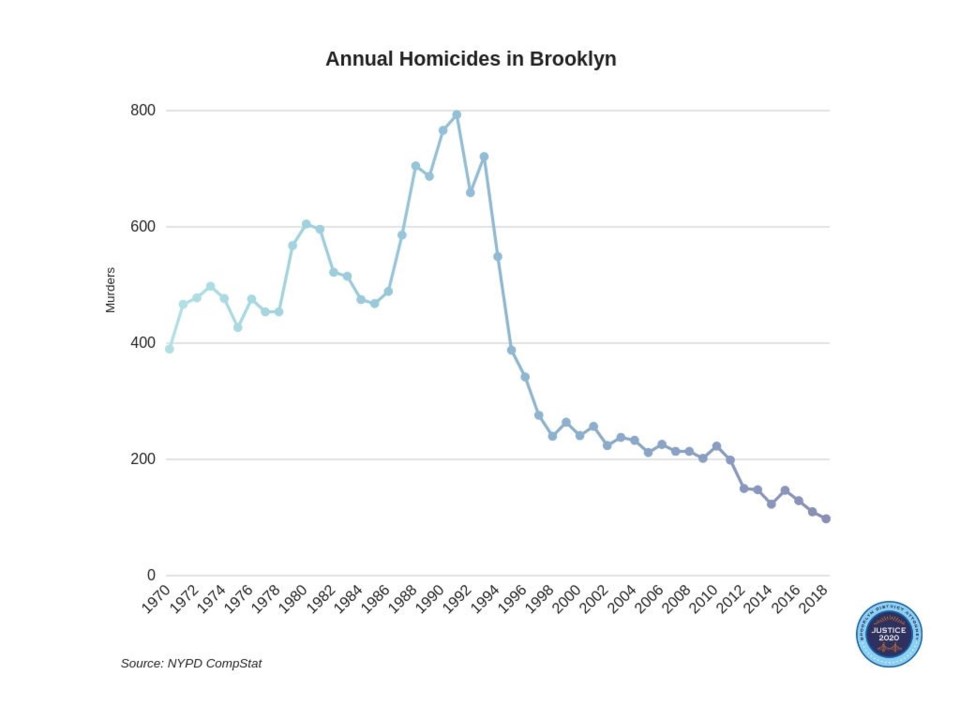 The borough also saw a whopping 98 percent drop in marijuana possession-related prosecutions compared to 2017, a trend that started after Gonzalez announced in February that his office would decline to prosecute smoking marijuana in public.
"I believe that low-level marijuana cases should be responded to with summonses rather than arrests," said Gonzalez earlier this year. "Since 2014, the Brooklyn DA's office has led the way in declining to prosecute marijuana possession cases, resulting in a 75 percent decline in arrests citywide and confirming that such policy does not adversely affect public safety."
Also misdemeanor possession cases of other narcotics fell in Brooklyn over the past year. The DA's office attributes the 9.6 percent decline to Brooklyn CLEAR, a program that allows individuals arrested for possession of a controlled substance to resolve their cases by receiving services rather than appearing in court.
According to NYPD data, also crimes like robberies, burglaries and grand theft auto continue to decline by 8.2 percent, 4.1 percent and 11.3 percent, respectively. However, with 15.9 percent, the borough saw an increase in reported rape cases.
The total arrests in Brooklyn fell by 14.6 percent compared to 2017.
"In Brooklyn, we are leading the way in implementing initiatives that strengthen trust in the criminal justice system while keeping communities safe," said Gonzalez. "Working with the NYPD, we are continuing to see declines in most crimes, with another historic low in homicides. And we are showing our commitment to enhancing fairness and equity by reducing reliance on incarceration and offering more opportunities for diversion."
Building on this trend, Gonzalez announced a Justice 2020 action plan to reform how the DA's office will process cases, partner with the community and target drivers of crime. Initiatives planned for 2019 include collaborations with criminal justice experts, new approaches to community service, expanded programs for pre-charge and pre-arraignment diversion, improvements in discovery policies and new trainings for prosecutors, Gonzalez concluded today's announcement.