The Department of Transport (DOT) has broken its silence after three adjacent Brooklyn community boards joined in the same message this month: We want Broadway fixed.
Two weeks ago, Community Boards 3, 4 and 16 spoke up, saying they all want the roadway between Flushing and Van Sinderen Avenues repaired and reconstructed. Each of them is planning to let officials know it's a priority in their upcoming 2023 budget proposals this month.
Anyone who travels Broadway through Central Brooklyn knows the roadway is dangerous, with potholes that could see you damage your vehicle, bounce off your bike or even sustain an injury crossing the road.
According to City records, it's likely the roadway hasn't been redone since 1990. Now, in response to community concerns, the DOT says it's considering fixing the roadway "in the future."
Slow process
If getting the DOT to reconstruct the Brooklyn Broadway roadway is anything like getting the department to respond to an email, it's likely to be a slow process.
The BK Reader sent five unanswered emails requests to the department requesting any information on when Broadway was last reconstructed, how the roadway is constructed, and what it would take to fix it.
The road is unique in that it is a truck route, a bus route, it runs under an overground rail-line, it potentially covers the old tram lines, and is used heavily by cars, cyclists, pedestrians and delivery drivers.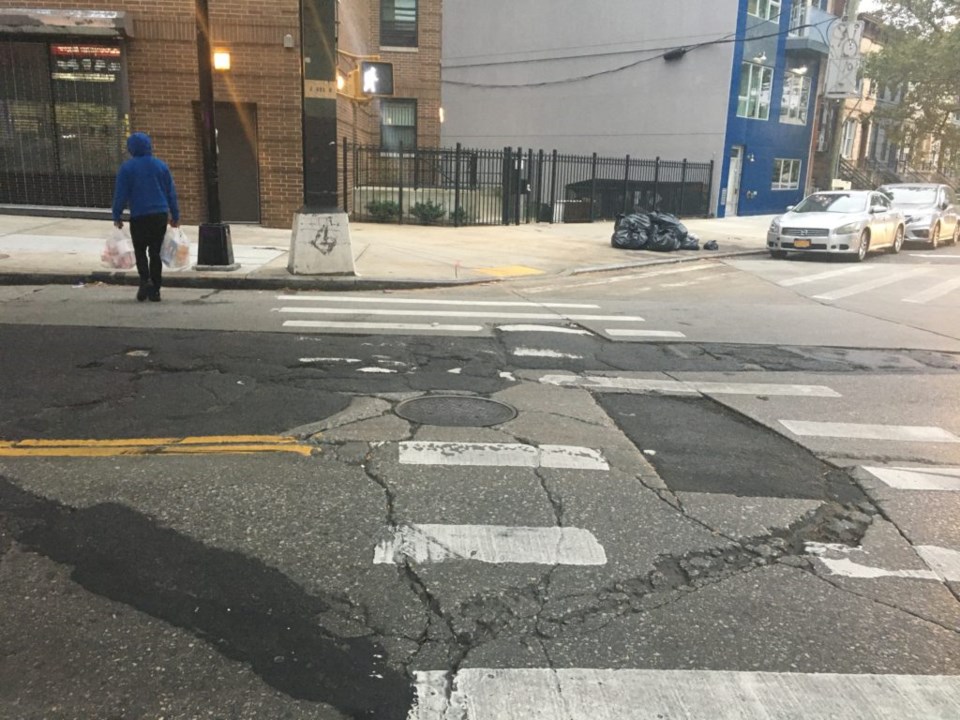 After BK Reader published Part 1 of this series on Brooklyn's Broadway â€" and followed up one more time â€" the NYC Department of Transport (DOT) finally replied with a one line response.
"We understand the community's concerns and are considering potential ways to address in the future," DOT Deputy Press Secretary Alana Morales said.
Morales said on the phone that the DOT had "no reports" about the roadway and what it would require to resurface it.
Making it a priority
In response to the DOT's statement this week, Community Board 3 District Manager Henry L. Butler said it didn't sound like fixing the roadway was a priority for the agency.
"We look forward to the DOT addressing the concerns for this major thoroughfare â€" which affects three community boards â€" sooner rather than later."
The board, which represents Bed-Stuy, said reconstructing the Broadway roadway was in its "top three" capital expenditure requests it was putting forward for Fiscal Year 2023.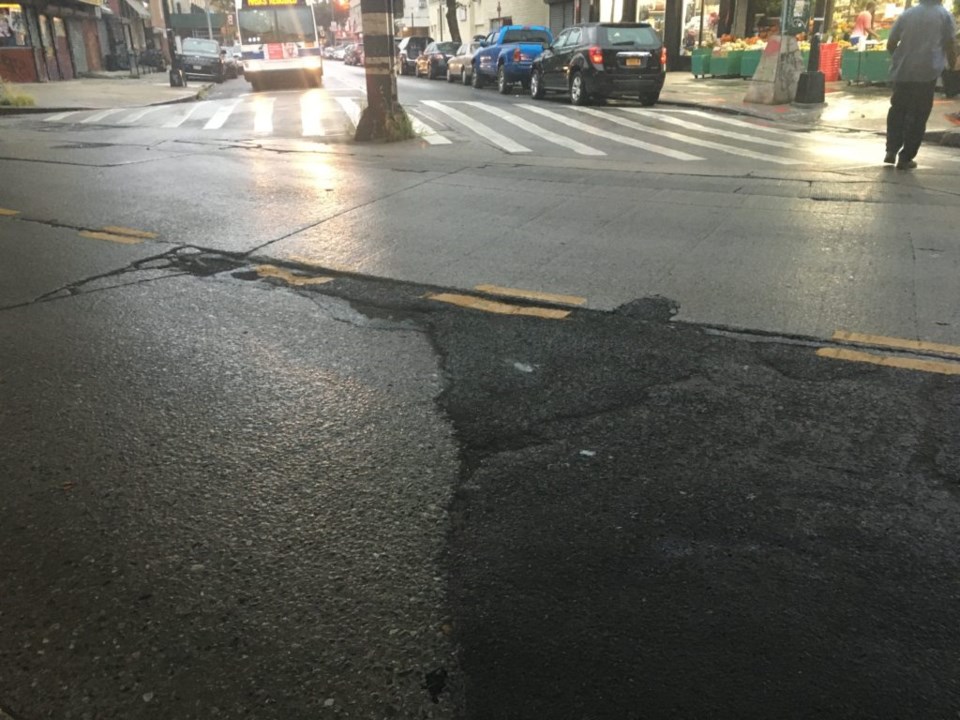 Community Board 4, which represents Bushwick, also this week voted to recommend the Broadway reconstruction project remain the third highest-priority capital budget request in its 2023 budget proposal, after affordable housing.
"Transportation should really see that as something significant," CB4 District Manager Celestina Leon said. "Our greatest needs are housing, and then after that, reconstructing Broadway. That should really say something."
Brooklyn Community Board 16 has also added reconstructing Broadway from from Saratoga Ave. to Van Sinderen Ave. to its list of items to propose in its capital budget request for 2023. The board, which represents Brownsville and Ocean Hill, will vote on it in its public meeting Oct. 26., CB16 District Manager Viola D. Greene-Walker said.
In Part 1 of this series, incoming Brooklyn Borough President Antonio Reynoso said the issue was certainly something he'd be looking at.
"If you are from that area you know that the street's deteriorated and needs lot of help," he said.
"It's definitely something I'll be paying attention to and seeing if we can have a comprehensive redesign and reconstruction all the way down the the end of Broadway."
Collectively, the three boards represented more than 330,000 Brooklyn residents as of Census 2000, and that number is likely to be higher now.
Way overdue
Meanwhile a DOT community liaison told Community Board 4 District Manager Celestina Leon that the last major renovation project done on Broadway through Bushwick was done in 1990.
The work â€" which occurred between Suydam Street and Eastern Parkway â€" was started in July 1988 and completed November 1990: 31 years ago.
Potholes are formed by water, freezing and freeze-thaw cycles, excessive heat, wear and tear and the passage of time.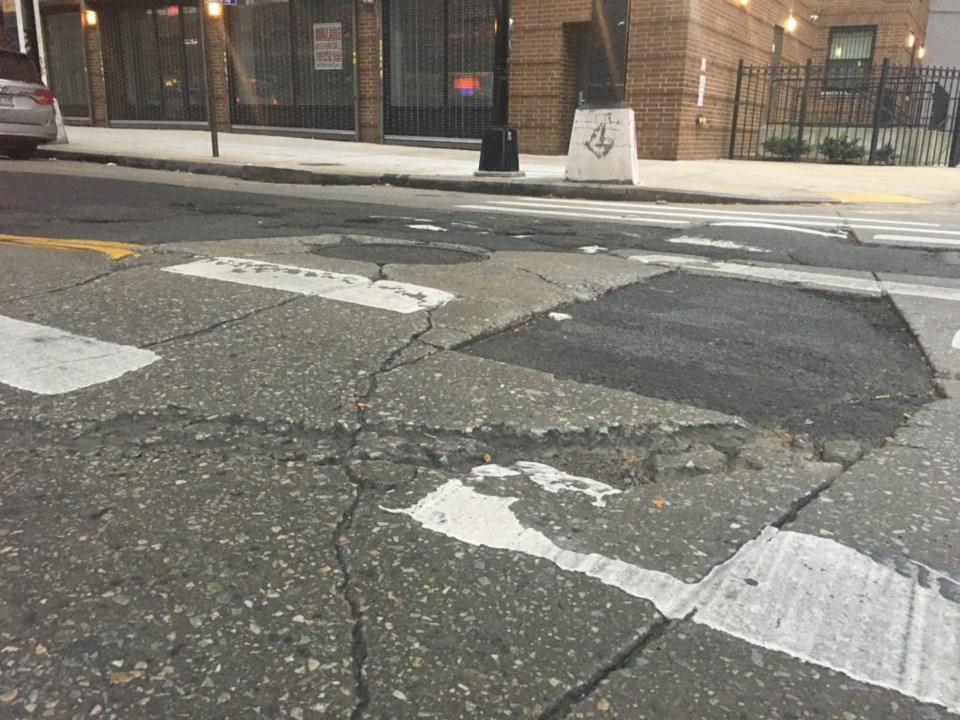 The areas most prone to pothole development are where drainage is poor and where vehicular traffic is greatest â€" especially heavy vehicle traffic. Broadway is a New York City official local truck route.
It's as important as ever to ensure safe roads in Brooklyn.
According to a new report from Transportation Alternatives, Brooklyn has had more fatalities in the first nine months of this year than it did for all twelve months of 2020, 2018, 2017, and 2016.
According to the report, 88 motorists and passengers, 90 pedestrians, 13 cyclists and 10 delivery workers using bikes have been killed on New York City roads this years to Sept. 30.
"While traffic violence is increasing across New York City, the sharpest and most alarming increase has been in Brooklyn," the report says, reccomending the next mayor makes progress towards street redesign goals and protected bike lanes.
There are no bike lanes on the section of Broadway that runs through CBs 3, 4 and 16.
Dangerous for cyclists
Since Part 1 of this series went live, a number of cyclists have spoken out about how dangerous Broadway has become for bike riders.
On Reddit, cyclist Mike commented that he will bike out of the way to get to a proper crossing point between Bed-Stuy and Bushwick that he doesn't need to worry about faceplanting on.
"I really hope significant work happens on this road's surface â€" there are legitimately 12" drops in the pavement," he said.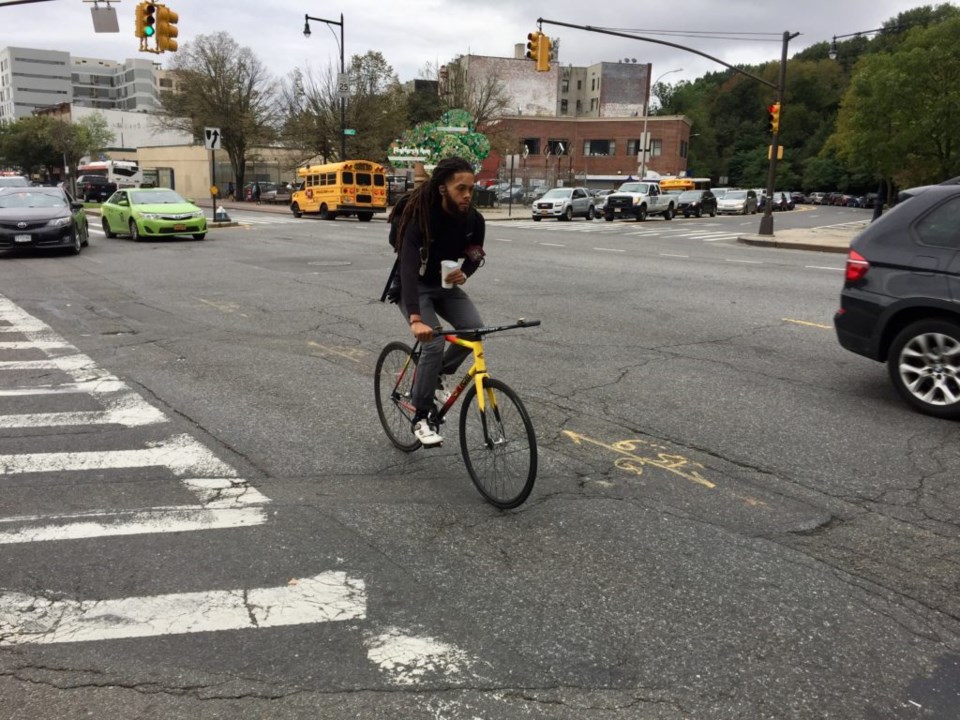 Other cyclists agreed, calling it a "very dangerous road to bike on" with a terrible surface, rife with double parking, buses and trucks.
Meanwhile, municipalities are known to have forked out millions of dollars to pay settlements to cyclists hurt when they were injured due to a pothole.
According to a 2009 report from Pacific Institute for Research and Evaluation, more than half of U.S. highway fatalities are related to deficient roadway conditions.