Residents living in Bed-Stuy's 11233 ZIP code are amongst the city's least vaccinated, City data shows.
The neighborhood, which covers Bed-Stuy and Ocean Hill, has a vaccination rate of just 35.73%, compared to a citywide average of 55%.
The ZIP code where the highest number of unvaccinated New Yorkers live is Edgemere/Far Rockaway's 11691, where only 33.71% of people are vaccinated.
Across Brooklyn, 48% of the borough's 2,559,903 eligible residents are fully vaccinated against COVID-19 and 52% are partially vaccinated. Brooklyn comes in behind Staten Island at 55%, Queens at 66% and Manhattan at 72%. The Bronx is the least vaccinated borough at 50%.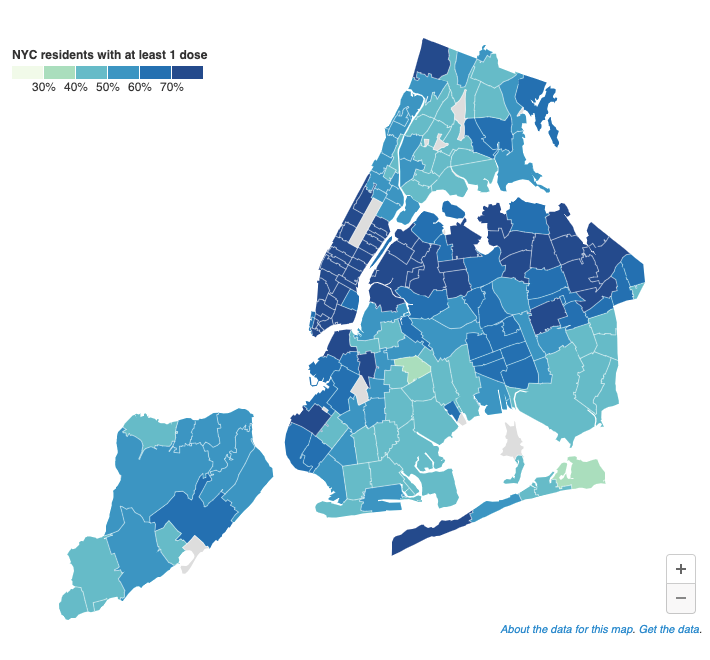 The City's vaccination data is broken down not just by borough, but also by ethnicity and age. In Brooklyn, Asian, Native Hawaiian and Pacific Island residents have the highest rates of vaccination at 77%, followed by the borough's Latino residents at 44%, white residents at 41% and Black residents at 34%.
Black New Yorkers between 18 and 44 years have the lowest uptake levels of vaccination at 30% in Brooklyn, 29% in the Bronx and 28% in Queens.
Those aged 65 and above have the highest vaccination rates in the city. In Brooklyn, 91% of Asian residents over 65 are vaccinated, followed by 56% of Latino residents, 54% of Black residents and 51% of white residents.
This week, both the Mayor Bill de Blasio and Governor Andrew Cuomo announced vaccine mandates for city and state workers, who must show proof of vaccination or be subjected to weekly COVID-19 tests. The mandates, which come as coronavirus cases increase in New York and concerns about the transmissibility of the Delta variant grow, have raised tensions in the city.
Although some welcome the increased pressure to get people vaccinated, others fear the mandates impinge on personal freedoms.
On Wednesday, COVID-19 hospitalizations rose to 611 across the state. Of the 103,159 tests reported on Thursday, 2,567, or 2.49%, were positive.
"We believe that as many a three-quarters of these positive cases are the Delta variant," Cuomo said. "There's no doubt that the Delta variant is real - you can see it in the numbers - but we have been through this before and we know how to keep it under control."
He said the vaccine was "the weapon to win the war against COVID," and the new mandates, whereby all patient-facing health care workers in state hospitals have to get vaccinated by Labor Day, would move us closer to being COVID-free.