After smashing their fundraising goal, Bed-Stuy community members are getting ready to start a free summer series at Jackie Robinson Park Playground to combat violence and bring the neighborhood together.
The recent Transforming Our Playground to a Place of Healing, Community Building and Joy fundraiser asked the Bed-Stuy community for $10,000 in order to host community-building activities in the park. The people of Bed-Stuy gave more than $11,000.
"It was unreal, it exceeded our expectations," fundraiser co-organizer Frances Nadine Ferdinand said.
The fundraiser was a collaboration between Ferdinand, who is a tennis coach at HQ Tennis, Bed-Stuy transformational educator Barry Cooper and local businesswoman Stefanie Siegal.
It was started in April to push back against a recent wave of gun violence around the park, and to stop waiting on police and politicians to make the area safe and liveable.
"By choosing a manageable space like the park playground, we hope to begin to establish a new culture—one of compassion, inclusion and trust, based on the belief that we all want to live a productive, meaningful life that is not consumed by senseless rage and violence," organizers said.
The funds will allow Ferdinand to provide free weekly community tennis hours at the park starting this weekend, and ending in September.
She said she wants to see residents who have been in the neighborhood for a long time utilizing the park, and integrating with the newer neighbors.
"A lot of the players you see on the courts are newer members of the community, often white middle-aged women and men, maybe working from home. They see the courts and jump on it.
"Then there are a lot of Black and Brown residents who have been there a while but they don't know they can come out and play. They see me and say, 'How much is it?'"
Thanks to the fundraiser, it's going to be totally free for a while.
"You won't need a permit, you won't need a racket, you won't need a ball. All you need is a good attitude and to be ready to play," Ferdinand said.
At the same time, the fundraiser will allow non-profit B.R.O Experience to facilitate honest conversations in the park around a number of recent shootings in the area, some fatal.
The B.R.O Experience has the mission of building stability and longevity in communities of color by providing opportunities for education and better support for young men's mental and physical health.
Recently, founder Cooper — also known as Coach Coop — has been mentoring young men living in the Fulton Houses to grow them into positive leaders. He said he is now able to give stipends to some of the young men in Bed-Stuy they've been working with in order to make them program participants and ambassadors.
"We can put them to work to engage the community in a positive way."
Cooper said, this coming Saturday on Juneteenth he was going to be holding an event in the park to address the recent violence and talk about what it means to be a community member and interact without violence.
"Young men in particular feel a lot, but often times, when not taught the tools of how to express those feelings, they tend to turn on one another," Cooper said.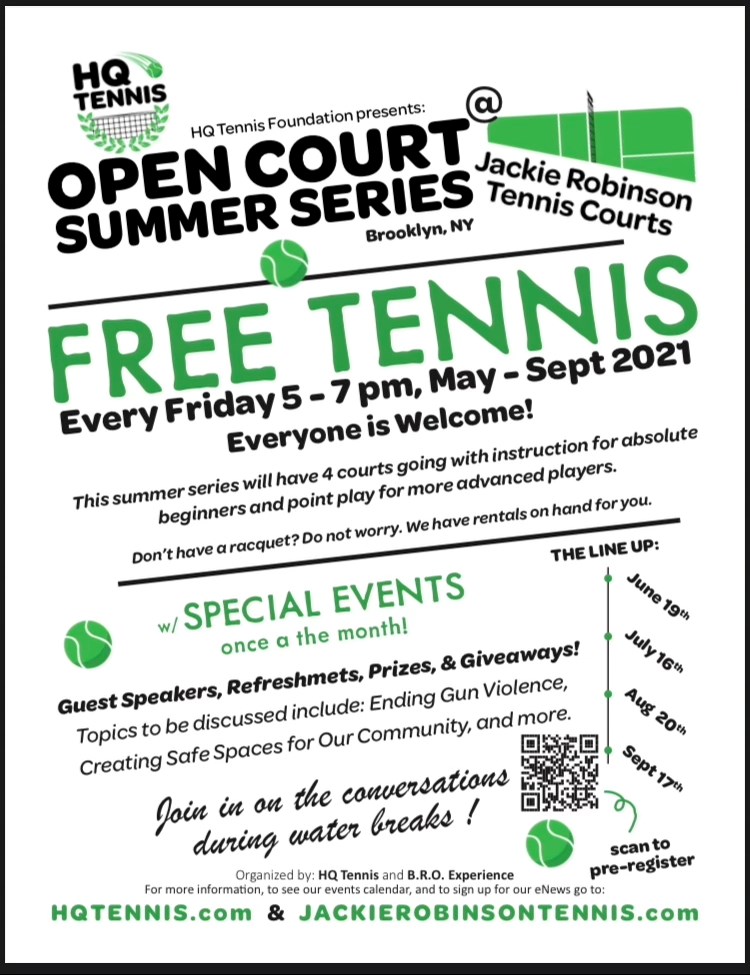 His organization aims to prevent violence by holding regular Tuesday evening workshops with young men in the neighborhood to foster authenticity, connection and vulnerability, before emotions escalate to harm.
Meanwhile Siegal, who owns nearby Bailey's Cafe, was reportedly responsible for securing partial matching funds from Con Edison for the fundraiser.
"We are working on bringing a positive vibe to the space and bringing people together to discuss creating an anti-violence culture in the neighborhood," Siegal said.
The summer series programming kicks off at Jackie Robinson Park Playground this Saturday, Juneteenth, from 5 - 7pm. After this weekend, the open courts will be every Friday from 5 - 7 pm.
To contact Cooper about joining his Tuesday groups, email brother@thebroexperience.org.