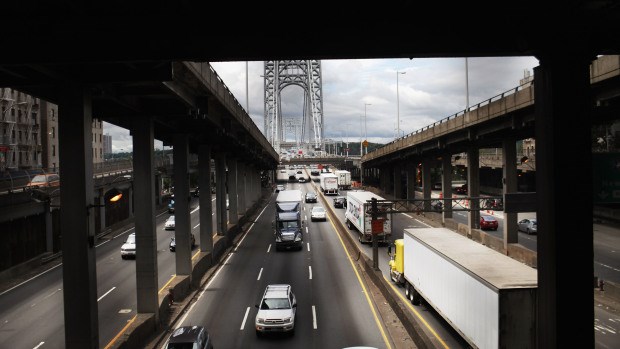 Brooklyn Bridge
Due to the Brooklyn Bridge Ramps Rehabilitation Project, several lane closures may affect motorists travelling between Manhattan and Brooklyn. One of three Brooklyn-bound lanes will generally be closed during weekdays from 6 am to 3 pm in order to facilitate long term bridge construction. Local streets may experience single lane closures as needed and Manhattan-bound lane closures continue overnight throughout the duration of the project. Any other closures, including Manhattan-bound closures that extend into daytime hours during selected weekends, will be highlighted below. Brooklyn-bound traffic will be maintained throughout the project as will the span's pedestrian and cycling path. During Manhattan-bound closures, motorists will be detoured to the nearby Manhattan Bridge or may choose other crossings.
Unless otherwise notified of specific occurrences, Nighttime closures will resume Monday Night January 6, 2014 as follows:
Overnight Detours for Manhattan-Bound Traffic
Fri night/Sat morning Midnight* to 7 am
Sat night/Sun morning Midnight* to 9 am
Sun night/Mon morning Midnight* to 6 am
Mon - Thurs night: 11 pm* to 6 am
* To allow traffic to clear before the reversal begins, the eastbound BQE exit onto the bridge closes 30 minutes earlier, the northbound FDR Drive exits close up to an hour earlier, and other Brooklyn ramps onto the bridge shut down 5-15 minutes earlier.
Manhattan Bridge
There are four lanes from 6 am to 10 am Monday to Friday westbound (Manhattan-bound) of which two are on the north upper roadway (the left lane HOV2+) and two on the lower roadway; two lanes are maintained on the south upper roadway eastbound (Brooklyn bound). Two of three lanes on the lower roadway are closed 10 am to 3 pm Monday to Friday. No trucks are permitted on the North Upper westbound roadway from 5 am to 10 am Monday to Friday. Overnight Monday to Friday from 3 pm to 9:30 pm, there are four lanes eastbound and two lanes westbound. To support Brooklyn Bridge closures, the lower roadway will be Manhattan bound westbound from 9:30 pm to 10 am weekdays. There are four lanes westbound to Manhattan and two lanes eastbound to Brooklyn over the weekend from 9 pm Friday to 10 am Monday. Lane closures occur on off peak hours weekdays, weekends and overnight for maintenance and reconstruction construction activity for NYCDOT bridges as needed basis through January 2014.
Now Open
I-87 (NYS Thruway), I-84 and I-495 (Long Island Expressway) are open to all traffic as of 8am Friday January 3, 2014.
Other updates
Residents and business owners are urged not to shovel snow into the street when shoveling sidewalks and cars, which will delay snow clearance.
Residents who can help shovel snow for seniors and others who need assistance can sign up to volunteer via NYC Service. Learn more
There will be no trash and recycling pickups until snow clearing efforts are complete.
Alternate side of the street parking is suspended Friday and Saturday. Payment at parking meters will remain in effect throughout the City.