By Allia Mohamed, Co-Founder & CEO of openigloo
Following the New York City rental market in 2021 was like riding the Coney Island Cyclone! The year started as "a renter's market" with rents dropping to historically low levels as the pandemic dragged on for a second year. That dip was short-lived: by summer, NYC rents started to rise. By fall and winter, renters started to feel the pinch with the market rebound in full swing. In Manhattan, for example, rents went up 18-20% as landlords tried to recoup discounts they gave during the height of the pandemic.
Where do we go from here? Based on combined city data with openigloo stats, here are three trends that will shape the rental market in New York City this year.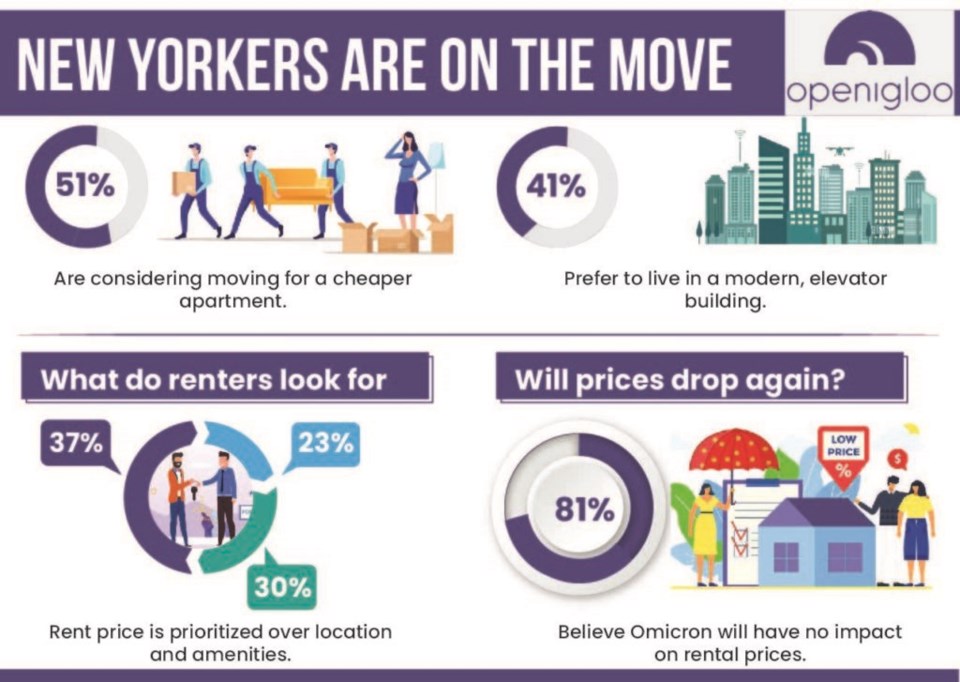 Priced-Out Renters
Leases signed as the rental market reached record-breaking lows last year are up for renewal in the next couple of months. With such steep price increases (upward of 50%), many renters are being priced out of the market, and those who got a 'good COVID deal' in 2021 are already packing their bags. Our recent survey shows that about half of New Yorkers are looking to move apartments in 2022 in search of cheaper rent. With landlords trying to recoup the big discounts they gave during the height of the pandemic, renters are being forced to relocate, which could result in an uptick in inventory when those renters opt to not renew their leases. Our survey results indicate that the vast majority of renters do not think the current Omicron wave will drive rent prices lower.
Luxury and Space Matter
Our priorities have changed during the pandemic. openigloo user data show continual shifts in wants and needs from apartment buildings as people spend more time at home. The demand for luxury buildings with doormen has increased significantly, driving up the median rents, specifically in Manhattan. Our research finds that 41% of people would prefer to live in a modern building with an elevator. There is also growing activity in the outer boroughs, as renters seek more spacious apartments and lower rents. The trend is clear - people are spending more time in their apartments and want access to more room and amenities.
Tech-Enabled Street Smarts
The pandemic, along with the development of digital services and apps have reshaped the power dynamic of the rental market. Today's tech-enabled renters are far more equipped and knowledgeable going into their apartment search. Consumers are using new platforms for virtual walk-throughs and to access user-generated reviews and public records - providing renters with more information and knowledge to help find their next apartment. We are seeing that firsthand at openigloo. Reviews are growing rapidly and we're seeing more renters come to our platform seeking information about different buildings and landlords. With more people moving to NYC last year than in 2019, we expect digital adoption to increase even further. Increased transparency, powered by digital tools presents a far more renter-friendly market, and enables a better renting experience.
While the rental market rollercoaster ride has ended – for now – renters are returning to NYC and are far more price sensitive, open to moving, and digitally equipped to find their next apartment.
Allia Mohamed is the CEO of openigloo, a platform that combines vetted reviews from residents and public records to give NYC apartment hunters vital intel. The company has increased to 200,000 users and 20,000-plus reviews across 10,000 buildings in New York.