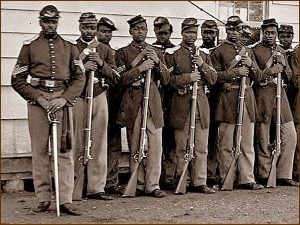 Joy is a lifelong learner and this morning she's going to get an important lesson while riding the bus to work.
"Memorial Day...what is being memorialized on Memorial Day?", are Joy's thoughts as she leaves her building to go to work. Joy is wearing the company T-shirt under an orange windbreaker, skinny blue jeans, and espadrilles. She's grudgingly off to work on a national holiday because the nonprofit she works for agreed to march in a parade with another nonprofit that serves US veterans. The deal is participate in this mandatory work assignment and schedule one day off within two weeks or don't participate and be suspended without pay for two weeks.
Hmmm, my loving employer has some terms of employment that definitely rub me the wrong way. This is the fourth mandatory get-together or work order we've had. We've had two Callahan inspections that had us get to work by 5 AM; a mandatory Family Fun Day to a park in Long Island which had me miss my shift at the Food Co-op---
Joy stops her grumbling because she trips over a crack in the sidewalk. She sees it as a sign that thinking positively is far better for her. She makes the mental adjustment and notices the sunny morning, the grass, the weeds, the trees, the buildings, and people around her. She gets to the bus stop just in time to be the last person to board the bus.
She finds a seat next to an older silver-haired man. She sits down beside him and the silver senior turns his head to smile at her and nod. Joy reciprocates the greeting. He's deep chocolate brown with hardly a wrinkle, neatly dressed in a collared, short-sleeved pullover and slacks.
"Young woman, I bet you don't know what Memorial Day is all about? Of course, I love a surprise and you can tell me."
Having grown up with her outgoing Leo father, Joy isn't put off by the challenge or break in the silence. She has about 15 minutes before her stop.
"Sir, I'm sure you have a story to tell and I'm all ears. Why do we celebrate Memorial Day?"
"It's due to the Civil War. So many thousands of soldiers died over the freeing of our ancestors. The Southerners had a free labor market and labor is the most expensive production cost. The Northerners put in machines to produce more goods to offset the cost of labor. The amount of finished product met local, regional and sometimes national demand."
Joy is listening with interest due to the new information and because the older gent sounds like a scholar. Possibly, he is or was a teacher. She'll find out later before she gets off the bus. For now, it's all about spurring the man to tell more. Maybe people within earshot are listening to this "itinerant teacher". This is a common occurrence on bus routes through predominantly Black communities: some man or woman uses the bus as a lecture platform.
"I remember the Industrial Revolution from high school history classes. Sir, say more about Memorial Day, please."
"The Civil War, the Industrial Revolution, and Memorial Day are sewn together, my dear. If I remember correctly, about 750,000 soldiers died on US land. That's a huge chunk of US labor force and business savvy that got buried in four years. In 1868, this organization called The Grand Army of the Republic chose the last Monday in May as Decoration Day to encourage people to go to the cemeteries and place flowers on the graves of the war dead. Of course, the Southerners were still smarting from having their butts whooped, so they chose another day to do the same. The federal government stepped in to decree Memorial Day for the nation--one nation.
"That's some story, Sir. Are you a teacher or professor?
"Yes, I am. For years, I taught at Bishop Loughlin High School. I retired as an Assistant Principal"
"Oh, I taught a graduate from your school. He did very well in my summer course. Here's my stop coming up. I must share your story with my co-workers. Today, we are marching in a Memorial Day parade through this neighborhood."
"Excellent, young sister! Our people need to see us united in something good. Oh my! One most important piece I failed to mention. It was the Blacks in Charleston, SC that started the observance. The May 1, 1865 event drew much attention because about 10,000 people took part. Yes, they had 3,000 little black children lead the procession."
Joy shakes the retired Assistant Principal's hand before getting off the bus. She walks to Restoration Plaza to find her co-workers. She walks through the revolving doors, passes by the Billie Holliday Theatre, and pushes the other set of doors to get to the courtyard. The amphitheater is covered with a tent and the last rows of chairs are being placed. The guest speakers are seated on the front dais talking among themselves. She spots some sociable co-workers and heads over towards them. They are excitedly talking about a night time drama. No, this isn't the right time to break in to tell them about the retired teacher and the lesson he gave her on the bus. Much later during lunch she will.
Getting Your Own Keys
chronicles the professional
odyssey
of Joy
Duggins
, a resourceful and encouraging service provider in a Central
Brooklyn
men's homeless shelter. It gives a peek into NYC homeless services procedures and much
workplace
drama.
What's the goal of providing temporary emergency shelter? Getting Your Own Keys