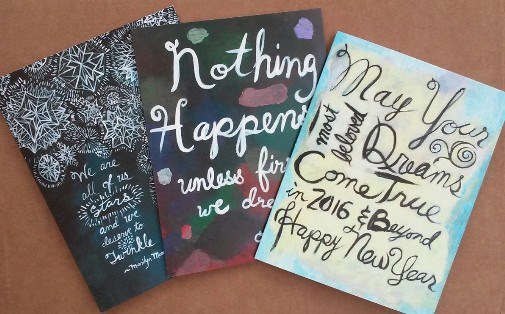 Hello! Announcing a milestone in the development of this now almost two-year old project of mine "Pay Attention To Your Dreams."
I have finally created a small run of greeting cards of images from the past year, starting with these three, which you can order from my Etsy shop here.
Some of you may recognize the New Year's card. I sent it out previously with a personal message from me painted right into it. I tweaked it a bit and updated it for 2016 so that you have time to send it out to your friends. I will of course be doing another one for 2016 for you... just not yet!
The other two are:
Marilyn Monroe's "We are all of us stars and we deserve to twinkle" and Carl Sandberg's "Nothing happens unless first we dream."
The cards are 4 1/4 by 5 1/2 inches and come with their own white envelope. I have to say I am pretty pleased with how they came out!
You can purchase this set of three on my Etsy shop!
Thanks for all your support!
Lots of Love,
Harriet