Loss: Something More to Think About The motivation for most, if not all entrepreneurs is the potential for profit. It is not that we are doing this to get rich, but we do want to live and support our families with what we do.
We want for this thing that we do to keep us alive. We take the risk of venturing out on our own for our own professional happiness. All small business owners deal with risk from all sides. I do not think however, that we ever consider absolute loss.
A few days after the café of a business neighbor burns; so many thoughts pop into my head. It's easy to feel helpless. Business can be a puzzle with many pieces.
While pieces may sometimes slip between the cracks, it is different when the crack opens up and swallows you whole: absolute loss. I know that I never considered total loss.
Of course, this is not about me, it's about Bread Love, Stuyvesant Mansion, the Porter Family. But as a community, it affects us too. Through their tragedy comes yet another lesson for the rest of us: Nothing is off the table. No risk is ever too far-fetched.
In a country where we are innocent until proven guilty, are we at a point where everything is an act of terror until it isn't?
When my husband and I started planning for a bar/cafe, I conducted the risk analysis of the business, the industry, crime in the area, the median income of the residents, education levels; but not the absolute loss of the space. Of course we have insurance, but that is simply not the same.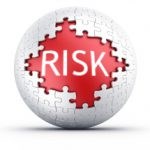 At the end of the day, no one cares that there is insurance. That doesn't solve anything. Insurance doesn't rebuild. Insurance helps no one else if others are at risk.
We know that risk management is supposed to take all things into consideration; but would we be entrepreneurs if we considered the total loss of our business?
The risk of loss is enough to deter the most motivated. If total loss was a possibility, if it is something that we should always keep in mind, would any one risk everything to start a business?
If so, do we no longer worry about the business risk, but rather worry about business terror? The thing about Bed-Stuy is that we are a brick-and-mortar community. Our services require spaces with high ceilings, stoops and backyards.
We open every day to see each other because as much risk there is in the world we are a real community and not just a blip on the map that was renamed by some realtors.
A real community stands strong in the face of adversity, in the face of terror we stand together and we hold our heads high. Will there be more shops? Will we have more cafes? Will we cultivate more entrepreneurs?
Yes. Of course there will be more shops, cafes, and entrepreneurs. We will continue to pursue our own version of the "American Dream" despite the risk, and in spite of any terror. We are better than this. We are more positive than any tragedy that comes our way. We are entrepreneurs and we will always have courage.
To Mr. and Mrs. Porter, with everything that my husband, Chris and I have, we send you our positive thoughts, our prayers.
We look forward to you rising through the ashes like the phoenix. Freebrook Academy — you are teaching those children more than just reading and math, but a real love and appreciation for the world, especially their community.
This is but a mere spark in your history — the greatness that you harbor within your walls will never allow for anything to tear you down.