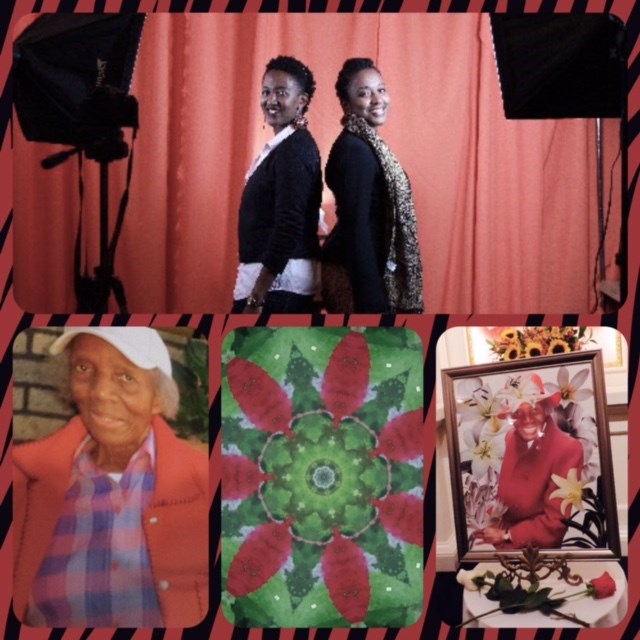 By Guest Blogger: Linda Cousins-Newton
You know how when you first see someone and although you don't know them, your heart warms and a smile just gently crosses your soul. That, I know, was my natural reaction when I initially beheld the late 94-year old matriarch of our church/meditation center, Ms. Betty Thompson, the quintessential "lady in red".
During his early years in the country, despite the constraints of the segregation era, Paramahansa Yogananda, the founder of Self-Realization Fellowship and revered as the "Father of Yoga", taught a group of early African-American devotees in separate quarters when the hotel in which he gave lectures refused to admit them.
A photo exists of Yogananda with those early yogic worshippers of color, but little or no historic information was recorded as was done with the early Caucasian supporters. As a storyteller/writer/historian, I always wondered about those early progressive African-American thinkers in SRF. Hmm, if anyone would know the story, it would be the powerfully humble, Ms Betty, that tiny giant of a lady in ever-present red.
Made a mental note to chat with her--even stopped her and jotted down her phone number one long ago day; because besides knowing of those pioneer followers, I could just tell that she herself was walking history. Let me tell you, procrastination is a blessing blocker! This storyteller never but never got around to calling Betty. We'd squeeze hands warmly at the Center, exchange smile bouquets across the room, and a couple of times, I'd purchase and press into her hand a gift I knew that she as a spiritual elder would love.
This lady in red, always surrounded by a few attentive soul admirers from varied world regions, was such an icon, such a warm institution that it was rather unimaginable that one day she just might not be there--sitting quietly in the lobby after service--no, holding humble court there--near the bouquet of stunning floral arrangements the Flower Committee had spent hours on lovingly creating.
One day the lady in red, an avid travel lover, took the hand of her spiritual mentor (in Hindu parlance "guru") and boarded the Spirit flight to destination Heaven. The lady in red, who loved her ancestry while also loving global citizens of the world, greeted once more the great ones she had known in her life here like Dr. Adam Clayton Powell, Jr. and Malcolm X.
The lady in red, who had loved to jitterbug at the famed Savoy Manor in Harlem during her early heyday as a young migrant from Philly, now left her cane behind while retaining her radiant visage and most likely danced, danced, danced in the ballroom of the astral plane at an undoubtedly massive Welcome Home gala. Then with the excitement subsiding from that reunion with beloved family and friends, she undoubtedly strolled off with the peace embracers who preceded her to that Divine Space,sitting at the banks of a luminous palm-surrounded rainbow stream to deeply meditate; since she loved deep meditation and journeys to lovely palm-blessed places.
No, the procrastinating storyteller never sat down with the lady in red and noted her walk in history, but joy of joy, the matter was somehow divinely resolved. Abhita and Sarita Austin, two phenomenal young sister filmmakers--not just sister-friends--but blood sister friends and business partners--had interviewed the beloved lady in red as part of their Yogagenarian film project.
As spiritual synchronicity would have it, they called and asked me to do a historical narration for the film, having no idea of my long-standing desire to delve into this fascinating church mother's history and that of the other early African- and Indian-descended devotees whose stories have not yet been told.
These beautiful young women--both inwardly and outwardly radiant--founders of their own respective companies--(Abhita,--Hidden Chapel Studios as a retreat recording spot for artists; Sarita--Pureflow Theatre Company to bloom and showcase the talents of children); these busy young sisterpreneurs who had worked with the famed and fortuned from Roy Ayers and Missy Elliot--Abhita, as a music engineer and audiovisual specialist to the Yale Children's Theatre--Sarita, as playwright, poet and screen writer.
Then between their hectic schedules, they found time to not only volunteer on meditation center committees but to travel around the city recording the stories of yogagenarians like the fascinating lady who unabashedly adored global travel, justice, jitterbugging, deep meditation and Red.
Thanks to their efforts while AWAKE!, the highly-lauded documentary on the life of Yogananda is touring the country, EUREKA! the tres interesting doc on the life of early African-American devotee, Ms. Betty Thompson, is poised for its second popular showing at the New York City Center of Self Realization Fellowship.
Yes, as my Tennessee/Georgia elders would say, "Sista Betty loved herself some red!"
Enjoy the luminous red flowers of the Heavenly sphere, beloved Lady Thompson. You can "rest easy" as other progressive and gently powerful ones like the Austin sisters carry the work, the mission, the love to higher levels--tehnologically, in fact. Hmm, all is well that ends so beautifully well, even for sometimes procrastinatin' Brooklyn storytellers.
In closing, folks, above, for your viewing pleasure, are the fascinating women written about here: Abhita Austin (left) and Sarita Austin (right) foundationed appropriately by their late elder and motivator of their recent documentary contribution, Ms. Betty Thompson, the justice-loving Kriya yoga initiate who "loved herself some red". In the middle of her photos is my digital art abstract of red flowers which is dedicated to the memory of good Sista Betty. It is called "Independent Red Petals" because, as you can imagine, she was also a free-spirited soul who was warmly connected but tres independent.
Linda Cousins-Newton