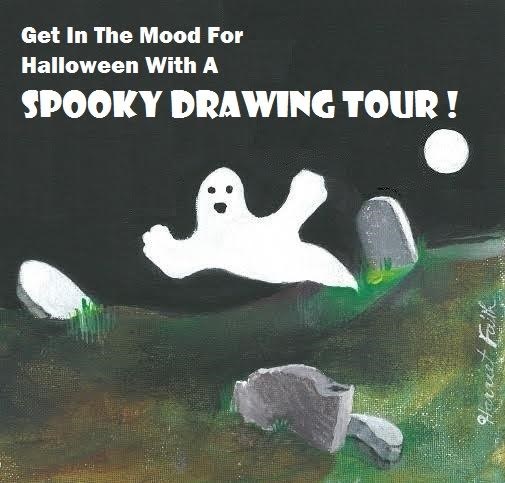 If you think you might be in the area of Kingston, NY (it's just a 2 and a half hour, very pleasant ride from NYC on the Adirondack Trailways bus line) on Sunday or Monday of the coming week, I wanted to let you know about a drawing workshop I'm offering for Halloween!
Sunday, October 30 — Noon to 2 PM
Monday, October 31 — Noon to 2 PM
Meet at main entrance of Wiltwyck Rural Cemetery
145 Pine Grove Avenue, Kingston, NY

Even if you think you "can't" draw, this class is for you!
Bring your sketchbook and dark drawing pencils or crayons and meet me at the main entrance to the Wiltwyck Cemetery.
Don't have a sketchbook? Bring at least 20 plain white sheets of printer paper and a clip board!
We will be doing exercises designed especially to "scare away" self-judgement and criticism so that even if you think you can't draw, you will still end up with exciting sketches to be proud of! I use on-site drawing tours to help students unlock their full creative potential through classic drawing methods as well as gentle self-awareness techniques that help each participant gain confidence and enjoy learning.
Meet at NOON (because midnight is too scary!) at 145 Pine Grove Avenue, Kingston.
Children welcome. Children 8 and under are free with adult companion.
Suggested donation $10, but no one turned away for any reason!
Bring drinking water and snacks and don't forget your creative "spirit!" (btw, I just found out yesterday that a local candy shop will be supplying popcorn for the participants! So, free popcorn too!)
There will be some walking involved so wear comfortable shoes!
I hope you can make it! Please share and invite anyone who you think might enjoy this!
Be sure to visit my website www.harrietfaith.com!
And Happy Scary Halloween!
xo Harriet