By Bro. Runako Gulstone, Alpha Phi Alpha Fraternity, Inc.
In honor of one of its most renowned members, the Brothers of Alpha Phi Alpha Fraternity, Inc, Gamma Iota Lambda Chapter gathered at the Mount Ollie Baptist Church in Brownsville, Brooklyn to carry out its 7th Annual MLK Day of Service.
Led by its community service chairman, Lucien Allen, the Chapter continued its tradition of observing the holiday. The women of Alpha Kappa Alpha Sorority, Inc., Zeta Phi Beta Sorority, Inc., and other community volunteers joined us to distribute clothing, hot meals, and toiletries to individuals and families in need. Over 200 packages were prepared and assembled prior to arrival. The remainder was given to support survivors of the recent and tragic apartment fire in the Bronx.
Mount Ollie provides spiritual uplift and material care to Brownsville, one of the nation's most densely populated and impoverished African-American neighborhoods. It is also a community that has been disproportionately impacted by COVID-19.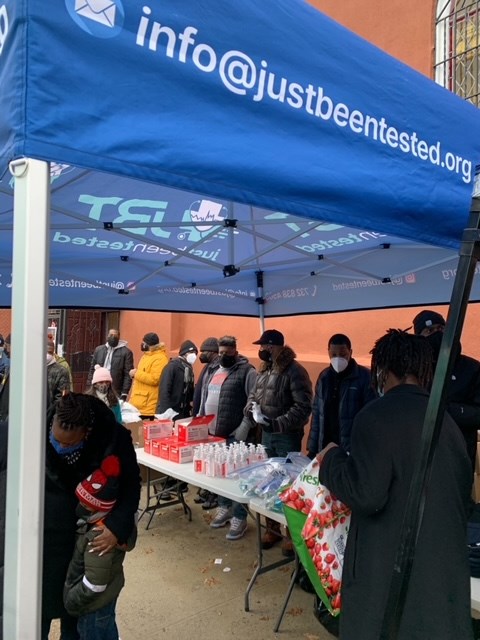 Together, the church and the chapter were able to facilitate and encourage testing and vaccinations in the mobile units parked alongside our service area. Rev. Reginald L. Bachus noted that the brothers were "cordial, pleasant, and cooperative in assisting the recipients" and that the surrounding community was "overwhelmed by the outpouring of love and concern".
The program benefited from partnership between both the public and private sectors. 55th District Assemblywoman Latrice Walker visited to express her gratitude for our service. Former NYC Council Majority Leader Laurie Cumbo donated toiletries and other supplies. Tony Roche and Lloyd Duberry, Jr. of JP Morgan Chase, also members of the fraternity, provided their financial assistance. 
Chartered on May 5, 1945 in the presence of one of the Fraternity founders, Vertner Woodson Tandy, Gamma Iota Lambda has served Brooklyn and Long Island communities for over 75 years. It is the second Alumni chapter to be chartered in New York City, seated in one of its largest and most populous boroughs. Lesser known beyond the chapter is it's interesting connection to Dr. King. Sandy F. Ray, charter member and former pastor of Bedford-Stuyvesant's Cornerstone Baptist Church, was one of Dr. King's closest confidantes and mentors.
He was affectionately referred to as "Uncle Sandy" despite not being a literal relative. When Dr. King was attacked following a book signing in Harlem, he secretly recovered at Rev. Ray's home until he could safely return to Georgia.
The earliest written description of the chapter's priorities included educational programs, readjustment programs for veterans, as well as civic activities to advance the well-being of Black Brooklynites. It has long been a priority for the Chapter to address persistent problems affecting schools, public health, poverty, and social justice in Brooklyn's neighborhoods.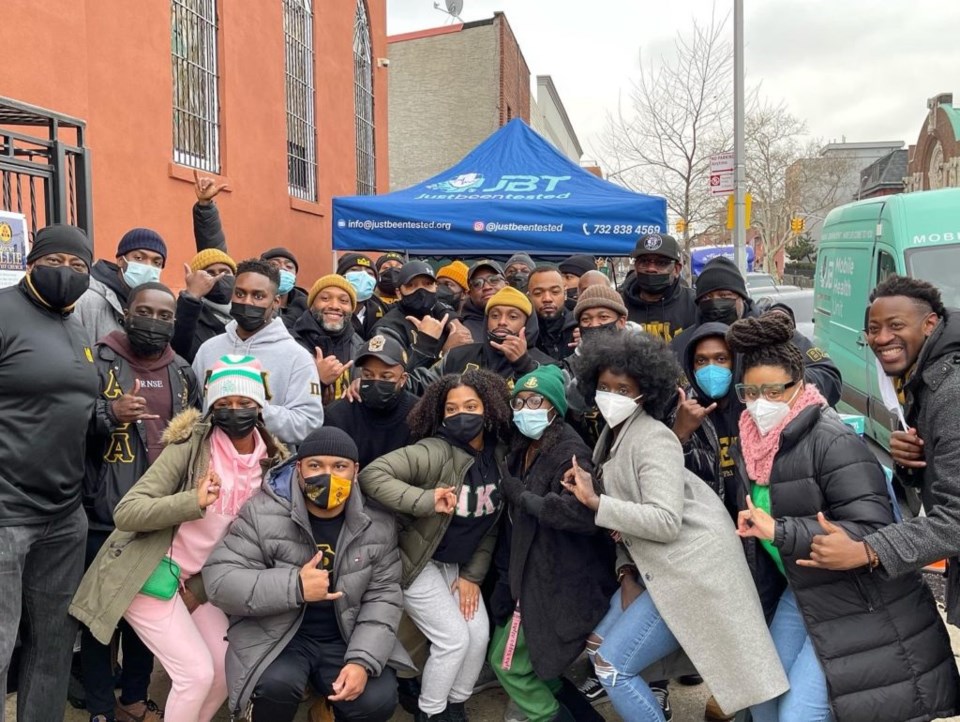 This legacy of service endures to this day. Gamma Iota Lambda Chapter's president, Maurice Edwards observed that the best part of the Day of Service was seeing community members bring their children with them to volunteer.
"Watching them politely ask questions of visitors while handing out gloves and hats alongside their parents was truly inspiring. This is how we prepare the next generation of leaders."