By Council Member Mathieu Eugene, 40th District, Brooklyn
---
In light of this painful and demoralizing tragedy that has exposed the vulnerabilities of our healthcare system, our medical staff, and the patients they care for, I feel compelled to highlight my advocacy for a more prepared framework that is able to address this type of catastrophe. I want to raise awareness for the urgent need of stand-alone healthcare facilities and a permanent commission that will continue to study the pathophysiology and the impact of virulent agents in order for us to more effectively respond to future outbreaks of contagious disease.
We are experiencing a pandemic and it has caused significant unexpected disruptions at all levels of our society. Elected officials, medical personnel, and public servants are working every day to protect us from COVID-19 and are doing so under strenuous circumstances. This is an extremely difficult undertaking and I want to commend the essential workers who are sacrificing their personal health to save lives during this crisis. We must always keep them in our thoughts and do everything in our power to ease the burden they have struggled to overcome.
This is a crucial moment in our country's history when we must come together as one, regardless of race, ethnicity, religion or socio-economic status. We are united as human beings and we must do whatever it takes to prevent the continued spread of this horrible virus in our communities. We each have a moral obligation to play a role in its containment by continuing the hygienic practices of frequent hand washing, staying at home, wearing masks and practicing social distancing when in public. By supporting one another, we will collectively overcome this dangerous illness.
COVID-19 is not the first widespread disease that our country has dealt with and it will certainly not be the last. It was over a century ago that cities and countries fought to contain the spread of the Flu Pandemic of 1918, which infected 500 million people worldwide and resulted in 50 million deaths. Other epidemics include outbreaks of cholera and more recently SARS, MERS, Swine Flu, and the Ebola virus, which infected over 28,000 people and killed over 11,000 people in West African countries.
It is important that we collectively work together to support a national infrastructure that can withstand and recover from these emergency scenarios. In the case of COVID-19, this disease is dangerous and lethal because it spreads so quickly and presents no or few symptoms in some individuals while manifesting in a more severe and life-threatening condition in others.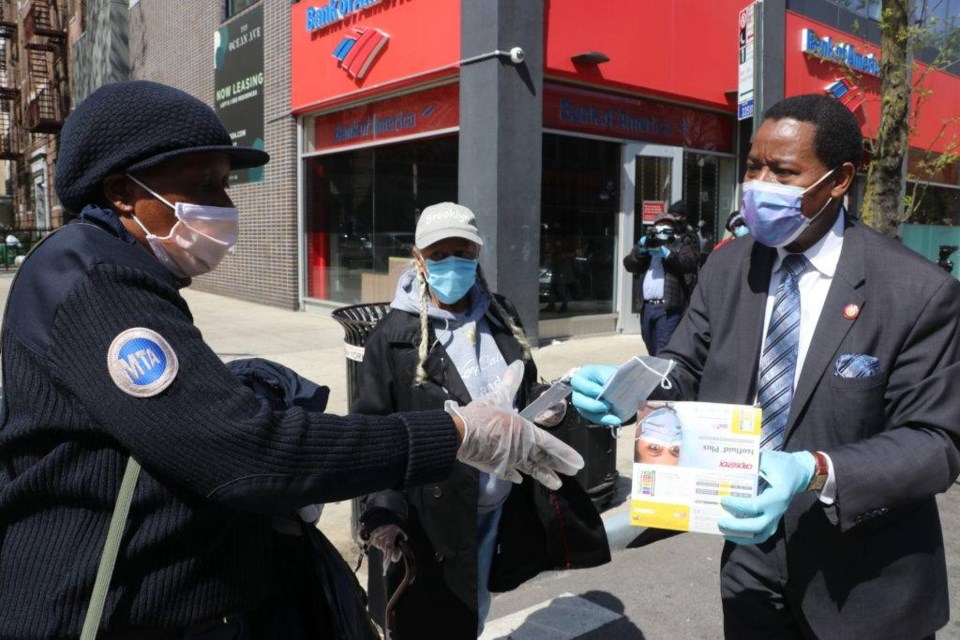 In 2018, I introduced two pieces of legislation in the City Council to request the creation of infrastructures that would help the city, the state, and the federal government be better prepared in the event of a public health emergency.
Resolution 637 called on the United States Department of Health and Human Services and the New York Department of Health to create a special commission to address health emergencies and infectious diseases.
The purpose of this legislation is to build an infrastructure that would be proactive in easing the burden at all levels of government in the event of a virus spreading throughout the population. It would establish a commission that is equipped to address a public health crisis and allow the government to continue its main functions without the need to shut down businesses and upend the system. This legislation is intended to save lives and help government and healthcare officials better manage patient care in the event of a pandemic.
New pathogenic agents are constantly emerging, and older ones can adapt to resist current treatments and engender new challenges. The next outbreak of infectious disease could develop unexpectedly, and we must be proactive and more prepared to identify, treat, and contain it in a manner that does not bring our communities and economy to a halt.
In addition, Resolution 638 calls on the New York State Department of Health to create stand-alone, self-contained isolation centers or units for the treatment of patients with infectious diseases due to an epidemic, including highly contagious and airborne illnesses. This measure is critically important, as it would allow our healthcare workers to separate patients with highly contagious infections from those hospitalized with pre-existing health conditions. It would resolve the current crisis in our hospitals by providing extra beds in a protected area to care for infected individuals without presenting a risk to other patients and medical staff, a problem we are currently seeing throughout our healthcare system.
Our doctors, nurses, and other health workers are stressed and overworked. They are getting sick as they manage thousands of contagious patients, all of whom require immediate care to be saved. It takes time and an abundance of resources to expand our medical services to a capacity where they can properly handle the influx of new coronavirus cases. This is an unfair hardship to place on our healthcare workers and those who need to be protected in order to do their jobs.
My legislation would not only ease the strain that our government officials are now operating under, it would also improve the ability of doctors, nurses, and medical staff to care for patients who were already dependent on critical treatments due to life-threatening disorders.
I believe that we have the resources to build the greatest healthcare system in the world that is capable of improving its response to any type of health crisis because New York and the United States are home to the most qualified, compassionate, and dedicated medical professionals. These workers are saving lives every day, but they deserve a safer and more protected environment to continue to do what they love, which is caring for the hardworking people who personify the qualities that our nation was founded on. The conditions in which our heroes were working was demoralizing because despite their courage and dedication, they are still human beings. As a society, we must collectively stand up for their protections as first responders.
One of the best ways to honor them, to pay tribute to them, and to show our gratitude is to create better health infrastructures and resources that will provide them with safer working conditions and tools to address the next health crisis.
Our healthcare system is in dire need of improvement to ensure that our medical professionals are better equipped to continue their critical and noble role during a health crisis.
The devastation of previous epidemics is widely documented, and we can all agree that as advanced as our healthcare system is, it was not adequately prepared to respond to the COVID-19 crisis. The country is struggling to contain this virus. We have seen an extreme loss of life and a negative impact on so many levels of our society, due to not only the high pathogenicity of this microorganism but also to the lack of preparedness.
No one knows when the next virus will emerge or how harmful it will be to our health. We do know that we must come together and do everything we can to overcome this current disaster, while also preparing our healthcare system to respond in a more proactive manner to the next one. This action will allow us to better protect our economy, our businesses, our schools, our churches, houses of worship, and those who are dedicated to serving the community and maintaining our way of life.
The two pieces of legislation that I introduced propose effective and necessary solutions that will mitigate the potentially disastrous consequences of new infectious diseases. These pieces of legislation are especially important because they will equip the city of New York, the State, and the country with a system to address a healthcare crisis before it brings us to a standstill.
I am eternally grateful for the dedication and commitment of our first responders and the medical personnel to the people of New York and the entire country. They must rely on one another for emotional support as they operate in increasingly unhealthy environments. I also want to commend the thousands of government officials who are working tirelessly to execute the emergency response to this virus. They are doing an amazing job and should be applauded for it.
As an elected official and a medical doctor, the health and wellbeing of the community has always been my top priority. It is not right, and it is not fair to our doctors, nurses, health workers and patients who were put at risk because we were not equipped to manage a crisis like this one.
I want to emphasize that this is not a critique of our healthcare system, but rather a call to establish a better mechanism for providing urgent medical care that will be more effective at responding to a health emergency. We are in dire need of a new strategy to protect our medical professionals, patients, and our way of life that we have worked so hard to build.
I am inviting all concerned parties to join me in advocating for our city, our state, and our country to be more prepared for the next crisis involving infectious disease.
I am fully confident that we have the means and the expertise to achieve this truly noble goal.
Let's do this for New York and our great nation!
Thank you so very much, and may God bless you.
Council Member Mathieu Eugene, 40th District, Brooklyn
Legislative Office: 212-788-7352
District Office: 718-287-8762