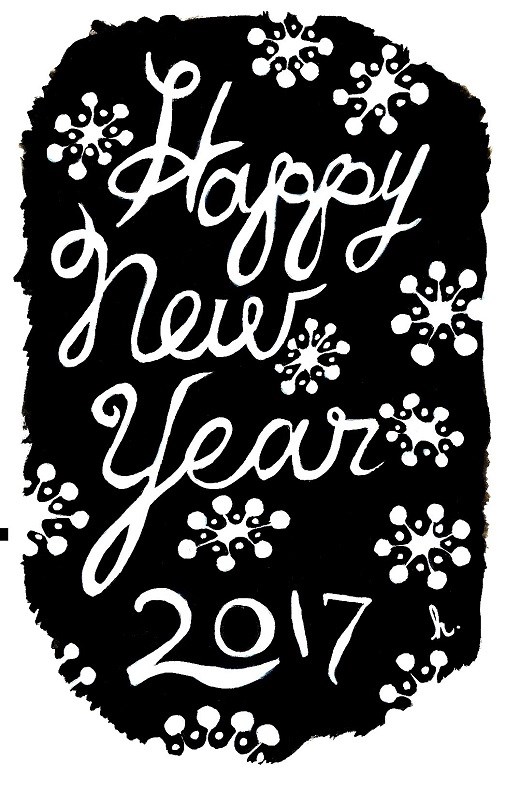 This is a brief New Year's greeting, but please read to the bottom for information about a final special painting offer I'd like to make to you.......
First of all, thank you to everyone for being a part of my online and in-person life this year! I am wishing you a very happy year filled with peace, abundance, love and joy.
I don't want to not acknowledge how difficult world events were in 2016. I was very happy to see the year symbolically go. It's okay to be happy and still care about all the terrible stuff still going on. This is something I have a hard time with, but I'm learning.
On a personal level, I had an interesting year. I committed to my painting career, for which I had to draw on all my resources to be creative and brave every step of the way. It was hard, but I look back on the year and I feel like I made progress on many levels! I exhibited my work, I promoted it, I gave talks and I taught. I connected with many awesome, new people! The feeling of looking back and seeing how much growth I experienced far exceeds all the intensity and stress of building an art career. If you've been with me for a while, then you know this ongoing series of art/writing originally started as a project called "Pay Attention To Your Dreams." That's what I've been doing, and I hope that you have been inspired to also pay attention to your own dreams!
Something I learned this past year that I don't think I'd have actually experienced if I hadn't followed my own little-big dream is this: it is a very good idea to move forward with an idea, even if you aren't sure where it is headed. Taking action in the direction of a dream creates momentum that can actually be described as magical. Movement creates space for ideas and solutions to appear that you didn't even know you needed!
I will be writing more about all of it in 2017, sharing more specific stories and, of course, more art!
Which is a nice segue way to what I would like to present next.......:)


A Special Offer for January 2017
As I've mentioned previously, my prices for private painting will go up this year. The regular price for a 9 x 12 inch stretched canvas has been $250 and will be going up to $275 in February. (It's not going up a lot, but still)
However! before that happens, I want to make one last special offer to all you marvelous folks who have been here with me for a while. Here is the offer:
Until January 31, the price for a 9 x 12 painting will be $200! (Plus shipping) That's 20% off! If you put down a $100 deposit, I will hold that price for you till, say June if you like.....in other words, you don't have to know what you want painted yet, or even who you want to give it to, for months! You only need to pay the deposit in January! Pay with Paypal and your deposit is protected!
Here is an even MORE special part of this offer: if you pay a $100 deposit by Monday January 9, 2017 by 5 pm, the full price will be only $175! (That's 30% off the old, regular price for those of you who like those kinds of numbers! :)
You would pay the $100, and when the painting is done, you would only pay another $75! PLEASE NOTE! This price is good till Monday January 9, 2017 by 5 pm.
If you would like to see many of my private commissions in one place, please visit my website by clicking
here
!
Here's how commissioning a painting works:
It doesn't matter where in the world you live because I work from photos.
You make the deposit. If you pay via Paypal, your deposit is protected.
You then send me photos of your pet, child or whatever it is you would like. When it comes to pets, I ask for several photos to get the personality of the animal and then you can tell me which one you want for the final art.
If the painting is for a special day like a birthday or anniversary, please be sure to leave at least 3 weeks plus shipping time!
When the painting is done, I email it to you for final approval.
You love the painting and I ship it!
These prices are for one figure in the painting. A second figure is $75 more and a third figure is another $50.
Please contact me if you have any questions!
Remember! If you've been thinking about commissioning a painting from me, this is a very good time to do it! :)
Thank you all again, Happy New Year and don't forget to Pay Attention To YOUR Dreams!
So much love and appreciation!
xo Harriet