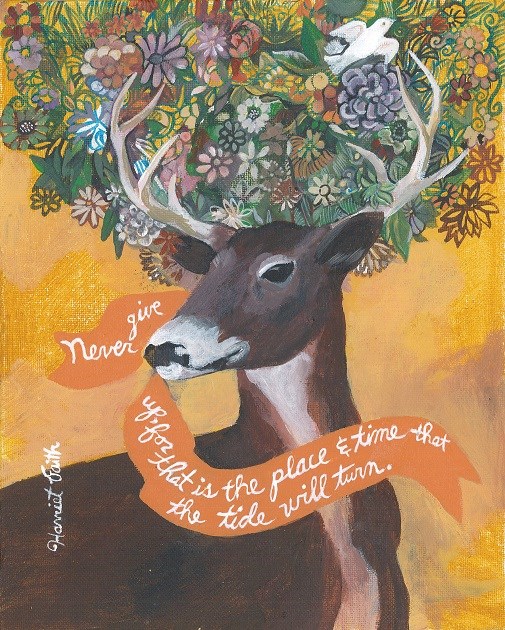 This handsome buck brings you words to be inspired by from Harriet Beecher Stowe. (no relation lol)
"Never Give Up, For That Is The Place and Time That The Tide Will Turn."
What can I say about this one? It really speaks to those moments when you find yourself working so hard, trying to change something for yourself or your loved ones. Trying to create or finish a project. Maybe going into areas where you have never gone before, doing things you've never done before.
There are moments when you just want to throw in the towel and give up. You ask yourself, "What was I thinking? Why did this ever seem like a good idea?" and the dreaded and all too common, "Who do I think I am?" The situation is frustrating. Circumstances seem to be conspiring against you. It feels like you are spinning your wheels, or slogging through waist high mud. Of course you feel like you want to give up.....
But it really is precisely at those moments when it is crucial to hang in there. Why? Because you just don't know what the next day will bring! Or even the next few minutes! If you had a great idea, then there must have been value in it at some point. If you are doing something brand new, there is no way to predict when the moment will come... that moment of full realization of your vision, or that significant milestone towards it.
Yes, I will concede there are times, you might have to give up the ghost. But what Mrs. Stowe is saying is to slog through those first cycles of frustration. They can feel so overwhelming, they can feel so awful. But!......see what happens if you keep going.
Push through to the other side and see where it leads. Give yourself that chance!
Have an incredible week!
xo Harriet