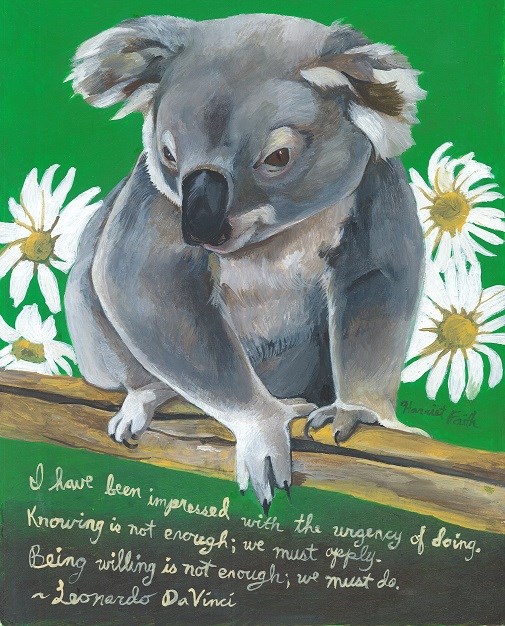 Hello! Here's a painting with a dose of some Leonardo DaVinci goodness. The quote is about the importance of taking action on your dreams, and Leonardo says it with a flourish and generous use of beautiful words that only the master can demonstrate......and I'm sure it must sound beautiful in Italian!
The koala just wanted to say hello.
Hey, if you have been thinking about ordering a custom painting from me, I have a "Special Offer" for you!
I am offering a special price for a custom painting for a short period of time.
You can send me a photo of your pet, a favorite animal, your house, your child, yourself, a favorite saying or quote that you would like me to illustrate!
If you want to tell me your idea and have me come up with the image, I would do that too!
I would like to mention that I saw Christmas decorations in a store recently! (oy vey! lol) If you have someone who isn't easy to buy for, a custom painting really makes an amazing gift! And it would be one more that you can check off early! Now is a very good time to put in an order with me. I expect to be busy this holiday season and as it's just me, I will only be able to take on a limited number of private commissions the closer the date gets. Also, the price will only go up after the deadline for this current offer.
So! That would make ordering a painting now, at this incredible price, a really smart thing to do!
Here's the special deal: Normally, my fee for a private commission, sized 8 x 10 inches, is $250, but I would like to offer a very steep discount to you if you order by the date below.
An 8 x 10 stretched canvas, painted on the sides, ready to hang, no frame needed, of any subject, would now be $125. That's half off and also includes shipping within the continental US!
I email the finished painting to you for your final approval and if for any reason you don't love it, I will make the changes you want until you do love it! (Changes have to be based on the original photo you supplied to me for the painting. In other words, a change cannot be to use another photo)
After you approve it, you pay me via paypal and I ship it. (Please, only one figure for this offer! If you want a group, we can come up with a comparable special price!)
Let me know if you have any questions, by sending me a comment below. You can also see more of my work at harrietfaith.com. This price is pretty great and because it's so good, it's only till Saturday August 27th. A $50 deposit will be required. Your painting will take 3-5 weeks depending on my work load.
Have a really, really nice week!
xo Harriet