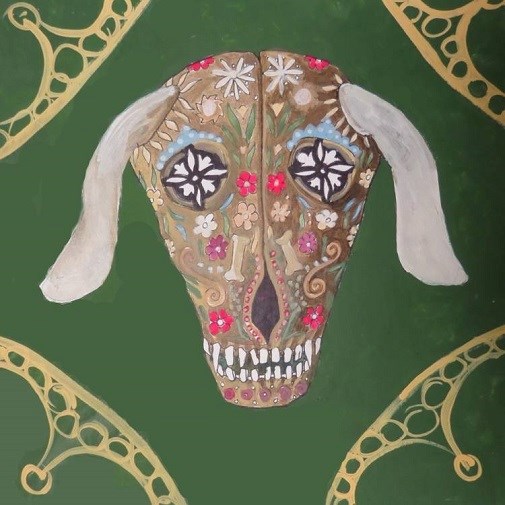 I have a few exciting things going on right now! It seems to all be happening this October!
I've had my work hanging in a new venue, Uptown Coffee, 288 Wall Street Kingston, NY. It will be up till October 15 and I am having a talk on Saturday October 8 at Noon. The talk will be about my work and also about my upcoming drawing tours..!
"What's that?" you say? Yes, well, I teach an on-site drawing class; it's for everyone: all ages and all abilities. Especially for people who think they can't draw! I take you through exercises to leave all that self criticism behind and have a great experience drawing! And for October, we celebrate Halloween by going to local cemeteries! Spooky!
Everyone ends up with exciting sketches! Contact me if you want more info.....or come to the talk on Saturday! I can also arrange to do this workshop for groups in the city, so contact me if you are interested in that as well!
(btw, the image above is for sale: acrylic on board, 8 x 8 inches, contact me if interested!)
I will also have a table set up this weekend selling small pieces of artwork, small hand-made decorative items and showcasing some of my other work, like the hand painted jackets I do. (Yes! You can have a painting done right onto the back of your cloth or canvas jacket or coat!)
I will be set up on Friday, Saturday and Sunday at 330 Wall St, also in Kingston, in front of an amazing shop called Gargoyles. The owner is a friend and she generously offered me the bay between her two huge front display windows this weekend.
And next, I would like to invite you to visit this amazing site, where you can find a variety of items with my artwork on it. Prints, cards and iphone skins for example. Check it out. If there is a particular piece of mine that you have seen in these posts, that you fancy as a print, or something else, let me know and I will upload it. :)
Okay, that is it for now! I hope you are having a nice October and enjoying the cooler weather. Let me know if you want any further information! Thank for your support and I'll see you around!
xo Harriet