Wake up and smell the Monsanto chemicals! The common wheat harvest protocol in the US is to drench the fields with Roundup, a potent herbicide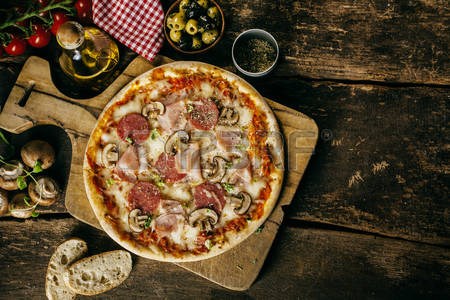 "The Art of Seeing" by Michael Milton
I have always been an enthusiastic consumer of bread, pastries, wheat cereals and pastas, all created from wheat grown in America. Most of all, I have always loved pizza. Who doesn't? Thin crust, thick crust, crispy, doughy; I'll eat most any pizza. I do draw the line at the Hawaiian versions with ham and pineapple as any pizza lover surely must. And those delightful crusts were, for the most part, made from American wheat.
[perfectpullquote align="right" cite="" link="" color="" class="" size=""]"I assumed I had developed some kind of gluten intolerance, a designer allergy which I had rolled my eyes at years earlier but now thought it might be at the root of my troubles."[/perfectpullquote]
A decade or so ago, I began to notice that I was having similar reactions to a hastily eaten whole wheat sandwich I ate hurriedly at my desk during lunch to the bowl of pasta I had in the evening; a sudden drop in energy, endless yawning, a slight headache, a loss of mental acuity, an overly full feeling in my stomach. Pizza and bagels had also become absolutely impossible for my system to handle.
I assumed I had developed some kind of gluten intolerance, a designer allergy which I had rolled my eyes at years earlier but now thought it might be at the root of my troubles.
Recently, though, I read something which indicated that the basis of my "allergy" could be far more sinister. The American raised wheat we eat is toxic for reasons other than its gluten content. This goes beyond any arguments of organic versus nonorganic foods, gluten or even hybridization.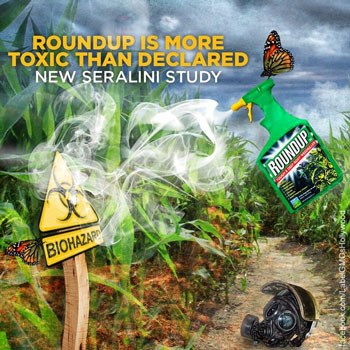 Wake up and smell the Monsanto chemicals! The common wheat harvest protocol in the US is to drench the fields with Roundup, a potent herbicide, several days before the combine harvesters work through the fields. This allows for an earlier, easier and bigger harvest.
I'm no scientist but I'm guessing that when you expose wheat to a toxic chemical like glyphosate, then we are consuming a bit of it every time you eat American wheat products.
Duh! My problems with wheat suddenly had an obvious cause; Roundup disrupts the bacteria in our guts and contributes to permeability of the intestinal wall and consequent expression of auto immune disease symptoms, symptoms which mirrored my own after eating anything with a crust.
That being said, I still wanted my pizza.
Recently, desperate for that magical combination of dough, cheese and sauce, I broke down and had a couple of slices from a place new to me, My Pie Pizzeria Romana on West 72nd Street in Manhattan. I wolfed the pizza down and then waited for the usual light headedness, stomach ache, gas. The symptoms never came.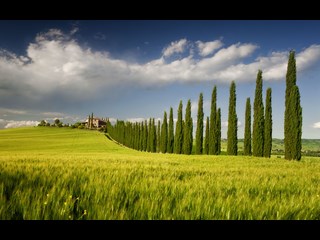 I did a little research and discovered that the owners of My Pie Pizzeria Romana use Italian Caputo 00 wheat (the '00' referring to how finely the wheat is ground) and that in addition to many other wonderful qualities, Italian wheat is NOT harvested with any herbicides. Saveur Magazine says that Italian 00 flours is the best for making magnifico pizza crusts. Who doesn't take advice from Saveur??
For additional proof, on a recent jaunt to Palm Springs, California, I had a flaky crusted apple turnover at the Peninsula Bakery created from a French grown wheat. French wheat is also protected from any herbicides. It was a very expensive turnover but, again, I can report no reaction other than "yum!"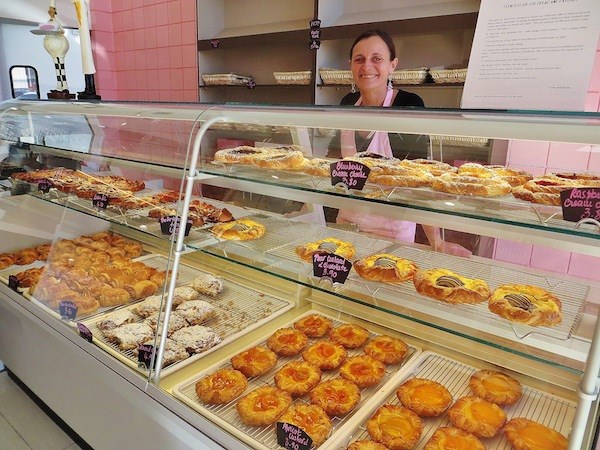 But back to pizza; I began a quest to discover pizza joints in Brooklyn that use the admittedly more expensive but infinitely healthier (and tastier) Italian 00 flour. And what I found was a charming step down hole in the wall, Sottocasa, located at 8758 Atlantic Avenue.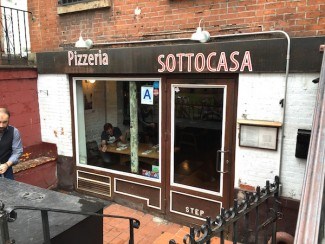 Having been denied pizza—the food that got me through undergraduate school and many a stoner's late night cravings—I'm happy to report that I am back on my game; pizza twice a week, no repercussions.
As I am wolfing down my heavenly Margherita pizza, I speak with co-owner of Sottocasa, Mari Pennochio. She has a delightful Italian accent and I feel I've squeezed in a European vacation at the end of this summer and but have only traveled to Boerum Hill.
"For a good pizza, you work with the best," Mari insists. "And Caputo Italian flour is the best." I can't disagree; my mouth is stuffed full of crust and cheese. I simply nod enthusiastically. "American wheat is not good...too much….too many…" She's not sure of the word but I know what she means.
Pizzerias of Brooklyn awake! Proudly announce to your customers and to the press if you, too, are using Italian wheat for your dough. We of the pizza deprived (by reason of the ill effects of American wheat) will soon be beating a path to your doors!