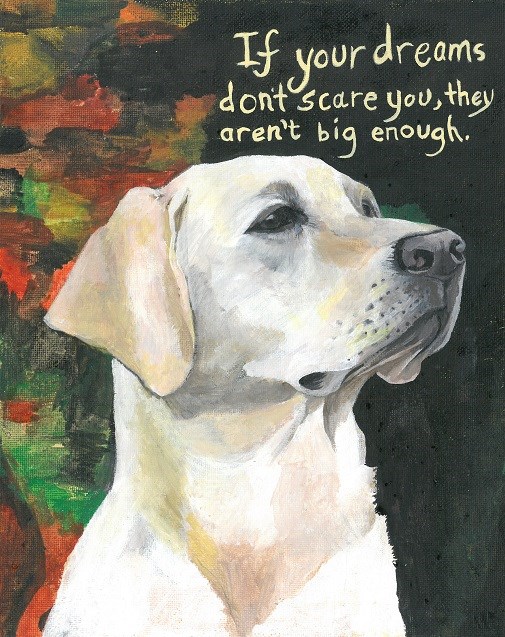 Hey there! This lovely golden lab, with the intelligent eyes, has a message for you!
(btw, before I begin, I will add right here, that you can order a painting of your own pet from me. Or order one for a friend. They make very memorable gifts. And my portraits truly do capture the soul of the individual animal. Just let me know whenever you are ready)
The message today is "If your dreams don't scare you, they aren't big enough."***
It's such a good message, isn't it? You don't want to become so complacent that every time you think about the kinds of things you'd REALLY like to do with your life, they seem kinda "whatever," "no problem," "easy-peasy." You want to have a dream that seems like a stretch, a little impossible in fact. I think sometimes we don't even let ourselves think about the thing that we REALLY want to see. We tell ourselves it's impossible before we've even given ourselves a chance to truly savor the possibility. (I'm right, right?)
Now... because I like you :) I am going to tell you about one of mine. (Just one for now :) ) One of my short-ish term goals that kind of scares me is to start my own business.....it will be my art and all the things I can do with it like greeting cards, murals, editorial and advertising illustration, some visual branding/consulting (like designing/illustrating buttons for a website, for example), creativity coaching and probably more. There's some more info about this at the bottom of this post.
So, how about you? What kind of dream do *you* have that is kind of, perfectly, what you REALLY want; that scares you a little when you think about REALLY doing it. A dream which, when you picture yourself with it, makes you catch your breath a little, and then you stop thinking about it because you're a little scared and you start to tell yourself it can't ever happen. That dream.
Tell me about it!. It gives it power to tell someone about it. I want everyone everywhere to have their craziest (and by crazy, I mean scary but possible) dreams come true and I would love to hear about yours! You could share it in the comments below, or if you don't want it to be public you could send it in a message directly to my mailbox, and I won't share it with anyone. Promise!
Use this link here. I'm getting ready to start a newsletter and if you would like to stay current with all my news, you can sign up for my email list at the same link.
Hope to hear from you and have an incredible week!
Harriet
***this quote is attributed to Ellen Johnson Sirleaf, who is the current President of Liberia and the first female elected head of state in Africa. I would love to write more about her but, for now isn't that enough to get you excited about following your own dreams?