DIVAS for Social Justice is hosting a Robotics Practice Tournament at the Magnolia Tree Earth Center on January 4, 2014 at 12pm.
The robotics tournament is in preparation of the organization's robotics team, divaSTEAM, competing in the FIRST Lego League Competition in 2014. DIVAS for Social Justice has invited all Brooklyn Qualifying teams to participate in the practice tournament in the spirit of bridging communities and good sportsmanship. The challenge of the FIRST Lego League competition is Nature's Fury.
Robotics teams must build a robot that can complete missions to help save lives and provide resources or before a natural disaster.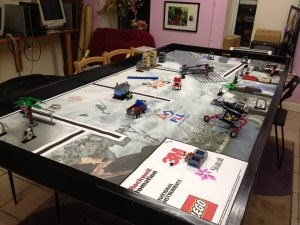 DIVAS for Social Justice is inviting all Bedford Stuyvesant community members to come to the practice tournament on Saturday, January 4th at:
Magnolia Tree Earth Center
677 Lafayette Avenue
Brooklyn, NY 11216
Doors open at 11:15 for community members
For more information about the event you can contact us at: diva4justice@gmail.com