Long gone are the days of wrapping a public telephone receiver with tissue paper.
Gone are the days of paying 50 cents for two minutes. The City of New York is making it easier for everyone with a mobile device to access Wi-Fi, recharge, download, phone calls, and get directions to the places New Yorkers want to visit at no cost.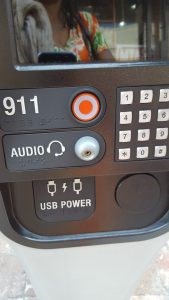 It is LinkNYC—the tall, slim silver kiosks that dot major shopping corridors. In Brooklyn, they are installed on Fulton Street between Lawrence Street and Eastern Parkway; on Livingston Street between Bond Street and Flatbush Avenue; Nostrand Avenue between Fulton Street and Hawthorn Street; Flatbush Avenue between Lincoln Road and Cortelyou Road; Graham Avenue between Devoe Street and Cook Street; and Debevoise Street at Broadway, Avenue of Puerto Rico, Graham Avenue, and Cook Street. LinkNYC offers LinkNYC Free Wi-Fi which is secured and LinkNYC Private Network which provides greater security.
As the adage goes, "Nothing in life is free." There is some exchange required to make life flow.
LinkNYC is a collaboration between the City of New York and City Bridge. A deal was worked out where the kiosks offer free Wi-Fi, cellular phone charging, maps, directions, and domestic and international calls in exchange for advertising space in the sides of the kiosks. The sides have large rectangular electrified display cases. The display cases not only show off advertising, they indicate the kiosk is fully operational.
These silver wonders provide speed in the gigabytes which out paces LTE networks used by mobile devices. Does this sound like something you would want in your home? At this point, it is a future possibility. LinkNYC kiosks have their limits. The Wi-Fi signal has a 150 feet radius range. This means, unlike bygone pay telephones, there's no need to stand in front of the kiosk once logged in.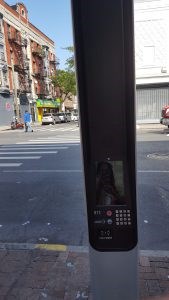 Logging into the kiosks takes three steps: 1) Go to the devices Settings and Select LinkNYC Free Wi-Fi Network, 2) Register with your email address, and 3) There is the message Download Key to LinkNYC Private Network. Select this option for greater security. Then select Install.
Some may say what is the fanfare about? Installation of these kiosks began in 2015. There are still people who pass by them without using them though their mobile device's power is low. Other people do not know they could call family residing out of state or in another country at no charge. This writer was approached August 26, 2017 on Fulton Street by someone, while downloading a system update. The mature man asked how to use the kiosk.
Community boards have been key information distributors for this telecommunication innovation. District Manager for Brooklyn Community Board no. 8 (CB8) Michelle George remembers LinkNYC coming before CB8 on April 9, 2015. "The Department of Information, Technology, and Telecommunications (DOITT) Director of Community Affairs Patrick Fergus explained public pay phones would be replaced by a franchise called LinkNYC/City Bridge which is a proposal to leverage old payphone infrastructure to build the world's largest, fastest free municipal Wi-Fi network."
Patrick Fergus said, "One of the great things about this initiative is that the digital access divide is being addressed. The City is working on Wi-Fi programs in parks, community gardens, and within NYCHA housing developments. LINK NYC is another one of these programs."
There was no voting required at any community board to advance this project. "LinkNYC has impacted communication in a positive way. It has allowed community residents access to free Wi-Fi services, opportunities to make free phone calls, device charging and a tablet for maps and city services. It also connects to community board websites allowing residents an opportunity to know what is going on in their community board," are Ms. George's observations. As of August 25, 2017, George affirms the [community] board has not received any complaints and/or questions about how to use the kiosks.