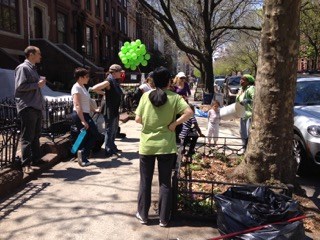 By DrLoni, Local Contributor
For those that know me, know that there are few labels I am more proud of and willing to own than that of being a native from New York City.
They also know that few things capture my attention (except writing) for hours on end like putzing around in the garden. During the warmer months, my mornings begin with "just checking in on my garden" and attempting not to touch a thing, for if I do several hours later I will still be in the garden. It may sound slightly silly, but trust me, it challenges my productivity all summer long.
Well, three years ago I discovered a program which was my equivalent of striking pay dirt! Okay, I know it's a corny pun, but I had to use it. This is the GreenBridge program at the Brooklyn Botanic Garden. My participation in their Brooklyn Urban Gardener program gave me the new label of being a BUG which is in a solid second place next to my pride in being a native from New York City. Not only do I have a new label and a shiny badge to go with it, as well as a bona fide excuse to be in a garden all-day, the BUG program is unity in the community in action. It helps to create a more beautiful and healthier Brooklyn, while connecting the people who participate in its programs. Now that's a deal.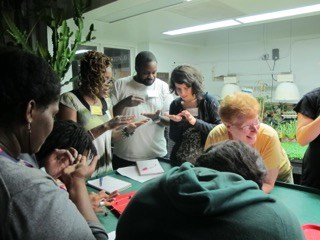 So these are the details you need to know. If you are a community garden, block association or school looking for support with your garden project, Brooklyn Botanic Garden can help. Not only do they have a ton of excellent printed resources that can guide you, it is possible that they may also be able to pair your program with its own BUG! As a BUG we are able to come to your block to conduct tree care workshops and assist you hands-on with your greening efforts... for FREE!
Personally, I know of amazing BUGs who have taken on challenges as big as large overgrown trash-filled lots, to helping residents come up with a plan to care for a newly planted tree. If that were not enough, each year more bilingual Brooklyn residents become BUGs, so there is a growing possibility that a workshop can be offered in a language other than English.
If you are a community garden, block association or school with an idea for creating a greener Brooklyn in your part of the borough, go ahead and give Brooklyn Botanic Garden's GreenBridge program a call. Not only will you end up with more flowers and healthier trees, you'll also be planting the seeds leading to more unity in your community. Sweet!