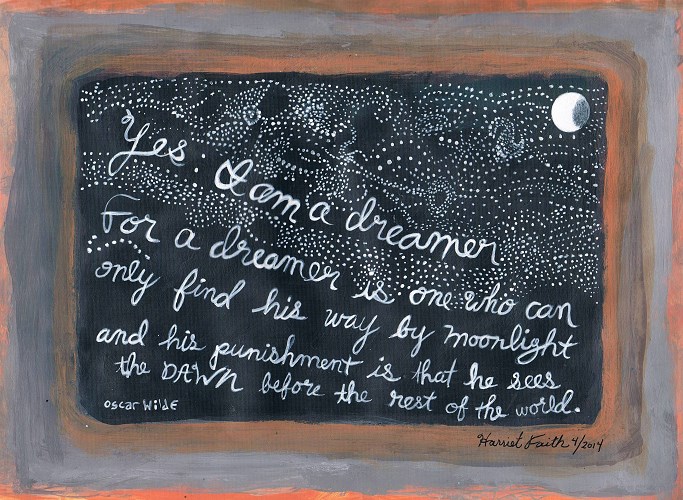 Week 14 ~ "Yes: I am a dreamer. For a dreamer is one who can only find his way by moonlight and his punishment is that he sees the dawn before the rest of the world." ~ Oscar Wilde
I love this quote by Oscar Wilde. It is so poetic. Someone who has dreams of a different world, who envisions that which is not yet present, must find his (or her) way to their vision by maneuvering through darkness of night, without a map or compass or the paths of others worn into the landscape, because what they see has not come into form yet.
The dreamer's journey though darkness and the unknown is made possible by an often dim form of natural light, that from the moon. The moon represents the inner self, the emotions and the home. Her light is a symbol for following guidance that comes from within.
By following one's own inner prompts and listening to one's own inner voice, one is led through the shadows.
Oscar Wilde expresses a bitterness in being that person, the one who has traveled through the night and who sees the dawn before anyone else, who has followed their inner passions and can see what is possible in the new light.
Often, through history, it has been the visionaries who have been ridiculed, persecuted and ostracized for knowing and seeing things that others have not yet had the chance to discover for themselves.
Even on a smaller scale, we, ourselves, can have a personal dream that really inspires us, and sometimes those people around us cannot share in our enthusiasm because they just cannot see it yet.
The world does eventually catch up, as history has attested over and over... but for the dreamer in Wilde's statement, it can be a bittersweet journey.
Even if others cannot yet share in the image of what you see, keep believing in the light of your dreams!
Have a marvelous week!
Harriet