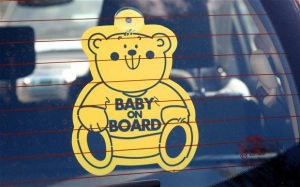 Traveling around the city with the baby has be somewhat of an adventure.
Any time one has to leave the house with a little one, it's sure to involve a HUGE undertaking of preparation. At least in my case it does.
The shear amount of baby gear needed for one outing is nothing short of mind blowing. Lets use this year's Christmas shopping excursion as my prime example: This particular day, I had a helping hand in the form of my friend Shay. She was excited to spend the day with Dionne and I... But she had no idea what she was in for.
She walked in just as I was (over-) packing the baby bag. She nearly tripped over the dreaded car seat as she came off the elevator into the apartment, and I swear I saw a raised eyebrow when she canvased the kitchen counter covered with baby bottles, formula and pampers.
So once I stuffed the baby bag, I dressed the baby and myself in our winter coats and did my baby gear double check. Shay grabbed Dionne and the heavy blankets. I wrangled with the car seat, baby bag and Baby Bjorn.
Once in the car, the ear piercing shrieking began, not complete without her new tear-making trick. We make our way to Fulton street in search of a parking spot, any parking spot! With some dumb luck, we stumble upon a spot that is relatively close to where we need to be.
I get out of the car and leave Shay and the baby warm inside so I can check the parking regulation signs (heaven only knows I don't need another parking ticket). After we debate on the meaning of the color of the curb and the closeness to the pedestrian walkway, we decided that we would take our chances. This is when we realized we left the Baby Bjorn along the way (insert the tragic climax)!
I prayed I hadn't lost it, I wouldn't be able to live without it, but for the matter at 'hand', we were now down to two instead of four.
Between the balancing act of Shay repositioning a sleeping Dionne on her shoulder and keeping the baby blankets from sliding off, and me smacking passersby with the baby bag and Shay's purse, we decided to call it quits.
As for the Christmas present recipients, I believe in the motto: When all else fails, give money. Besides, the experience was all too frazzling for my dear friend (and maybe me a little as well).
That's my life… Baby on Board!
P.S the Baby Bjorn was hanging inside my elevator on the handle.
(There is a God).
More blog entries by Dawn Haygood: